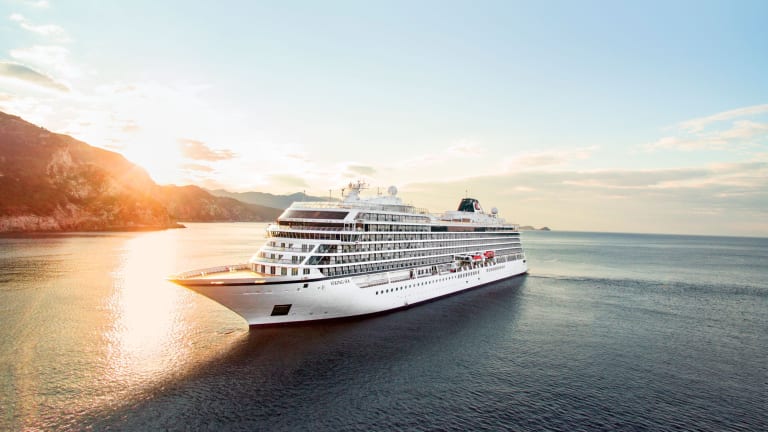 How an Ultra-Premium Viking Sailing Will Change Your Perception of Cruise Lines
You'll love sailing the Baltic -- Sweden, Finland, Estonia, Russia, Poland, and Germany -- with Viking Cruises.
You might think Viking Cruises is a river cruise company and, until recently, you'd have been 100 percent correct, but the brand synonymous with some of the world's best river cruises put an ocean fleet into service in 2015 and recently unveiled its newest ship, the Viking Jupiter, in 2019. Viking is an ultra-premium cruise line, which means you can expect personalized service, upscale amenities and furnishings in cabins and throughout the ships, and high-quality cuisine onboard, but without the formal nights and sometimes stodgy atmosphere of luxury lines. All Viking sailings are adults-only—a major benefit for those looking to avoid water slides and shipboard shrieking—and, with the new fleet of ocean liners added to the collection, you can head almost anywhere with the brand. UPTOWN was recently invited to explore the splendor of the brand-new Viking Jupiter on the Viking Homelands itinerary with a Baltic cruise that included ports of call in Sweden, Finland, Estonia, Russia, Poland, and Germany, and these were the reasons we loved it most.
Relaxing
Spas are highlights of many hotels and cruise ships, but The Spa on Viking ocean ships sets the brand above not just its sea competitors, but many of its land competitors, too. There are, of course, plenty of massages, facials, and other treatments for the taking (we escaped into the Mindful Swedish Massage early into the journey and rejuvenated with the Hydrafacial toward the end), but it's the sumptuous thermal suite you'll want to visit again and again. Drawing on the Nordic tradition of alternating between hot and cold, the ship's suite contains not just a sauna, hot tub, and heated tile beds, but a snow grotto, producing regular indoor snowfall in a quiet chamber. The Spa is also equipped with a small pool that can produce a current for a light workout on demand, but a more recreational pool is also available on the top deck, where a retractable roof allows for swimming or resting poolside in any climate.
Eating
Cruise ships aren't often famous for their fabulous food, but Viking's restaurants (and even buffet) are more restaurant-quality than ship-quality. Look out for special meals highlighting traditional dishes from your destinations and featuring local ingredients brought aboard while you're off exploring. On our sailing, we were most impressed by the Swedish seafood feast prepared with the chefs' tremendous haul during our time in Stockholm, and the Russian banquet aboard the ship during our visit to St. Petersburg. Other evenings, we made plenty of reservations at Viking Jupiter's specialty restaurants, Manfredi's, which serves Italian fare, and The Chef's Table, which featured rotating tasting menus of regional cuisines with wine pairings. During the day, if we weren't off discovering new destinations, we loved the international flair of World Café buffet, which offered dishes like Mongolian lamb, aloo sag, pork adobo, and the shu mai we ate with breakfast every morning. If your tastes are less global, rest assured that there are always plenty of more widely-adored staples aboard. Finally, we were particularly impressed with the daily afternoon tea served in Wintergarden, where finger sandwiches, pastries, and fine teas were accompanied by live music.
Drinking
This isn't the type of ship for sloshing back frozen daiquiris on the sundeck all day, but there is still an unlimited beverage package that will give you access to wine, beer, soft drinks, juices and most cocktails all day long. At lunch and dinner, beer, wine and soft drinks are already included for all, but we definitely appreciated the Silver Spirits package in the evenings when unwinding with a glass of wine by the fire at Explorer's Club or sipping cocktails between dances at Torshavn, the swanky after-hours venue with nightly live music. If you find yourself on a warmer itinerary than we did, grab a drink at Aquavit Terrace at the ships stern and enjoy views from across the infinity pool, scenic both in port and at sea.
Exploring
However fabulous a ship itself may be, a highlight of any sailing will be a memorable excursion or two. Viking offers not only free shuttles from port to town at each destination (a service some other lines charge for, as a privilege for disembarking), but also free guided tour options at every single port, all with local guides. These must be reserved in advance, but there's just about always space for everyone interested, with multiple time-slots available to suit your other plans for the day. We joined several of the guided overview tours and often used them as jumping-off points for our own deeper exploration afterward. Additionally, Viking offers paid excursions for more specialized interests, like local cooking classes, biking and kayaking tours, a night at the ballet, or museum exploration, and many of these are curated by the brand's motivation to provide "privileged access" to its guests. We were enthralled by the Behind Closed Doors private tour of The Hermitage in Russia, which brought us through several of the museum's diverse collections in multiple locations across St. Petersburg, and even into the Hermitage Storage Facility.
Being respected
Lesser cruise lines are notorious for getting passengers onboard with hard-to-resist sales and then up-selling, up-selling, up-selling, often marring the vacation experience. With Viking, not only is there no hard sell for better packages, more products, or more elite experiences, but so many amenities and programs, beyond what you'd hope, also happen to be included. High on our list of favorite inclusions were the thermal suite at The Spa, the fitness center, reservations at specialty restaurants, wine and beer at meals, a veranda with every cabin (and binoculars), laundry facilities stocked with detergents, and the Explorer Dome planetarium featuring 3-D presentations and digital star gazing. But our very favorite complimentary amenity was the one that is almost never free at sea: unlimited WiFi, so we could post pics of our amazing adventure anytime, anywhere.
​