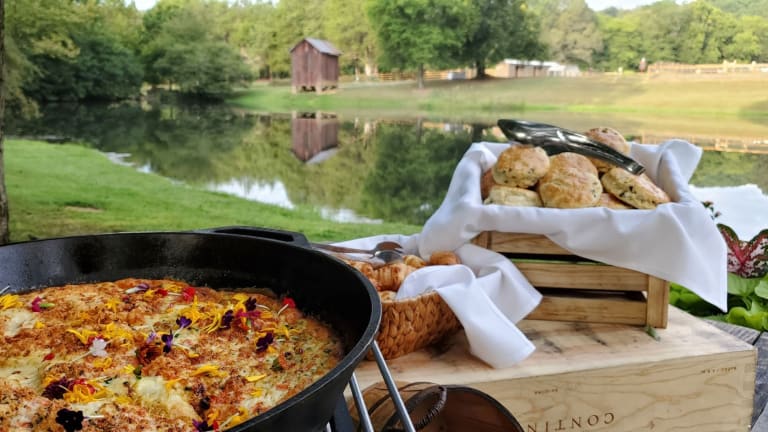 Hotel Spotlight: The Barnsley Resort is a Foodie's Southern Heaven
A weekend at Barnsley Resort promises refined Southern living and food-focused activities and experiences.
Nestled in the foothills of the Blue Ridge Mountains in the northwest corner of Georgia, Barnsley Resort is a 3,000-acre paradise of country recreation with a 150-room inn and dozens of uniquely charming cottages at its core. With horseback riding, golf, Beretta shooting grounds, fishing, kayaking, UTVs, hiking, biking, and more, there's little you can't do outdoors on the expansive Barnsley property, but it's just as fun to unwind on a cottage porch, or sit around one of the nightly bonfires and sip wine between rounds of cornhole. Of course, nothing beats delicious bites, especially in the South, and the resort recently upgraded its culinary program from restaurants, bar, and beer garden to foodie-focused activities and experiences. UPTOWN was recently invited to taste our way through a weekend of refined Southern living at Barnsley Resort and these were our culinary highlights.
Sipping Bourbon at Dugan's
The Barnsley family history is a soap opera of chaos with a cast of characters spanning generations to include royalty, a famed boxer, spiritualists, and a host of other wildly passionate individuals with varied interests. It's the boxer-turned-murderer (of his brother) who's now the namesake of Dugan's, Barnsley's old-world-inspired cocktail bar featuring warm colors and leather barstools at the dark marble bar, with more leather seating throughout the cozy space in homage to K. O. Dugan's leather boxing gloves, now on display in the lounge. The atmosphere and memorabilia are worth exploring, but the star of the bar is the Bourbon selection, best sampled liberally. We frequented this establishment more than once, hitting it up for Bourbon flights by day, and ending evenings with a round of Old Fashioneds by the fire in leather armchairs.
Wining and Dining at Woodlands Grill
Attached to Dugan's is Woodlands Grill, the signature restaurant of Barnsley Resort (OK, Dugan's is actually part of Woodlands Grill, but we loved the bar so much that we like to think of it as a separate entity). Here, an interior overhaul brought an open floor plan with high ceilings and pale paint for a light and airy ambiance accented by rustic touches like vintage lanterns, hand-scraped wood, and iron and marble tables. More intimate dinners can be prearranged in the private wine library where you'll become immediately acquainted with many of the wines on the restaurant's extensive list. For dinner, choose from steaks, seafood, and garden-to-table salads, but don't miss the famous pimento cheese beignets with red pepper bacon jam (consider it a bread course, not a dessert) and try a cup of the yellow sweet corn chowder with potato and pork belly. Don't miss breakfast here, though, where you'll find the most colorful avocado toast; a can't-miss loaded grits bowl with white cheddar, tasso ham, and poached egg; and candied jalapeño biscuits and gravy.
Chef Lebas
With a new culinary focus throughout the property comes a new leader, Executive Chef Nicolas Lebas, joining Barnsley Resort with nearly 20 years of experience running top resorts and restaurants around the world, including Mexico, the United States, and France, where he was formally trained. He's passionate about both food and hospitality, and is particularly emphatic about showcasing the resort's garden-to-table ethos, building close partnerships with local purveyors and featuring the freshest ingredients from Barnsley's own impressive chef's garden in the property's restaurants, beer garden, and events catering program.
Mushroom Foraging
This isn't something we ever thought we'd be doing, but we did and we loved it. Head into the woods with certified mushroom guide Tom Powell and search for mushrooms the likes of which you probably haven't seen before. Learn to look both high and low for various types as Powell teaches you about the property and its vegetation (not just mushrooms, we promise). When you do spot mushrooms, learn to harvest them and what they might be used for at meals in the coming days at Barnsley. Mushrooms are a lot more complex than we thought, and we were surprisingly excited to find a particularly expensive specimen at the base of a tree trunk, and even more excited when it showed up at dinner later.
Lunch at the Beer Garden
Choose from 30 craft beers to accompany a picnic-style lunch at the Barnsley Beer Garden, where a hearty menu of traditionally Southern sandwiches and snacks can be scarfed at picnic tables around the firepit in this centrally located outdoor venue. Grab a pulled pork sandwich or a catfish po'boy, and snack on pork rinds, pimento cheese, and pickled okra between swigs of suds. You might not consider a beer garden as a solid breakfast spot, but this particular counter recently unveiled grab-and-go breakfast options that may change your mind, at least while you're here.
Private Dining in the Ruins
For special occasions, prearrange an al fresco dinner at the ruins of the former manor house of Barnsley Gardens. After zigzagging through the restored boxwood parterre, enter the towering remains of the grand house's first floor and dine at an elegant table among the ivy-covered brick. Consider the drama of the Barnsley family history as you partake in their former dining room, now an open-air stunner with neither ceiling nor window glass (feel free to brush up on the juicy details first by checking out the small museum next door and reading the gossipy book sold at the resort's boutique). Whether for a romantic dinner for two or a small group celebration, you won't do better than this evocative venue, and we're sure a meal here will be your favorite moment at Barnsley, too.