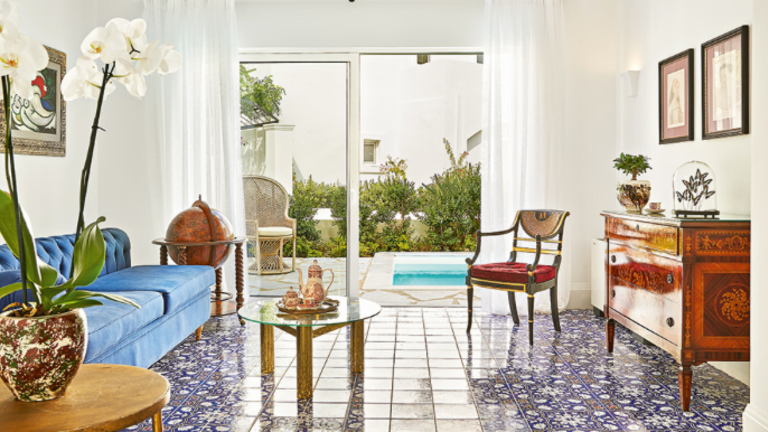 Hero Traveler Does Greece: Our Stay at the Caramel Boutique Resort
Here's why the Caramel Grecotel Boutique Resort should be on your travel list.
A version of this article originally appeared onHeroTraveler.com.
When arriving in Crete, the first thing you will most likely see is Chania, a breathtaking city on the northwest coast known for its 14th Century Venetian harbor, narrow streets, and waterfront restaurants. At the harbor entrance is a 16th Century lighthouse with Venetian, Egyptian, and Ottoman influences. The atmosphere is reminiscent of Florence and Venice, combined with the culture and character of Cretan people and traditions. Set on a prime beachfront estate in the heart of the Cretan Riviera, just minutes from the old world charm of Rethymno's Venetian harbor, sits the Caramel Grecotel Boutique Resort.
The Caramel Boutique Resort welcomed us with a dazzling white facade. It provides a laid-back, away-from-it-all vibe with paths leading to the secluded water and to the lagoon. You will appreciate the incredible attention to detail when it comes to the hotel's design. The glass lamps, beautiful sculptures, and stunning tiles will make you want to redo your kitchen the second you return home.
We booked a two story villa with a view for only 250 Euros! Book online at Grecotel.com.
​
​
​
Every morning, the resort serves an incredible breakfast spread featuring fresh figs and regional grapes. We had fish and gourmet dishes every evening. The fish was freshly caught from the surrounding waters. It was truly one of the most authentic dining experiences we've ever had. Thank you, Greece, for the trip of a lifetime!
​
We would take morning strolls down a walkway that led to the beach. We had amazing quality time together and made beautiful memories.
Log onto VisitGreece.gr to begin planning your own vacation. And go to HeroTraveler.com to see more exciting places to visit in Greece, and don't forget to download the Hero Traveler by Travelers for Travelers app in the Apple App Store.
This story has been published in paid partnership with the Greek National Tourism Organization and VisitGreece.gr.