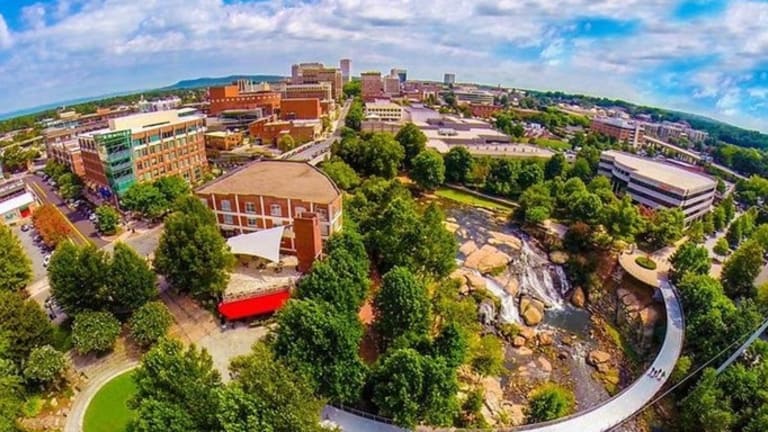 Greenville, SC: Artisphere, Cuisine & Jeans
Greenville is as beautiful as it is welcoming.
As a born and bred New Yorker, it's difficult for another city to impress me or entice me to fantasize about … gasp … moving. But that's exactly what happened when I touched down in Greenville, a city in upstate South Carolina, that is as beautiful as it is welcoming. Yet, Greenville hasn't fallen into the tourist trap of selling its attractions to outsiders while locals hang in the background. This city was built and improved for its residents to enjoy along with visitors, and give a Greenvillian five minutes of your time and you'll have a list of places to see and things to do.
​
I was struck by the huge role the arts play in Greenville. It's home to the Greenville County Museum of Art, which showcases the works of Southern artists spanning centuries, and the Upcountry History Museum details upstate South Carolina's story. Even walking along Main Street, I noticed a myriad of sculptures to commemorate events in the city's past, including one to honor the students of Sterling High School who were instrumental in ending institutional segregation in Greenville in the 1950s and '60s.
​
I was in town specifically for Artisphere, an annual weekend-long Fine Arts festival that takes over the city with an Artist's Row, more than 20 musical performances, interactive exhibits, Kidsphere South, and culinary demonstrations. This year, the festival will take place from May 11th to 13th, and will feature 135 visual artists chosen by five jurors from a national pool of 1,163 applicants. Last year's grand prize winner was painter Richard D. Wilson Jr., who counts Beyoncé's mother Tina Lawson as a patron and whose work can be seen in Barbershop 2. He was completely accessible to festival attendees, eagerly signing prints for those, like me, who wanted to bring home a piece of Artisphere.
​
Now, if there's one thing I know about the South, it's that they don't play when it comes to grubbin'. So you won't find the typical festival food cart offerings of hot dogs and pretzels at Artisphere. Instead, the creme de la creme of the city's restaurants, like Jianna (above), Larkin's on the River, Barley's, The Trappe Door, and Cantina 76, show out with dishes of Sriracha mac & cheese, pimento cheese short rib sliders, Mussels Mariniere, ceviche, pulled pork, craft pizza, tacos, and more in the "Culinary Arts Cafe."
On my last night in Greenville, I had the opportunity to dine at Larkin's on the River(318 S Main St.), a steakhouse uniquely positioned in Falls Park on the Reedy River. Larkin's Signature, a 14 oz. bone in filet mignon, did not disappoint, and I wish I hadn't eaten so much earlier in the day when judging the annual "Best in Show" competition among the restaurants. Not only does Larkin's boast an impressive collection of steaks, but it also offers a front row seat to the GSP Airport After Hours Concert Series, during which I discovered The Suffers (above), a soul band from Houston that mixes classic American Soul, Rock and Roll, and Hip-Hop.
Artisphere may not be known as a food and music festival yet, but just give it time.
Now, I'm a woman who loves a good meal and to be visually stimulated, but I also enjoy a good shopping moment. Greenville, surprisingly, delivers on that front too. It is home to one of the best denim purveyors I've come across, Beija-Flor Jeans. The brand was created by Brazilian mother-daughter duo Kathy Moça and Emilie Whitaker who were tired of ill-fitting jeans that either fit their muscular thighs but gapped at the waist, or fit the waist perfectly but were uncomfortable on the thighs. Their premium denim in a myriad of classic and trendy washes and styles is available at the flagship store in Greenville (618 S Main St.). I was instantly smitten with the Emana Collection, which features revolutionary biocrystals technology to improve the look of your skin and give cellulite a smoother appearance. Shopping in-store is definitely an experience, but Beija-Flor also offers a "Try at Home" option for style mavens who can't make it to Greenville.
​
Another Greenville staple I enjoyed perusing was the Mast General Store(111 North Main Street) because it's so unlike any department store I've experienced in New York City. Its vintage-style penny candy, natural body products, silver jewelry, pickled everything, hiking wares, and more gave me a feeling of shopping the mercantile back in the 1800s. The Mast General Store also offers a unique way to explore Greenville's Main Street through the Mice on Main scavenger hunt. (I found one in the photo above!)
​
I made the Aloft Greenville Downtown(5 North Laurens Street) my base while in the city because it was within walking distance of all the Artisphere attractions and the Saturday farmers market, has a chic and trendy vibe, and featured a live DJ at the W XYZ bar, where locals and tourists mixed it up over signature cocktails. I didn't meet my future husband, but kisses from the Aloft's adoptable puppy were a nice consolation prize.
If you're someone who needs an "excuse" to visit a city that is off the beaten path or doesn't have the reputation of being a major metropolis, then Artisphere is certainly that enticement. From the visual and interactive art to the culinary delights from the city's best and brightest chefs to free concerts, Artisphere promises a weekend of entertainment that will have you returning to Greenville year after year.
[Images: Angela Cox Zion]