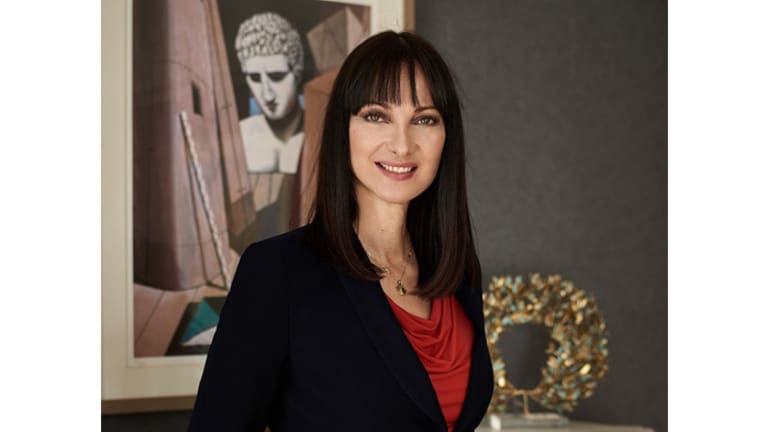 Greece's Minister of Tourism Invites You to the Archipelago
Elena Kountoura explains why Greece is a paradise on Earth.
Elena Kountoura became minister of tourism of Greece in 2015, and has been on a mission to showcase the country as a preferred luxury destinations. With more than 6,000 islands and plenty of different experiences for everyone, Greece is a place to enjoy all year round. UPTOWN had the opportunity to sit down with Kountoura to talk about what makes Greece so magical.
What makes Greece a top choice to travel to?
Elena Kountoura: Greece has emerged as an attractive 365-day destination for global travelers who seek authentic travel experiences year-round. We are the only polynesian [from the Greek words meaning "many islands"] country in Europe, with more than 100 islands. [It's] cosmopolitan, but also [there are] new destinations that we now promote as the "hidden gems," each with its own beauty and local atmosphere. Our friendly and very welcoming country is our travelers' home away from home. Our safe, crystal clear blue waters under the unique Greek light, are ideal for cruising, yachting, diving, and luxury vacationing.
Greece, of course, has immense history and a cultural legacy of global radiance and appeal. It's the [birthplace] of democracy, the Olympic Games, and the [Athens Classic] Marathon. The homeland of Socrates, Aristotle, Plato, and other great philosophers that have shaped western thought. We also promote our unique religious and pilgrimage treasures; our wide offerings for health and wellness; outdoor activities in nature, including world-famous beaches; wedding tourism; MICE [The Meeting, Incentive, Congress and Event Planner's Guide to Greece] and business travel; and of course our famous gastronomy, based on the healthy yet tasty Greek diet. Winter tourism is becoming increasingly popular, as now our visitors discover our mainland of more than 3,000 villages, mythical mountains such as Olympus, and several ski resorts. Athens, Thessaloniki, and other major cities are ideal city-break and short-break destinations, with so many choices for cultural tours, entertainment, nightlife, excellent food, high-end shopping, and daily cruises to nearby islands. And of course, our idyllic destinations are some of the most wanted globally for weddings, honeymoons, and romantic trips, for all those special moments in life.
​
How important is the North American market to you? What actions have you taken to further promote Greece?
EK: The U.S. market is a top priority to us. We invested strongly in promoting Greece to the U.S. in the past four years, and we had a double-digit growth in arrivals. For 2018, the demand for Greece has been stronger than ever. We had a 40 percent increase in bookings and arrivals from the US. Pre-bookings for 2019 are even higher. We also focused on increasing air connectivity. Greece is now connected with non-stop flights to New York and other major cities through four American air-carriers in the extended summer season, and with a daily non-stop service year-round connecting Athens to New York. Through our continuous negotiations, another non-stop flight will begin in 2019, connecting Chicago with Athens, and more are expected to follow. We established close cooperation with the American Travel Agents Association (ASTA), and hosted its annual Destination Expo 2018 in Greece, where they shared with us their excitement for our beautiful country and for the Greek tourist product that they will be promoting in all coming years.
What about the offering in the luxury market?
EK: Greece is one of the most-preferred luxury destinations, and a top value choice in the Mediterranean and Europe. Six out of 10 travelers who choose Greece are of higher purchasing power. The luxury segment of our market has been steadily expanding in the recent years. Hundreds of new investments have been completed by the private sector in five-star hotels and resorts across Greece, as well as for boutique hotels that offer high-end services, privacy, and many choices for couples, friends, or families. At the same time, our visitors can enjoy wellness in modern spas and exclusive outdoor travel experiences. The Greek islands are one of the top choices globally for cruises, while yachting in our safe blue seas allows our visitors to explore multiple destinations and gain diverse experiences in just one trip. We participate in travel shows and events, and cooperate with travel specialists in the U.S., showcasing all the spectacular opportunities for luxury travel in Greece, anytime of the year.
What personal message would you send to our readers?
EK: I would like to extend to all your readers an open invitation to visit Greece with their family and friends, and see firsthand the beauty of my country, and all the unique experiences they can enjoy, along with the famous warm and genuine Greek hospitality.
Greece is the best choice for your holidays. Greece is your home in Europe. There are unlimited choices to spoil you, because Greece is a small piece of paradise on Earth that we want to share with you.
This story has been published in paid partnership with the Greek National Tourism Organization and VisitGreece.gr.