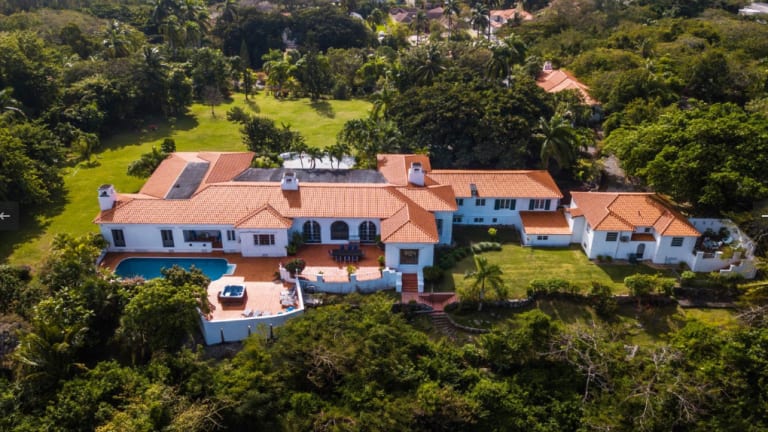 Go Inside: The Duke of Windsor's Bahamas Estate Is On Sale for $8.5M
Sigrist House, a Bahamian estate once occupied by the Duke of Windsor and Wallis Simpson, is on the market.
If you've ever wanted to live like a British royal, now's your chance, as the Duke of Windsor's estate on the island of New Providence in the Bahamas is on the market for $8.5 million.
Edward Albert Christian George Andrew Patrick David, Prince of Wales, King Edward VIII, and finally Duke of Windsor ended up as governor of the Bahamas, after abdicating as King of England in 1936 in order to marry American divorcee Wallis Simpson. The couple went into exile in France, but had plans to return to England in a few years. However, his mother, Queen Mary, said she would cut off his allowance if he returned to Britain. So the Duke and Simpson went on a tour of Germany against the advice of the Crown. Their presence in Germany initiated gossip among the British that he had become a Nazi sympathizer. For this reason, the Duke was sent to the Bahamas to be governor in 1940. Feeling that he was sent to the Caribbean archipelago to be forgotten, he resigned in March 1945. The couple took up with elite society in North America, and later retired in France. The Duke is buried in the Royal Burial Ground in Britain.
The Windsors moved into the expansive country estate in New Providence while waiting for the Government House to be renovated. It was built in the Spanish colonial-style by British movie producer Frederick Sigrist in the 1930s. The four-acre estate is located just outside of Nassau on a ridge overlooking the ocean and bay. Although the main residence of Sigrist House is a Spanish-colonial, it also has British character with its wood-paneled walls and fireplaces, four of which were imported from homes in the English country, reports TopTenRealEstateDeals.com. In addition, the mahogany walls were shipped to England for finishing and shipped back to Nassau to be installed in the home. The main residence has four bedrooms, terraces, and loggia that open onto the gardens. There is also a three-bedroom apartment, and two four-bedroom guest houses on the property. The lush tropical grounds feature flower gardens, and fruit and coconut trees. The swimming pool (which definitely needs a freshening in my humble opinion) and spa have views of the ocean and manicured grounds.
Although the property retains its original charm, reports TopTenRealEstateDeals.com, it has also been updated and modernized with refurbished roofs, electrical wiring, and plumbing. The wood and ironwork have also been restored.
The property has played host to many dignitaries, as it is considered one of the most elegant estates in the Bahamas, according to TopTenRealEstateDeals.com, along with being home to the Duke of Windsor and Simpson in 1940.
Keep scrolling for more photos of Sigrist House.
​
​
​
​