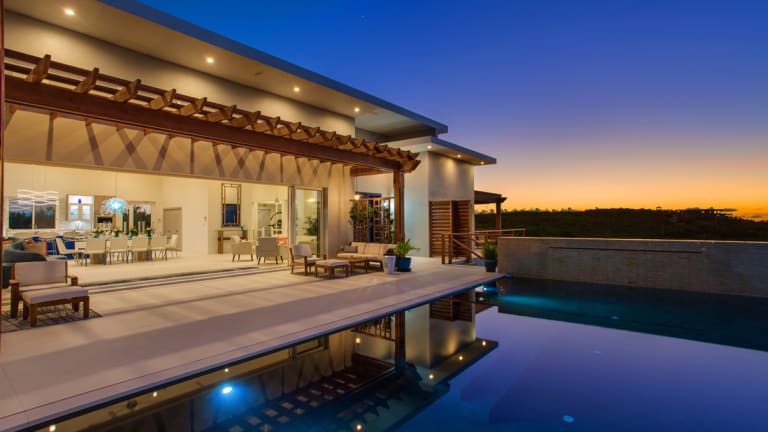 Go Inside: Anguilla's Alkera Villa Blurs Indoor and Outdoor Living
Anguilla's Alkera villa boasts panoramic views of the Caribbean Sea, luxury amenities, and an underground recreation area.
Since the Caribbean is best appreciated and enjoyed outdoors, Anguilla's Alkera villa was designed to blur the lines between its indoor and outdoor spaces. The result is a 12,000-square-foot property that offers luxury, privacy, and serenity to all those who stay there. Let's go inside Alkera ...
The five-bedroom, six-bathroom Alkera is located on the Shoal Bay East hillside, which allows it to offer one of the best views of the Caribbean Sea meeting pristine white sand beaches. When designing Alkera, Anguilla-based Morlens Architectural Services ensured that the open living and dining spaces transitioned seamlessly to the outdoor patio space, which includes a heated infinity pool. The lush front garden is perfect for dining al fresco because it boasts an outdoor kitchen, bar, and eating area. Nature is brought into the house through an open-air shower and indoor garden. But being indoors doesn't mean a guest has to miss Anguilla's impressive sunsets because Alkera's expansive glass paneling, extremely high ceilings, and open-concept interior offers outstanding views of the evening sky.
Another impressive feature of Alkera is the villa's partially underground recreational area that "features vaulted ceilings, dark earthy tones, low lighting, and exposed limestone, creating a starkly contrasting escape." 
Alkera has a modern yet playful decor aesthetic that captures the fun and fresh energy one expects from a vacation. Its other amenities include glass panel doors, panoramic ocean views, walk-in closets, walk-out patios, self-contained kitchen units, a floating island platform for lounging in the infinity pool, tucked-away hammocks and benches, and a complete home gym.
Leviticus Lifestyle & Travel –  an Anguilla-based, global concierge brand that specializes in the rentals of private villas, charter yachts, jets, family, corporate events, and private islands – manages Alkera. Rates for the villa vary by season, but the 2022 winter rates start at $6,825. This includes a chef, a butler, and luxury, private chauffeured transportation.
See more photos of Anguilla's Alkera villa below.