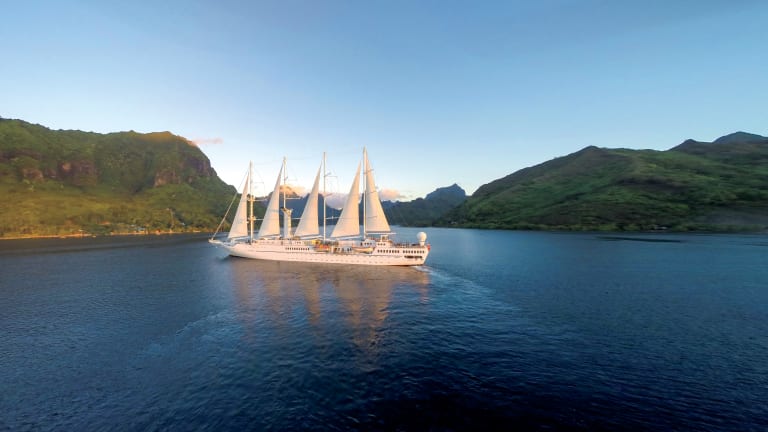 French Polynesia Is More Than Bora Bora
UPTOWN hopped a flight to Tahiti to set sail for a week exploring the Society Islands in French Polynesia. Here's how to maximize the long journey in style.
Written by Brandon Schultz and Jeffrey Panko
Bora Bora may top plenty of destination bucket lists, especially for a honeymoon or romantic getaway, but it's only one of 14 Society Islands in French Polynesia, which is home to more than 100 total islands spread across the South Pacific in an area that would cover Western Europe. True, Bora Bora does contain one of the most awe-inspiring lagoons in the world, home to dazzling colors from the water itself to the teeming marine life within, but there's more to see than this one single glimpse of paradise. Bora Bora's neighbors among the Society Islands offer dramatic landscapes, diverse activities, and plenty more aquatic exploration. They're reachable by short flights and longer ferry rides, but those come with logistical considerations that can take a serious toll on your available hours in a day, and bring costs that quickly add up without adding much to your experience. A sailing yacht cruise, like the Dreams of Tahiti itinerary from Windstar Cruises, brings many of the islands to you while you play or sleep, with no added flights, ferries, or wasted hours, and none of the big-ship cruise commotion you may want to avoid on a romantic escape. UPTOWN hopped a flight to Tahiti to set sail for a week aboard the Wind Spirit, and here's why we think this is the ideal way to visit the Society Islands in style (and, yes, we've tried other ways).
It's not a "cruise" cruise
Let's start with the Wind Spirit, itself, and put to bed any misgivings you may have about being stuck on a floating theme park for days on end. The largest Windstar sailing yacht accommodates just under 350 passengers, and the Wind Spirit maxes out at 148. When we sailed earlier this summer, there were just under 100 guests on-board, which meant plenty of quiet spaces, deck chairs always available, no dinner reservation difficulties, and easy access to staff, including the captain, who regularly appeared around the boat to get to know us. Rest assured you'll become familiar with just about everyone onboard fairly quickly, even if you're not a social butterfly; 100 people isn't many, especially when you consider that's essentially just around 40 pairs and small groups. But don't worry: You don't need to spend your time with new friends if that's not your thing. The overall vibe is still very private.
Most days are spent ashore, visiting the spectacular islands of the itinerary, but there are a handful of activities, usually cultural in nature (not pool parties and bingo), offered on-board some afternoons. This cruise is about natural beauty and sailing elegance, and we were pleased with the healthy blend of casual class – certainly upscale, but never stuffy – offered throughout the sailing. When we did spend an afternoon on-board, our favorite way to pass a couple hours was with the free equipment available on the Watersports Platform, and that included everything from paddleboards and a water trampoline to floating mats and a small sailboat for personal use. 
The precision of service on Windstar yachts means nearly all staff, from servers and housekeepers to spa staff and officers, know your name. On larger boats, you'll often find that your butler/housekeeper knows your name, but not many others. Here, it's everyone, and they generally recall your drink preferences, favorite spots, and routines, too, providing you with anticipatory comforts from the stateroom to the dining room. Speaking of dining, lunch is a step above most cruise ship fare, and seated dinners at Amphora are generally excellent (you won't find any buffet evening meals here, except at a couple of impressive cookouts, one of which is held on Windstar's private island). For a most intimate evening, snag a reservation at Candles for a white cloth, al fresco meal by candlelight and starlight.
Daily (almost) island-hopping
This six-night itinerary begins and ends in Papeete, Tahiti, and includes five additional islands, so you'll experience a new island almost every day, with the exception of two days in ... you guessed it ... Bora Bora! (Hey, it's still the Pearl of the Pacific, after all.) More on Bora Bora below, but pay special attention to the unique offerings at the itinerary's other islands first. From joining a marine biologist to observe and learn about the dolphins (and possibly whales) of Mo'orea to kayaking Raiatea's Faaroa River (the only navigable river in all of French Polynesia), you'll have experiences here you can't find elsewhere, and always in considerably small groups. Plan your excursions carefully and you'll also manage to swim with black tip reef sharks and sting rays, harvest your own black pearl from an oyster bed, dive exquisite waters, snorkel coral gardens, and discover the sacred sites of Huahine. At Bora Bora, you'll overnight in the famed lagoon, offering two full days of excursions or exquisite idling, but this is also one of two big chances we suggest to take your getaway to the next level, and here's how.
Live the good life at a resort
As our kayak guide from Raiatea said, "The only thing Bora Bora produces is bungalows." But boy are those bungalows spectacular, and if you've ever dreamed of heading to this island, you've most likely already been enticed by one of these private cottages on stilts, often with some glass-bottom viewing into the waters below. Because you're overnighting here, you have the opportunity to fulfill your bungalow dreams by reserving a night at one of the island's legendary resorts, like Conrad Bora Bora Nui. Even if spending the night here isn't in your plans, you can still score a day pass that includes a two-course meal, roundtrip transfers, and access to Conrad's beach, waterfront infinity pool (the island's largest with a swim-up bar), and water-sports equipment, plus discounts to the spa and more. Pro Tip: Pool cabanas are free here, so don't hesitate to snag an open one. No reservation required.
Transition in Tahiti
Most flights will arrive in Tahiti in time for you to board the same day, but you'll likely have some time to kill after disembarking on the final morning, as some flights back to the States don't leave until night. You can go the day-pass-route once again and cozy up at one of Tahiti's stunners, but we found it more than helpful to stay overnight at Hilton Hotel Tahiti to take full advantage of the property and ease back into life on land before the considerable journey home. Once the haunt of stars like Brigitte Bardot, Marlon Brando, and The Beatles, the recently renovated and reopened property is home to the island's largest hotel pool and is just seven minutes from the cruise port and under 10 minutes to the airport, making it also the closest hotel to downtown Papeete, perfect for exploring on foot. Consider a traditional Tahitian massage at the spa to prepare your body before heading to the airport, and definitely spring for a cabana to maximize your time at the pool. Hang out until dusk for unforgettable sunset views of nearby Moorea that will rival those you've seen aboard Wind Spirit, and make one last romantic memory to bring home with you.