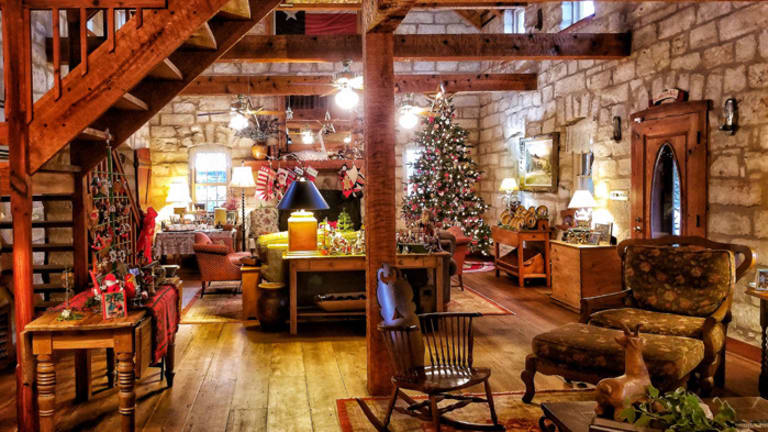 Fredericksburg—The Christmasiest Town in Texas
UPTOWN was recently invited to Fredericksburg to discover the best ways to get in the holiday spirit.
Germany brought us many of the Christmas elements we now consider essentials, from the Christmas tree itself to mulled wine, Christmas markets, and the Advent calendar, so it's no surprise that Fredericksburg, Texas, founded specifically for German immigrants in 1846, does the holiday better than just about any other town in the Lone Star State. UPTOWN was recently invited to Fredericksburg to discover the best ways to get in the holiday spirit, and here are our top five recommendations.
Marktplatz
The main square of Fredericksburg, Marktplatz is home to two centerpieces of the town's Christmas pomp: the giant Christmas tree and the equally-enormous German Christmas pyramid, topping in at 26 feet of hand-carved, wooden wonder. (More reasonably-sized pyramids, powered by candle, are available for sale throughout Fredericksburg, but you'll want to ship these fragile beauties home—they're not suitable for stuffing in suitcases.) Marktplatz kicks off the holiday season with the official lighting in late-November, but the square remains the central hub of festive spirit throughout the season. Don't miss the eisbahn, an outdoor ice-skating rink that brings wintry notions of white Christmases to central Texas.
Main Street
Shopping is one of the two most beloved pastimes of Fredericksburg (see below for the other—spoiler alert: it's drinking wine). While there's no season-long Christmas market, the entire town is a Christmas market large enough to satisfy the needs of the North Pole. With more than 150 shops and galleries, there's an boutique gift for everyone on your list, and plenty for yourself. Most stores are decorated inside and out, so if you're looking to give your credit card a break, even a mere stroll down the street will put a peppermint pep in your step. Take note of how much woodwork is painted green and red in Fredericksburg; it made us wonder if it's always Christmas in this quaint town. Be sure to pop into The Christmas Store (where it certainly is always Christmas) to explore a dozen Christmas village displays from the largest Department 56 dealer in the nation. Don't miss the European blown-glass room, where you'll find one of the most extensive collections of Christopher Radko ornaments, including several that are custom designed by the store's owner. Elsewhere in town, treasure hunt your way through the countless antique shops to find vintage ornaments showcased on nearly endless American and European antiques.
Wine
There are currently 40+ wineries in Fredericksburg, with plenty more in the permitting process, and most of them are situated along Texas Hill Country Wine Road (Highway 290). It's only been in the past few decades that anyone realized Texas could grow great grapes (after all, the hill country region has similar soil and climate to the Middle East, where most vines originate), but the world has suddenly taken notice, with several Texas wineries garnering serious awards and recognition in the international arena. Sip your way down the wine road to see what all the buzz is about or, if you're more of a grape guzzler than a tannin taster, hope on one of the many customizable winery tours to be chauffeured about and safely returned after a day full of research. Like everything else in Fredericksburg, most of the wineries will be heavily decorated and provide plenty of elegant options for stocking stuffers, but look out for events like Sip with Santa at 4.0 Cellars for full wine experience.
Pioneer Christmas
Fredericksburg is deeply proud of its German heritage, but there's no notable resident more beloved than the late President Lyndon Baines Johnson, whose ranch was partly donated to the National Park Service and now offers one of the most intimate presidential tours in the country, featuring the Texas White House, the president's cars, stables, and even Air Force One Half, which was used to land on LBJ's personal runway at the ranch. Even President Johnson's former neighbors have seen their property preserved as the Sauer-Beckmann Living History Farm, presenting early 20th-Century life year-round. Visit in December for a one-night-only Christmas even featuring scores of handmade juniper wreaths, traditional cookies and cakes, and an authentic German tree complete with popcorn garland and candles. Pro tip: Bundle up for this one. Unless you plant yourself by the fire in the kitchen house, you'll feel the Christmas chill on this property—it's a working farm eternally living in the 1910s, after all.
Holiday Homes
Each year, a carefully curated selection of historic homes are completely decked in Christmas trimmings and presented to the public in the Holiday Home Tour, a tradition spanning more than 60 years. From the grandest private homes to the most historic B&Bs in town, each year's collection represents a variety of styles and presents a visual history of the holiday in Fredericksburg. The tour is self-guided so you can pick and choose your destinations if you don't have time for the full itinerary, but be sure to catch a Sunday house, if possible. These tiny houses were used by families living on their farms outside of town, too far from church to travel on Sunday morning, so they were primarily used only for Saturday night sleeping. Many have been preserved and are available for rent, but there's no holiday experience quite like catching one that's dressed in its finest festive décor.