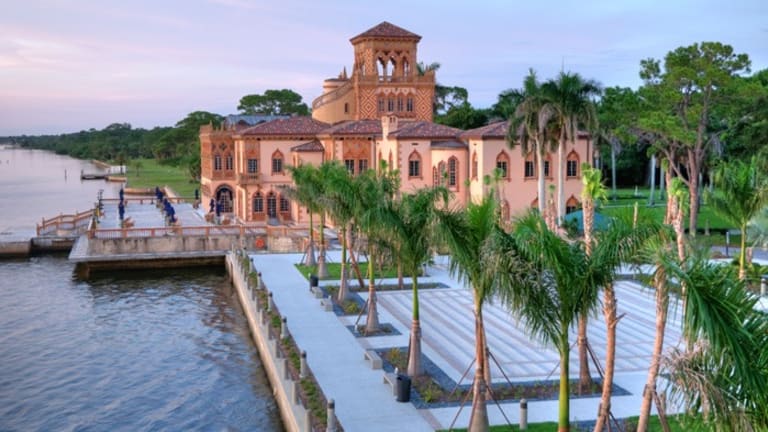 Florida's Mini-Manhattan: Sarasota
Sarasota is a "mini-Manhattan with all the culture in a smaller space."
Nestled nearly halfway between Tampa and Ft. Meyers, kissed by the warm waters of the Gulf of Mexico on Florida's southwest coast, Sarasota and its eight islands draw more than just the typical snowbird crowd. Sarasota isn't the place to just sit at the beach all day (though you certainly can, and Siesta Key is particularly beloved for its pristine white sands); it's a cosmopolitan city of arts that seeks creativity in all expressions from cuisine and architecture to the performing and fine arts, and all by design. When John Ringling (of circus fame and oil wealth) settled in Sarasota with the $1.5 million dollar construction of his Venetian mansion, Cà d'Zan, in 1926 (equivalent to more than $21 million today), he intended to put Sarasota on the map as an arts mecca. His investments had a serious impact on a city that now likes to compare its cultural life to that of the Big Apple. As one New-Yorker-turned-Sarasotan described it, "it's a mini-Manhattan with all the culture in a smaller space." It's that accessibility that packs such a powerful punch, with a ballet, opera, orchestra, almost a dozen theaters, gardens, design schools, and museums in one concentrated area that still emanates charm and beach life instead of concrete and crowds. And it's worth noting that all this culture can be had for a fraction of New York prices. UPTOWN recently visited Sarasota to check out what's buzzing, and here's what we found.
​
​
Among the newest arrivals to the culture scene in town is Art Ovation Hotel(1255 N Palm Ave.), and while it's just steps from the Sarasota Opera, the Florida Studio Theatre, and a slew of galleries, you don't need to leave the property to fully immerse yourself in the arts, either as spectator or participant. In fact, you don't even need to leave your room. Not only are premium colored pencils and leather-bound sketchbooks in each room, but you'll also find your own ukulele (with free lessons offered regularly) and you can borrow larger instruments like a guitar, keyboard, drum set, or cello.
​
​
In the cavernous white lobby that serves as an impressive painting and sculpture gallery (as does the intimate elevator lobby on each floor), musicians serenade guests of the Gallery Lounge bar, a variety of classes from portrait painting to origami are offered, and an open studio hosts rotating artists who create works on site. Nearly all of the art found throughout the property is for sale and you can scope out your favorites during the engaging art and wine tours held daily, but if your shopping goals are on a smaller scale, don't miss the eclectic boutique gift shop by the front desk. It's a culture-immersive experience from check-in to checkout at Art Ovation, where even the staff are encouraged to express themselves by assuming alter-egos of famous creatives from any field. UPTOWN was checked-in by Elon Musk, driven around town by George Jensen, served drinks by Stevie Nicks, and introduced to the property by Art Ovation Hotel's General Manager, P. T. Barnum—a fitting nod to Sarasota's deep circus history.
​
​
You'd be remiss not to clown around at the Ringling Circus Museum(5401 Bay Shore Rd.), with a 44,000-piece miniature circus model (to scale, and packed with intimate, accurate detail) and showstoppers like original circus wagons and John Ringling's gilded private rail car. Try your hand at walking the tightrope or balancing on horseback in the interactive circus tent room. It's among one of the most fun and unique experiences you can have in a museum (and it's perfectly safe). Also on site is the Ringling Art Museum, with impressive Renaissance and Baroque collections, and most renowned for its epic collection of monumental Peter Paul Rubens works. Just four miles south, and minutes from Art Ovation, the modest former home of oilman Bill Selby and his wife is now surrounded by the Marie Selby Botanical Gardens(900 S Palm Ave.), and there are many. On site are an epiphyte garden, bromeliad garden, butterfly garden, mangrove walk, bamboo garden, fern garden, reflecting pond, children's rainforest (with treetop walkways that adults will also want to explore), and a savage garden, dedicated to carnivorous plants. Like most of Sarasota, the Gardens are also enamored of art, and host the In Dialogue with Nature series featuring fine art exhibitions throughout the property.
​
​
Culture is everywhere in Sarasota, but where the city most profoundly soars above other popular beach destinations is in architecture. A mecca of midcentury modern structures from beach pavilions to innovative schools and enviable homes, Sarasota is the birthplace of its eponymous School of Architecture, not actually an organization but a style of modern architecture adapted to the coastal Florida climate. Hallmarks of the Sarasota School include floor-to-ceiling glass doors, oversize shades, and seemingly endless jalousie windows. Perhaps no building is as emblematic of the movement as the famed Umbrella House in the exclusive Lido Shores neighborhood, where a sleek canopy shades not only the entire 1800-square-foot house, but also the majority of its backyard, with an opening just above the rectangular pool. The original 3,000-square-foot covering was made of tomato stakes and succumbed to a hurricane in 1966, remaining missing until reconstruction (with sturdier material) was completed in 2015, nearly 50 years later. Tours of the privately owned Umbrella House are occasionally offered by the Sarasota Architecture Foundation, but the namesake umbrella can easily be appreciated from the streets bordering this corner property.
From circus capital to high culture haven, Sarasota excels at all manner of showmanship and with the recent opening of Art Ovation Hotel, there's never been a better time to create your own inspired getaway in this beach town that loves to perform.
[Images:
Ca' d'Zan, John and Mable Ringling Museum of Art
Art Ovation Hotel Exterior, Rich Schineller
Art Ovation Lobby, Veronica Pena
Reflecting Pond, Marie Selby Botanical Gardens
Umbrella House, Anton Grassl, Esto]