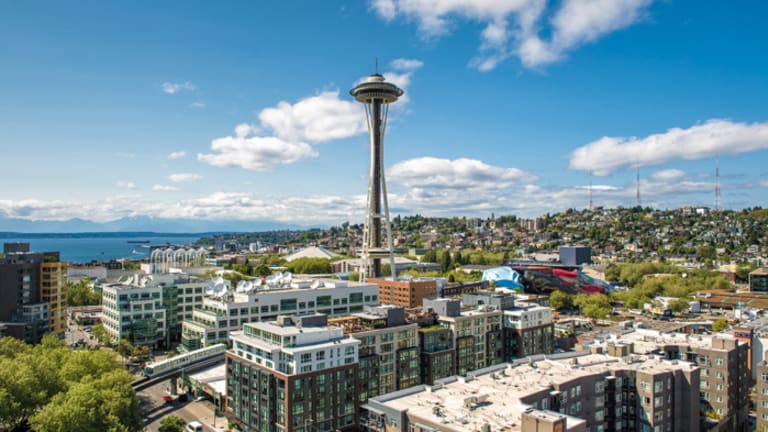 Exploring the West Coast: 5 Ways to Be the Most Seattle
From what to see and where to shop to what to eat and drink, Seattle has a signature style for just about everything.
From ice skating in New York's Rockefeller center to climbing the Eiffel Tower, almost every city has a classic travel experience or two, but few have as many quintessential moments as Seattle, Washington. From what to see and where to shop to what to eat and drink, Seattle has a signature style for just about everything. UPTOWN was recently invited to Hyatt House Seattle/Downtown to learn exactly how to be the most Seattle, and this is what we found.
The Space Needle
The Space Needle is, most likely, the first thing you think of when you consider Seattle, and for good reason. Once the tallest structure west of the Mississippi River, it's been an icon of the city since its construction for the 1962 World's Fair. With panoramic views of downtown Seattle and beyond, it now includes the world's only revolving glass floor, installed in 2017. No trip to Seattle is complete without a zip to the top, but one of the coolest features can be found in the gift shop below. For no extra charge, sign up to try the virtual reality bungee jump; we dare you not to hold on to your seat.
Located immediately next door to the Space Needle, Hyatt House Seattle/Downtown offers total landmark immersion. Three of the eight windows in our seventh-floor, corner suite looked out over the treetops directly at the Needle, affording up-close views day and night (don't worry, automated blackout curtains easily shut out the behemoth tower's powerful nighttime lighting). One floor up, the hotel's charming rooftop had even better views, complete with an ideal Space Needle selfie spot (clearly marked).
Hyatt Houses are designed to provide all the comforts of a chic, modern home without the quotidian errands that shouldn't be part of vacation, so take advantage of laundry service and even grocery shopping services if you plan to utilize the fully functioning kitchens (or rooftop grills). The spacious suites are perfect recharging in the center of Seattle, but so is the ground floor, where you'll find H Bar for cocktails in the evening or the all-day coffee and tea station (free), depending on your need at the moment. We partook of both . . . several times.
Coffee
Seattle's most famous contribution to the world is undoubtedly Starbucks, and the must-visit Pike Place Market contains the world's first (though that's hardly the most interesting shop in the market), but there's plenty of other coffee to be sipped in the city. We took a coffee tour with Road Dog Tours, visiting roasteries and cafés across Seattle, sampling endless varieties, learning to make latte art, and, of course, chowing down on puffy pastries. Sipping our way across town was an ideal way to get acquainted with a new city, caffeinated beyond any chance of tiring out.
Chihuly Garden and Glass
Just below the Space Needle (and partly visible through the glass floor), the Seattle Center is home to the one of the world's most famous exhibitions of modern glass art, Chihuly Garden and Glass. Eight galleries are home to countless pieces of priceless sculpture, but the true showstopper is the 4,500-squre-foot Glass House—a conservatory-style atrium with a 100-foot hanging installation of red, orange, and yellow flowers revealing various views of the—you guessed it—Space Needle. Outside, manicured gardens reveal a treasure trove of glass pieces cleverly interacting with their natural environments. Our favorite discovery may not have involved glass at all, though: Collections Café, inside the Seattle Center, overflows with Chihuly's personal collections of quirky curios, arranged in large-scale exhibitions on the walls, hanging from the ceiling, and within glass shadowboxes at just about every table. You'll even find some of his collections in the bathrooms. Chihuly may have been born in nearby Tacoma (about a 45-minute drive away), but he was educated in Seattle, and he's certainly one of the city's favorite sons.
Beer
There's a lot of beer in Seattle. Washington State produces 70 percent of the nation's hops and Seattle's countless craft breweries benefit. Some surveys show that Seattle has more breweries than any other city in the U.S., so don't attempt to hit them all, but Road Dog Tours offers three-hour, three-brewery tours with tons of tasting for a decent crash course in Seattle suds. Or, do what we did and make dinner reservations at No Anchor, the fresh-focused, sustainability-obsessed hotspot in Belltown, where beer is taken as seriously as the five-star dishes it accompanies. At least 15 beers can be found on tap, all plotted on a handy 4-quadrant tasting graph identifying each beer's degree of approachable-to-esoteric and modern-to-traditional. At No Anchor, it's as fun to choose as it is to drink (almost).
Whales
No Seattle getaway is complete without a whale-watching experience. Head north from Seattle to Edmonds (about a 30-minute drive) and book a half-day adventure with Puget Sound Express to scope out the humpback, orca, and minke whales of the San Juan Islands. You'll also likely encounter dolphins, porpoises, sea lions, otters, and plenty of birds. Food and drinks are available on-board (you can pre-order boxed lunches), and yes, there are bathrooms on the boat. Whale sightings are guaranteed (by a voucher for another voyage), and we counted at least five on our trip, including an incredible up-close encounter with a humpback whale who rubbed his belly on the bottom of our boat, and sprayed us with his blowhole. Full disclosure: This type of encounter is super rare, but it did happen three times this year and is likely to happen again, as long as Two Spot, the particularly playful humpback, doesn't lose interest in boats any time soon.