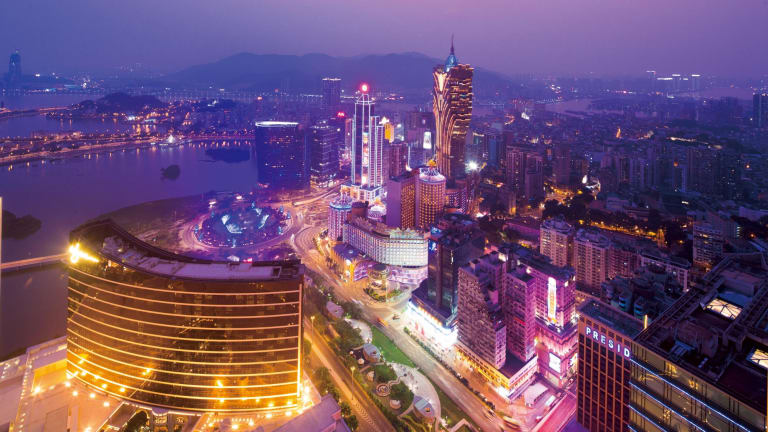 Exploring and Appreciating the Art, Architecture, and Gastronomy of Macao
Macao has just as much to appreciate with sight as with taste.
​
Having "special" in your name could be a lot to live up to, but Macao knows how to handle it. It was officially named the Macao Special Administrative Region (SAR) of the People's Republic of China after being returned 20 years ago by the Portuguese, who colonized the city and its islands in 1557. Though it issues its own passport, uses its own currency, governs under its own legal system, and flies its own flag, Macao is represented by China on the international stage, so it isn't quite a country. It's an SAR. Like Hong Kong, you don't need a tourist visa to enter from the United States, making it a popular combo package with its better-known counterpart, especially since the two have been connected by the Hong Kong-Zhuhai- Macao Bridge, the longest bridge-and-tunnel sea crossing in the world. Well known for its vibrant culinary scene—the 12-square-mile region is home to 19 Michelin starred restaurants and nine Bib Gourmands, Macao is home to the world's first known fusion cuisine, boasts world-renowned street food, and was recognized in 2017 as a UNESCO Creative City of Gastronomy. It has just as much to appreciate with sight as with taste. UPTOWN was recently invited to explore the art and architecture of Macao, and here were some our favorite experiences.
Art Macao
Appreciating the proverb that "art evokes empathy and culture connects people," Art Macao hopes to build cultural bridges by featuring both Chinese and international artists from across the centuries, presenting diverse viewpoints and heritages to visitors. This isn't a permanent event, but it's a five-month mega exhibition spread across the region from installations in hotels and public spaces to gallery shows and the main exhibition at the Macao Museum of Art. Expect to discover new, contemporary favorites alongside some of the most recognizable names in art from Da Vinci to Warhol as this first edition of Art Macao is explored with the theme of diversity. If you're heading to Macao in September, look out for the Y Show at the Macau Grand Lisboa hotel. Enjoy this year's fourth edition of the art graduate show featuring the next generation of promising artists (both local and international) inside one of Macao's most architecturally eye-popping hotels—a true icon of the region.
Gifts of a Lifetime
You should have already visited the Macao Museum of Art to check out the overview of Art Macao in its main exhibit, but don't miss the Handover Gifts Museum of Macao nearby. Unfortunately, this intriguing name doesn't mean that anyone is going to handover gifts to you for visiting, but you will find some of the most priceless gifts given in recent history. When Macao was returned to China by Portugal 20 years ago, more than 50 of China's provinces, cities, and ethnic groups presented the SAR with exquisite pieces of art reflective of their own local cultures to welcome Macao back into the family after nearly 500 years. Here you'll find glittering, jewel-encrusted mosaics; intricate sculptures of jade, cinnabar, glass, and gold; and, our personal favorite, a towering pair of urns from the province of Heilongjiang. Made from jade, agate, and the shells of 10,000 hickory walnuts, they're 1.999 meters tall to represent the year of the handover (1999) and sit on custom stands that are 0.37 meters tall to represent well wishes from the 37,000,000 people of the province.
Morpheus
The building alone is enough of a reason to visit, but there's scads more to see inside. The world's first exoskeleton high-rise, Zaha Hadid's masterpiece is instantly recognizable and impossible to ignore. Part of Macao's City of Dreams hotel and entertainment complex, Morpheus's gargantuan, free-form exterior is a sight to behold, but the ultra-high-end hotel's lobby is one of its most epic features. Like stepping into an interplanetary future, the soaring 10-story atrium of aluminum-clad steel and glass is flanked by two banks of glass elevators zipping up and down at near-alarming speeds, giving the impression of boarding a spaceship to leave Macao, and Earth, behind. Further inward, check out the free exhibition, Unexpected Encounters, featuring large-scale pieces scattered throughout the entire City of Dreams that are at times interactive, meditative, inspirational, or all of the above. Pro tip: Get your selfie face ready for Shinji Ohmaki's Echoes Infinity, an installation of vibrantly painted florals reflected infinitely by angled mirror walls and glossy floors and ceilings. It's InstaGold.
Portuguese Heritage
There's no denying that part of Macao's unique charm is its intimate mashup of Portuguese and Chinese heritage, and the most visually noticeable way to experience this is through the architecture. Head to Senado Square for an explosion of Portuguese colonial architecture around a pedestrian plaza of Portuguese pavement, the unmistakable style of black and white stones placed with mosaic precision and found worldwide wherever Portugal once governed. It doesn't get more quintessentially Portuguese than this UNESCO World Heritage site. Around the corner you'll find the ruins of St. Paul's, where the facade of a 17th-Century church stands in front of a humble Buddhist temple, evoking centuries of cultural immersion. Make your way also to Taipa, once a remote island reachable only by ferry but now connected by bridge, where you'll find the Taipa Houses Museum. Here, you'll catch a glimpse of colonial life as you explore the restored houses of wealthy Portuguese families from the early 20th Century.
The Spectacle
While much of Macao is a spectacle, the Spectacle is within the $3.4 billion MGM Cotai. It's the world's largest array of LED screens, constantly displaying digital art and photography, all within an atrium holding the Guinness World Record for "largest free-span gridshell glazed roof," and while you are highly unlikely to know what that means from reading it, you're strongly encouraged to experience it for yourself. Once inside, roam the property in search of its staggering art collection containing more than 300 pieces (you won't have to look hard—they're everywhere). Among the collection are just over 40 curated pieces designated as The Chairman's Collection, which you can explore more directly on free daily tours by stopping by the MGM Cotai concierge in the lobby. Pro tip: Don't just expect to pop into one of these tours if you only speak English; you need to reserve an English-speaking guide in advance, so do stop by concierge. It's still free.