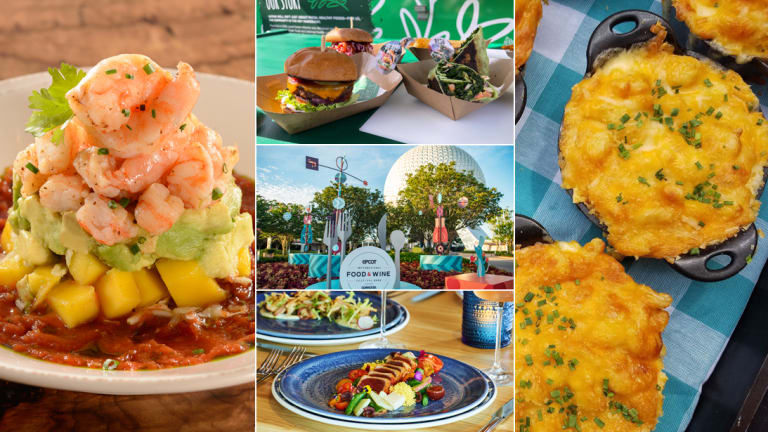 Exploring a World of Cuisine the EPCOT International Food & Wine Festival Way
The EPCOT International Food & Wine Festival is a paradise complete with cuisine, culture, cooking demonstrations, craft beer and cocktails, and fine wine.
Growing up in Southern California affords a multitude of recreational possibilities. However, the Disneyland experience is one that my parents and I were the most comfortable with. Just as it is today, the Disney of the 1970s never grew boring and it is truly the pinnacle of memorable family experiences.
For my dad's birthday in 2012, I surprised both him and my mom with a vacation to Walt Disney World. This is a place that he had always wanted to visit, but timing never worked out in previous years. Suffice to say, he was beyond impressed as we visited every Walt Disney World theme park during our five-day vacation. Bottom line: No one knows what tomorrow will bring. My dad has since passed away, and as my mom and I are still grieving, we frequently reflect on the fun, joy, and togetherness we experienced during my dad's surprise birthday vacation. Those memories are a treasure for both my mom and I.
Disney remains a special place for me, and here's a gastronomic way for you and your family or friends to start making memories at Walt Disney World too.
Every July through November, Walt Disney World hosts an event that is a foodie's heaven – the EPCOT International Food & Wine Festival. For nearly 130 days, you can experience unique international flavors while strolling through EPCOT's global continent community. You will discover a cornucopia of cultures, cuisines, and innovative cooking techniques from chefs who have been sourced from around the world. This culinary paradise abounds with delicious dishes, fine wine, and craft beer, spirits and other beverages that are sure to satisfy every palate. This festival celebrates gastronomy, so you won't feel inhibited as you sip and savor your way through EPCOT, while also experiencing its many rides, attractions, and regional offerings.
On that note, it's apropos that EPCOT recently opened Remy's Ratatouille Adventure, in the newly expanded France Pavilion, during the debut of "The World's Most Magical Celebration" that honored Walt Disney World Resort's 50th anniversary. If there were ever an attraction that celebrated food, this would be it. Remy's Ratatouille Adventure invites guests into the flavorful world of Disney and Pixar's Academy Award-winning Ratatouille, where they will feel as if they have shrunken to the size of Chef Remy and are scurrying through Gusteau's famous restaurant.
Over at Disney Springs, you can enjoy a bevy of culinary offerings. Chef Art Smith's Homecomin' Florida Kitchen and Southern Shine Bar serves up some of the most flavorful down-home comfort food in the region. Everything on the menu, including Church Lady Deviled Eggs, Fried Chicken with Doughnuts, Country Fried Steak, Fried Gator, Braised Kale and Collard Greens, and Chocolate Pecan Pie, is prepared with local ingredients. Similarly, Florida flavor reigns in the Shine Bar, where spirits distilled in the Sunshine State are mixed with farm-fresh herbs and house-made elixirs that certainly enhance the flavorful concoctions. 
If you enjoy vegetarian, vegan, or pescatarian dishes, you should experience the Local Green Orlando Food Truck. This new Disney Springs culinary offering provides diners with flavorful and creative sandwiches, wraps, sides, and beverages – all with a focus on health and affordability. Co-founder and Hip-Hop legend Zachary "Big Zak" Wallace created Local Green Atlanta and subsequent Local Green ventures in order to combat food insecurity in underserved communities. The delicious Rappers Delight Salmon Philly sandwich consists of grilled fresh salmon, grilled trinity pepper mix, mushrooms, onions, melted vegan mozzarella, and drizzled "Liquid Gold" sauce on a brioche roll. Similarly, the low-calorie Air Fries and Elote Street Corn delight the palate, guiltlessly. 
"This is a 'give' to my community to provide healthier options with a quality approach, while not worrying about profits," said Wallace to UPTOWN in an interview.
The Weekend Brunch at House of Blues Orlando at Disney Springs is quite a treat too. The menu features Southern, made-from-scratch brunch favorites, like the EPCOT International Food & Wine Festival's most anticipated entree – Chicken 'N' Donuts – and the Brown Sugar Chile Bacon and Biscuits & Gravy. And what's brunch without a tipple? Fortunately, diners can enjoy inventive cocktails, as well as (responsibly) sip the bottomless beverage options. While visiting House of Blues, be sure to take some time to peruse the restaurant as it also serves as an art gallery. Folk art abounds throughout the facility, and you will find creative treasures from a variety of artists, including Dr. Ruth Mae McCrane, Archie Byron, and Mr. Imagination (née Gregory Warmack). On that note, be sure to visit Mr. Imagination's Unity Arch, which is located at one of the entrances of the venue and highlights his sandstone self-portrait sculptures.
After enjoying all the culinary goodness, burning off calories is easy. Disney offers a year-round series of races, from 5Ks to marathons, for runners of all levels, and runDisney is one of the largest race organizers in the United States. The races take place throughout Walt Disney World Resort with the routes running through various theme parks, providing a magical backdrop for the runners. Plus, runDisney races regularly feature entertainment elements, like music and appearances from characters who resonate with Black runners, including Princess Tiana. There's also a health and fitness expo, where official race merchandise is available exclusively. 
Right now is the most exciting time to visit EPCOT. During Memorial Day weekend, the park debuted one of the most advanced rollercoasters on the planet, the Guardians of the Galaxy: Cosmic Rewind, which is first Walt Disney World attraction to feature the Guardians of the Galaxy and the first coaster attraction at EPCOT. It is also Disney's first reverse-launch coaster and the first Disney Omnicoaster, in which vehicles make controlled rotations to always keep guests focused on the action. And, just like the Guardians of the Galaxy films, Cosmic Rewind randomly weaves classic pop music into the fabric of the ride experience. The attraction's onboard audio cranks hit tunes from the '70s and '80s, including Earth, Wind & Fire's "September," "Disco Inferno" by The Trammps, "Conga" by Gloria Estefan & Miami Sound Machine, and Blondie's "One Way or Another."
When it's time to turn in for the evening, the Walt Disney World Swan and Dolphin resorts are ideal for families seeking familiar lodging experiences from Marriott Hotels & Resorts, the only hotel company with accommodations in immediate proximity to both EPCOT and Disney's Hollywood Studios. The Walt Disney World Swan and Dolphin, which are actually two resorts on the same property, are replete with custom amenities, including Westin Heavenly Beds. The dining at these resorts is also impressive. From Todd English's seafood restaurant bluezoo, to Shula's Steak House, you are instantly assured that your elevated culinary journey at Walt Disney World will remain uninterrupted.
The recently opened Walt Disney World Swan Reserve is strikingly beautiful architectural gem with a focus on modern luxury. As one of Marriott's Autograph Collection properties, the Swan Reserve's 349 guest rooms, including 151 Signature Suites with floor-to-ceiling windows, is an idyllic oasis to help you recharge in refined environs before exploring more wondrous adventures throughout Walt Disney World. (Pro tip: Reserve an Epcot Suite. Its cavernous space, amenities, and corner room placement will only enhance your stay.) Additionally, the Swan Reserve is home to Amare which brings Mediterranean fare to Lake Buena Vista, Florida. With its open kitchen concept, Amare churns out some exciting and flavorful dishes. One of its most popular dishes is the Seabass al Cartoccio, which consists of two filets of sustainable striped bass steamed in a parchment paper pouch with thyme, garlic, wilted greens, tomatoes, and heirloom potatoes, finished with a decadent white wine sauce.
As you can see, your visit to Walt Disney World Resort can be crafted to focus on a variety of things for you and your family. Whether it's rides, food or just getting away for a spa retreat, your customized journey is certain to satiate all of your fantasies!