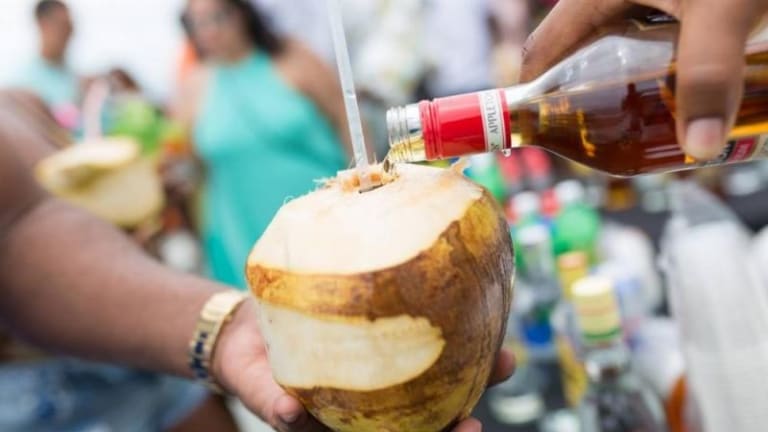 Experience Jamaica Carnival Like You Have Never Before
Experience Jamaica Carnival Like You Have Never Before
By Noel Cymone Walker
Envision this: You fly into Jamaica's Norman Manley International Airport prepped with a full list of the hottest beach parties, breakfast fêtes, and all-inclusive catamaran cruises for a full week of up-the-ante carnival fun! Don't know where to start? No worries! We got you covered with this 2018 Guide to Jamaica Carnival.
At a Glance
Jamaica is the third largest island in the Caribbean. It is known for its boastful black, yellow, and green flag pride, electrifying Dancehall Vybz (pun intended), flavorful jerk chicken spice, and being the birthplace of the legend Bob Marley. However, when it comes to experience—carnival is one you can't bypass. This year marks the 29th anniversary of carnival in Jamaica, which was introduced in 1989 by a group of revelers accustomed to celebrating TNT's – Trinidad and Tobago— carnival as the home and capital to play mas. Whispered like the tale of an urban legend, it is speculated that once Hurricane Gilbert detonated dreams of traveling to Trinidad in '89, a group fête-goers, known as the Oakridge Boys, decided to hit the streets of Jamaica and create their very own carnival on the island. Since then, Jamaica Carnival has continuously grown into one of the biggest entertainment events on the calendar, and now is emerging as a worldwide experiential travel sensation. It's the perfect post-Easter weekend celebration, where tourists and locals mash-up in a fusion of evocative Calypso fun.
When to Go
Jamaica Carnival events start in January and end one week after Easter Sunday every year. The best time for foreigners to partake in the events is the full week leading up to the last Sunday of carnival, which is known as Road March Sunday. This is the most exciting event of the season when everyone gets dressed up in masquerade and parties on the streets of Kingston with the leading Soca and Dancehall performers in the world. The optimum arrival date is usually the Wednesday or Thursday before the last carnival Sunday, so this year that would be April 4th and 5th. If you're flying from New York, Jet Blue offers straight flights from John F. Kennedy International Airport right into Kingston's Norman Manley Airport, where you will spot nothing but foreigners arriving for the festive events.
Getting Around
For carnival, we drink RUM! Yes, that's right! This festive calendar week is filled with an overload of rum punch and other tropical, yet, alcoholic beverages, so when talking transportation, it's best to stick to taxis, lifts, and shuttles to get around. Also, note that in Jamaica, vehicles drive on the left side of the road, with many driver seats righteously positioned on the opposite side. This can definitely be confusing to someone from farin or foreign, aka the U.S. Nevertheless, don't fret! There is a multitude of reputable taxi companies that can easily help you get to your events. For example, Apollo Taxi Service offers car and bus shuttle services if you are travelling with a big group. Gadgepro Taxi & Tours offers free Wi-Fi within the perimeters of its vehicles! Also, note that if you are staying in a hotel, your concierge should have a reputable team of drivers on-call, specifically, ready to take you to such carnival events. However, if you are more of a daredevil and willing to take on the island road, Apex Car Rental and Avis Car Rental offer an extensive array of vehicles at a reasonable price. (Also, know that if you are traveling from the U.S. and own an international credit card, such as Master World, Chase Sapphire, or American Express, then daily car insurance rates, which can add a good $11 to $15 to your daily rental rate, are graciously covered by credit card company. Amen to that.)
Lodging
Most carnival events take place on the uptown side of Kingston and the New Kingston locale is the safest of areas to stay. Some hotels in the area include Spanish Court (from $259/night), Knutsford Court ($131/night), Terra Nova Hotel ($189/night), Courtleigh (from $263/night), The Jamaica Pegasus ($182/night), and Courtyard by Marriott Kingston (from $279/night). Airbnb is always an option and might be a lot cheaper to boot. However, Airbnb owners are aware that it is carnival time and are worried about property damages (all that party paint—yeah, pretty messy), so there may be some caution. Notwithstanding if you are a good sport and know how to keep the space clean, express that and things should work out fine. (But keep quiet! If they don't ask, don't tell!)
Fête Guide
Depending on your background, a fête may not be a word you hear in the U.S. often, but it's simply a celebration or festival, which Jamaica Carnival has in surplus. Starting Wednesday, April 4th, there is literally a good two to 10 different fêtes per day! Madness right! From sun-up to sundown -- or actually no sun at all -- parties overlap in rotation on a fierce no-sleep schedule. Some of the biggest event planners, promoters, and carnival bands throw some of the hottest parties you will attend in life.
Wednesday, April 4th
I LOVE SOCA Cooler Festival 7 p.m. – 2 a.m.

Hosted at Sabina Park in Kingston

This Cooler/igloo event will showcase the chief soca performances by BLAXX (Trinidad) with his 2018 hit "HULK," KERWIN DUBOIS with a strong catalog of hits including "FETELAND" and "Touch Down" (2018), "Circles" (2016), "Skinny Fabulous" hailing from St. Vincent, who is an island favorite and plenty more.
Thursday, April 5th
JAM Nation Jamaica 4 a.m. – 10 a.m.

Hosted at Fort Clarence Beach

Jam Nation is bringing their Trinidad beach J'ouvert vibes to Jamaica for the first time in a dawn to day beach party.
Afloat Soca Cruise 4:30 p.m. - 9:30 p.m.

Hosted at Caribbean Queen

Afloat Soca Cruise updates to two cruises this year after selling out immediately last year for its amazing soca DJ lineup and dance floor cruise vibes.
Frenchmen Blocko 7 p.m. – 2 a.m.

Hosted at Jack's Hill, Kingston

Frenchmen has the most live event team, providing premium and ultimate party experience with their Frenchmen Blocko party, and Frenchmen Bazodee party shutting down the streets of Kingston with its beautiful party décor and matchless soca party vibes. Showtime will be headlined by the sizzling duo of Bunji Garlin and Fay-Ann! Special guest artists from Barbados will also appear courtesy of the Barbados Tourism Marketing Inc. and the No Crew Left Behind initiative. Music provided by DJs Private Ryan, Back to Basics, Taj, and Lantern.
Tribe Ignite 8 p.m. - 2 a.m.

Hosted at Sabina Park, Kingston, Jamaica

A flaming partnership between Xaymaca International & Tribe Carnival (Trinidad), This premium drinks inclusive fete features a headline performance by KES, with the top tier TRIBE road DJs, Patrick The Hype Man, Lord Hype, Nuphoric, Riggo Suave and many more cameos.
Friday, April 6th
Suave the Silent Soca After-Party 12 a.m. – 6 a.m.

Hosted at 100 Hope Road

Silent Noise by Dj Delano is a post fete after hour's silent party with no loud speakers! It only offers headphones upon entry with three different channels of music provided by American, Jamaican, and Trin-Bago Djs. And since there are no speakers there's no waking the neighbors!
Illusions Mas Black 2 Blue Breakfast Party 5 a.m. – 11 a.m.

Hosted at Hope Gardens, Kingston

This energetic cooler breakfast party allows you to bring your own drinks, but the food is inclusive and the party lineup is wicked. You'll be in total bliss as you dance black of the night off, into the blue of the day.
Hookie Jamaica Breakfast Party 8 a.m. – 3 p.m.

Hosted at Constant Springs Golf and Country Club

The Hookie Life Entertainment team is a reputable team of Washington DC promoters who have put on unforgettable events in DC, Miami, and Bermuda for the past 8 years. This year they team up with Jamaica to present a Hookie Breakfast Party, encouraging revelers to play "hookie " from Friday work hours, and come start your weekend at this all-inclusive fête!
Medz JA Cruise 8 a.m. – 12 p.m.

Hosted at TBA

Medz Events is a Caribbean based event team that specializes in boat and cruise parties around Jamaica and Barbados carnival. The event starts off with an all-inclusive breakfast sponsored by Grace Kennedy Kitchens and Campari's portfolio of their liquor, wines, and champagne. Medz Events adds extra touches such as free shots, Jell-O shots, unlimited sangria throughout the ride. Freshly cooked jerk chicken is available on the spot for the patrons.
Candy Coated One Love Boat Jamaica 10 a.m. – 3 p.m.

Hosted at Treasure Queen Boat

Candy Coated Events is known for their premium and unique event experiences in T&T, Jamaica, Barbados, Miami, New York and Toronto. To differentiate themselves this year, they bring 'Candy Coated LOVE Carnival 2018' tour to Jamaica where fete-goers are taken on a journey of love on their signature Candy Coated Cruise. It's dubbed the ONE LOVE Boat. Creative Director, Candace Guppy-Sobion added "Love truly drives what we do and we strive to make it an almost tangible element of all our experiences. Patrons can expect the usual epic BEN UP vibes from us aboard the ONE LOVE Boat. What's unique about this event is that it's a true fusion of the two cultures - Jamaica and T&T". The event is powered by the dancehall and soca music which Jamaica Carnival an experience like no other.
Scorch Duck Work Cooler Fete 5 p.m. – 11 p.m.

Hosted at Hope Gardens

Scorch Duck Work is the most energetic post-Friday work party! To kick off your weekend, Scorch invites you to come celebrate carnival weekend at this cooler fete with a performance scheduled by the soca king himself—Machel Mantano and many more surprises throughout the night!
Saturday, April 7th
Caesar's Army A.M. Bush JA 2 a.m. – 8 a.m.

Distributed at Campion College

Caesar's Army is a team of warrior revelers known for their combat style of events where the party experience is notched up to battle-like status. This is the unsurpassed J'ouvert bush party that brings the euphoric party vibes. This year grab your warrior team, head to the bush and shell down the place in crazy army fun.
Sunnation SUNRISE Breakfast Party 5 a.m. – 11 a.m.

Hosted at Constant Spring Golf Club

SUNRISE Breakfast Party is humbly the most sought-after premium all-inclusive event during carnival in JAMAICA. Hosted by Sunnation, this all-inclusive breakfast party showcases the best in Jamaican, Trinidadian and international cuisine, accompanied by exquisite party décor and party patrons that dress to impress.
Fling Bikini Cooler Party 2 p.m. – 9 p.m.

Hosted at TBA

Fling Bikini Cooler Party, named after the idea of "flinging your worries and stress away", is an exclusive event by Ninjafete and Code Red Promotions—2 multi-cultural teams based out of Brooklyn, NYC. This year they add this sexy under the sun fierce pool party to carnival, which is the perfect midday move on Saturday before Road March Sunday.
Icebox Entertainment SUITS Cooler Cruise 4 p.m. – 9 p.m.

Hosted at Treasure Queen

Icebox Entertainment has become known for an giving authentic Carnival experience like no one else! The flagship event, SUITS, continues to sell out well before the events kick off every single year. This is a cooler cruise to never miss!
Frenchmen Bazodee 5 p.m. - 11 p.m.

Hosted at Cherry Gardens

Bazodee brings the crazy electric vibes, shutting down the streets of Kingston with this matchless soca party. A special live performance by Kes will headline Bazodee, again supported by special musical guests, guest DJs, and all-inclusive premium food and drink. Music provided by DJs Private Ryan, Back to Basics, Taj, Lantern, and Smoke.
The P.M. Fete 8 p.m. – 2 a.m.

Hosted at TBA

Bringing the traditional "Monday Wear" to Jamaica for the very first time, this all-new pre-mas fete is the ultimate pre-requisite to road march Sunday. If you can come here, look good, and mash up di place. Then you are ready for di road!
Sunday, April 8th
Road March Sunday 9 a.m. – 6 p.m.
The most important event of the whole carnival calendar, this is when the city shuts down the most important roads to cater to all masqueraders partying with their specified bands. Every year Jamaica Carnival seems to bring something new, and this year is no different with a total of three carnival bands to chose to jump from—XodusCarnival, Bacchanal Jamaica, and Xaymaca International. Each band travels on different routes offering revelers compelling added extras to their band experience. However, after the launch of Xaymaca in 2017, it is no secret that they have quickly risen to the top as the band to play mas. Xaymaca offers a high-end carnival experience, incomparable costume selection, luxe vibes, and quality performances. Everything from their air-conditioned lounges and hotel lunch stop, to makeup touch-ups, and goodie bags pushed Xaymaca to stand out last year, so this year we are expecting a bigger and better yet riveting experience. Performance lineup includes Nailah Blackman, Skinny Fabulous, Blaxx, Ding Dong, Kerwin Dubois, and more.
Big Wall City of Lights 2 p.m. – 10 p.m.

Hosted at 9 West Kings House

Dubbed the best after party for carnival! Get the ultimate bird's eye view of the Jamaica Carnival Bands on the 88ft sky lounge. A mixed drink inclusive event, celebrate the end of road march day with music by Coppershot, Chromatic Live, Dj Nicco, plus guest performances and celebrity appearances.
And there you have the 2018 Jamaica Carnival Guide to live by!
Noel Cymone Walker is a travel, beauty, and fashion writer/editor based in New York City, whose work appears on Glamour.com, Allure.com, Ebony.com, InStyle.com, and more. You can find original blog posts on her websiteTheFurstNoel.comand her Instagram@thefurstnoel.
​