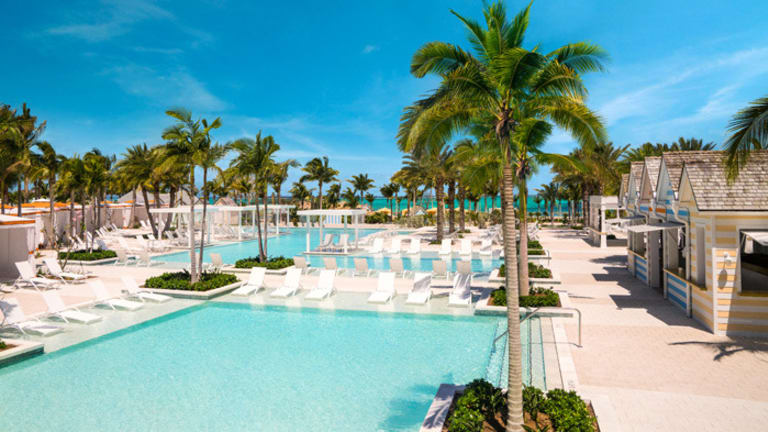 Easy Escape – Nassau & Paradise Island in the Bahamas
Nassau and Paradise Island are seamlessly designed for a minutes away, foolproof escape to a world of tropical paradise.
The Bahamas are less than an hour from Miami, which means that, from Southern Florida, it's quicker to reach the 1,000+ Bahamian islands than next-door neighbor, Georgia. Even from New York City, it's just a three-hour flight to Nassau, the islands' most popular air hub, and the combined islands of Nassau and Paradise Island have curated a style of escapist vacationing that takes all the stress out of planning. UPTOWN was invited to experience just how easy it is to unwind with a weekend in the islands, and here's what we found.
The biggest game in Nassau is Baha Mar, the recently opened $4.2 billion triplex of hotels boasting seven pools and more than 2,300 rooms spread among the Rosewood, SLS, and Grand Hyatt, home to the largest casino in the Caribbean. 100,000 square feet of gaming space crowned by a quarter-million-dollar chandelier over Italian marble floors make Baha Mar Casino worth a stroll even for the gambling-averse, who can sip a craft cocktail at the circular Bar Noir while people-watching. With more than 20 restaurants and lounges, nearly as many bars, 30 luxury boutiques, a golf course, massive convention space, ESPA spa, and a 2,500-piece Bahamian art collection bedecking the entire property, Baha Mar is a virtual city unto itself. Don't miss The Current, Baha Mar's art program anchored by a gallery and studio space with programming and meet-the-artist opportunities.
As easy it as to spend your entire day at Baha Mar, be sure to get into town for a visit to Graycliff Restaurant. In the former colonial mansion of Princess Lee Radziwill (younger sister of Jackie O'Nassis), the art of fine dining remains preserved throughout Graycliff's intimate dining rooms, evoking the glamor of a bygone era of sophistication and easy elegance. Upstairs, 20 luxuriously-appointed guest rooms await those seeking a more discreet escape, but it's what's below the restaurant that inspires the most headlines. Oenophiles know Graycliff for its incredible wine collection, the third largest in the world, housing more than a quarter million bottles including the world's oldest known potable bottle, a 1727 Rudesheimer Apostelwein. Outside, don't miss the exquisitely hand-painted ceramic swimming pool hidden among the lush vegetation of Graycliff's grounds. Also part of the Graycliff empire are a cigar factory, chocolate factory, gelateria, and winery located in what was once the oldest church in the Bahamas and its neighboring convent. Graycliff is a veritable village of life's finer things, all available for sampling (and taking home).
The clear draw of neighboring Paradise Island is Atlantis, the sprawling 141-acre complex of skyscraping towers set among the mythical lost city of Atlantis, complete with 18 themed water slides (some of which speed through shark-filled pools), 11 swimming pools, an epic "lazy" river full of rapids, and three pristine beaches, to say nothing of the marine aquariums housing more than 20,000 sea animals. The Cove, Atlantis's most exclusive tower, boasts its own shoreline and ultra-chic, South-Beach-style pool overlooking the sea. A step back from the rest of Atlantis, The Cove is a refined escape from the exuberance found elsewhere in the resort's waterscape. For the more economically-minded vacationer looking for a quiet refuge from resort vibes, a stay at Comfort Suites Paradise Island, a walk of just a few minutes, includes complimentary day passes to Atlantis's spectacular water experiences. Whether you opt for all the action of a behemoth resort, the seclusion of a boutique hotel, or something between, the entirety of Nassau and Paradise Island is seamlessly designed for a foolproof escape to a world of tropical paradise just a few hours from home.