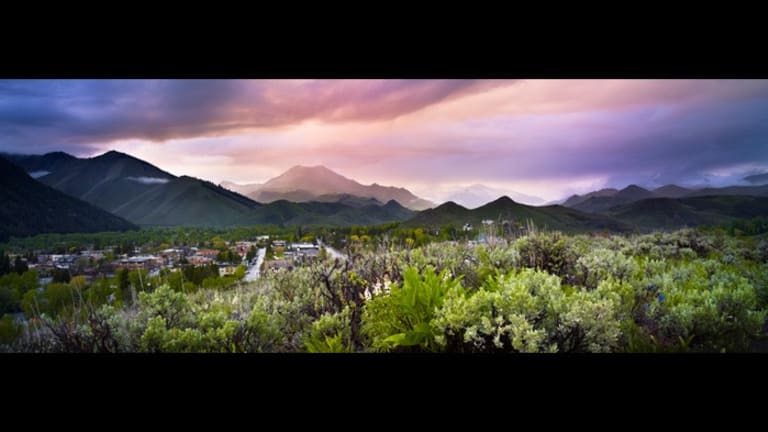 Dark Sky and Perseids Meteor Showers in Ketchum, Idaho
UPTOWN was invited to the quaint ski town of Ketchum for a unique look at the sky during the Perseids meteor showers.
Additional reporting: Jeffrey Panko
Just 90 miles east of Boise, Idaho, is a sky so dark and clear that it's been designated an International Dark Sky Reserve, and it's one of only 13 in the world. In fact, it's the only one in the United States, it's been give the "gold-tier" rating by the International Dark-Sky Association, and it happens to be in an area equally as known for its movie stars as its celestial stars (and yes, we're still talking about Idaho). UPTOWN was invited to the quaint ski town of Ketchum to take a unique look at the sky during the Perseids meteor showers this year, and here's what we found.
From Boise to Ketchum is a two and a half hour drive, so we picked up a Chevy Bolt EV at the airport and began our mini road trip through desert, prairie, and mountain terrains. The Bolt EV is Chevy's first all-electric vehicle and, with a capacity of nearly 240 miles per charge, this 155-mile journey was an easy task for the car. Frankly, we didn't even know how or where to charge an electric vehicle, so this was a welcome relief. (It turns out there's an app for locating service stations, or they can be plugged into any standard outlet for a slower charge, so there was nothing to worry about anyway).
The Limelight Hotel Ketchum(155 Main St. S) would play host to our star search and, like the Bolt EV and Ketchum itself, the Limelight was heavily committed to sustainability and eco-friendly practices. From dramatically reducing plastic waste and using recycled materials in its construction to sourcing local ingredients for its restaurant and protecting local water and land, the Limelight was a continuous inspiration to seek adventure while remaining mindful, both mentally and physically, and its Main Street location was especially convenient.
Though Ketchum itself is a Dark Sky Community (designated in 2017), and its neighboring towns of Sun Valley and Stanley also have ordinances in place to protect sky quality, the entire reserve encompasses more than 1,400 square miles, with a core that is less populated than the towns. The core is the place to view the sky, so we headed to Galena Lodge(15187 State Hwy 75) to catch the famous Perseids with the help of Dr. Dark, the former surgeon who was instrumental in bringing about Central Idaho's commitment to preserving the night sky.
The Perseid showers, which come every August, can bring 60-120 meteors (shooting stars) per hour at the height of the spectacle. The temperature had already dropped 40 degrees from earlier in the day when we arrived at our optimal viewing spot so we lasted only an hour, and we caught about 25 meteors of our own, but it wasn't the shooting stars that were the most dramatic. It was the magnitude of the pure sky itself, nearly unrecognizable without light pollution. It's hard to comprehend the sheer volume of stars that are actually visible to the naked eye, always there behind a screen of so much manmade light, but this isn't just the case for city dwellers who famously can't see any stars at all most nights. About 80 percent of U.S. citizens live with light pollution that hides the vast majority of night stars, and seeing the real sky for the first time is a shocking experience. Seeing the cloudy white of the Milky Way itself is beyond shocking; it's something many don't even realize is possible without a spaceship.
The following day, we took advantage of Ketchum's outdoor spirit and tried river rafting with White Cloud Rafting Adventures. Early in the summer, this would have been much more challenging, with the melt of the winter's snowpack creating Class IV rapids on the Salmon River, but August is nearing the end of rafting season and the journey was calm. Our guide pointed out otters, colorful birds, and even a wolf as we paddled downstream, but it's what she asked about the area's people that stood out most.
"Which celebrities have you seen here?"
She didn't ask if we saw celebrities, but which. Ketchum has been a favorite hideout for the famous since the 1930s and, while she may have been joking with the directness of her question, she wasn't wrong. Jamie Lee Curtis was having dinner at the same restaurant as us the night before.