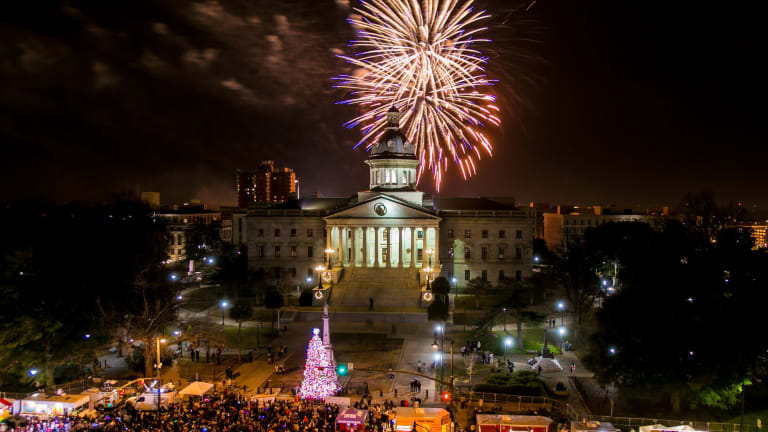 Columbia, SC Is Where You'll Want to Be for New Year's Eve
The Famously Hot New Year concert and fireworks display is definitely the highlight of a New Year's Eve in Columbia.
Earlier this month, Famously Hot New Year (FHNY) announced that Hip-Hop pioneers Salt-N-Pepa will headline its annual free New Year's Eve concert and fireworks display in Columbia, South Carolina. UPTOWN learned the easy way last year, when En Vogue headlined the concert, that this event is one of the best ways to celebrate the New Year. That's thanks to Columbia having one of the chicest boutique hotels we've experienced, a New Year's Eve feast that was as much a delight to the eyes as it was to the palate, and an art museum featuring classic and modern works without the expected pretension.
A motto of the Hotel Trundle Columbia, which recently joined the Southern LivingHotel Collection, is "where happiness, hospitality, and creativity collide," and this is proven when you first walk into the door of the lobby. Wife and husband team Rita Patel and Marcus Munse paid close attention to creating an atmosphere that transports travelers from modern day to the eclectic 1920s, while maintaining the comfort amenities we've all come to expect from a hotel, like a gaming corner, snack vending machines, and of course Wi-Fi. Three historic buildings comprise the 41-room hotel that is located in the Historic District. The vibe is Art Deco with a jubilant mishmash of patterns adorning the walls and furniture in the lobby and guest rooms. (Seriously, Dorothy Draper, an anti-minimalist interior designer, would be proud of Hotel Trundle's pattern and texture blocking.)
The hotel furniture is designed by Bricker & Beam, which is known for heirloom-quality craftsmanship. To punctuate the decor, Hotel Trundle fills their lobby with beautiful greenery from local florist Magnolia Thyme, and partners with Columbia locals to feature their art and photography throughout the hotel. (Visitors are invited to walk around the hotel to discover new artists.) The entire interior gets a seasonal sprucing from interior stylist Shop Turner and Moss, who sources materials locally from The Shoppes on Main. Even a sick and weary traveler will find something to smile about, whether its the decor, the helpful and friendly staff, an offer of wine or beer at check-in, complimentary breakfast in the chic lobby, or the whole Hotel Trundle experience.
Begin your New Year's Eve night with a special dinner at Motor Supply Bistro. Now don't let the name fool you, this restaurant serves gourmet fare in a friendly atmosphere, and just happens to be housed in a renovated engine supply building from the 1800s that is listed on the National Register of Historic Places. The menu for lunch and dinner changes daily, and ingredients are sourced locally to ensure freshness. Last year's NYE menu, created by Executive Chef Wes Fulmer, featured so-tender-it-melts beef tenderloin served on a bed of field greens. The accompanying twice-baked potato was shaped to look like bone and oxtail and smoked marrow were the filling. For dessert, Pastry Chef Tess Ward took dessert to a whole other level with the festive "Champagne and Fireworks," a berry champagne cube, sparkling marshmallow, and raspberry popping sugar truffles. Motor Supply tapped mixologist Joshua Streetman to create several "Famously Hot Cocktails" to get concertgoers loose.
The Famously Hot New Year concert and fireworks display is definitely the highlight of a New Year's Eve in Columbia. The annual event uses music to bring together thousands of locals and visitors of diverse backgrounds and ages. FHNY looks to the whole state of South Carolina for its opening acts. For 2019, the organization has tapped Charleston's The High Divers and Columbia's Cottontown Soul Society. The High Divers are known for their "anthemic choruses, lush three-part harmonies, and rhythms rooted just as deeply in Motown as in rock 'n' roll of the past and present," according to press materials. While Cottontown Soul Society is composed of a "diverse family of Columbia music-scene veterans" who aim to unite people through their "funky rhythms and soaring vocals."
Now, Salt-N-Pepa need no introduction, as they are Grammy Award-winning rappers who helped pave the way for today's female emcees and whose hits still slap, as the kids say. Although they've been in the Hip-Hop game for decades, Cheryl James and Sandra Denton still deliver a high-energy show that will have you pushing it and shooping into 2020, thanks to FHNY.
Once you've recovered from all the NYE revelry, the Columbia Museum of Art (CMA) is the perfect place to unwind on New Year's Day. It offers a 21st-century concept, which means visitors are invited to experience, not just view, art that spans more than 5,000 years of human history. In addition, the museum isn't a popular outing for locals on the holiday, so waiting for your turn to see the highlights isn't necessary. Last year, Jackson Pollock's "Mural," which was commissioned by Peggy Guggenheim for the first floor of her rented Manhattan residence, was on exhibit. It surely was a treat to experience this frenetic yet not angry work of art.
If you're in the mood for down-home Southern cooking, then look no further than the nearest Lizard's Thicket. This no frills eatery will fill you up with the usual Soul Food offerings like fried chicken, potato salad, yams, pork-heavy collard greens, and syrupy sweet tea on the cheap. But be warned, Lizard's Thicket is proud to consider macaroni and cheese, country-skillet apples, sliced peaches, and Jell-O as vegetables, so it's safe to assume ain't nothing healthy on the menu.
We can't think of a better way to bring in the new year than dancing and rapping to Salt-N-Pepa, with a gourmet meal in our bellies, and then South Carolina's biggest fireworks display overhead, especially knowing that we'll have the Hotel Trundle's comfort to help us recuperate.