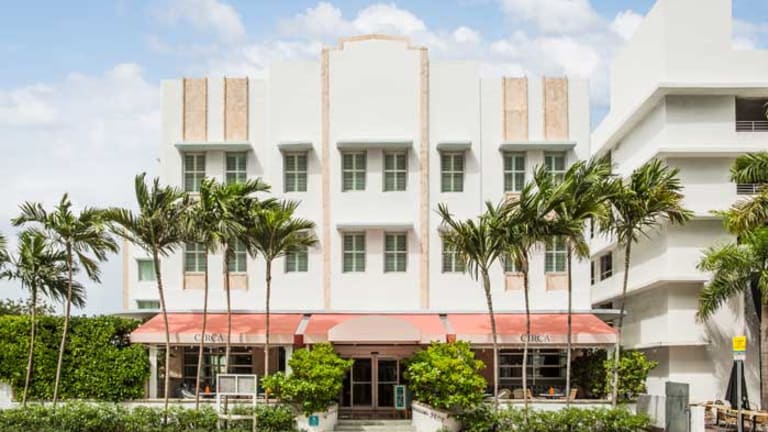 Circa 39: Sharing the Art of Living in Miami Beach
Circa 39 believes that "life is a trip" and is ideally designed to help you curate your own.
Bright colors, flashy cars, glitzy nightlife, romantic architecture, and perfect temperatures (except that one day in 1977 when it flurried) collide in Miami, where Art Basel dominates for a week every December, but the art of living is practiced year-round. It's no secret that picture-perfect Miami Beach, opposite an endless array of neon lights and one of the country's most impressive collections of Art Deco buildings, is a top destination for dazzling shorelines, but for those who desire a deeper dive into the city's culture, the right hotel could be a less obvious choice.
Circa 39, just one block from the ocean and steps from the shimmer of South Beach, offers an intimate alternative to the over-the-top ambiance of many neighborhood hotels, promoting a get-out-and-see ethos of authentic travel. From public spaces that encourage camaraderie to tantalizing hints of Miami's eclectic bounty that will inspire your inner-urban explorer, Circa 39 believes that "life is a trip," and is ideally designed to help you curate your own. UPTOWN was recently invited to explore Miami Circa-style, and these were our favorite ways Circa 39 inspired our journey.
Color
Miami's Latin influence under a bright sun sets the stage for an explosion of vibrant color on every surface, and Circa 39 brings the attitude indoors with intricate patterns and pops of color punctuating its otherwise easy-breezy ambiance. Don't be fooled by the white exterior: From a lounge and terrace bedecked in pops of blue and coral to guestrooms dominated by green accent walls and orange fabrics (throws, curtains, pillows, and more), color abounds throughout the property, embodying Miami's love affair with boldness. We were especially in love with the bright orange bathrobes.
Circa 39's vivid palette inspired us to check out Wynwood, the city's art heart, where every surface from walls and fences to industrial smoke stacks is decorated by street art and graffiti. It's a wonderland of ever-evolving expression and, unsurprisingly, the host of Art Basel. If your pockets are deep and you're looking to expand your art collection, several galleries can help lighten your pockets; otherwise, take advantage of an engaging art tour with Miami's Best Graffiti Guide (yes, that's the name of the company). Ryan the Wheelbarrow, himself an artist with work found on the walls of Wynwood, delivers passionate tours of the dynamic neighborhood, highlighting key artists and styles, and explaining the evolution of the art forms from Wynwood's early days to its present status as an epicenter of art. We loved his zippy golf cart tour so much that we didn't even bail when it started to pour on us.
Rum
There's no shortage of any liquor in Miami, but rum is a particular favorite in this Cuban hub. Circa 39's cozy WunderBar is on the smaller side, but its cocktail program and, especially, its rum collection are anything but humble. The rum-forward mixed drinks include favorites like the Rumaway Bride (an elevated piña colada with an orange emphasis) and One Night in Bengal (the prettiest little daiquiri you'll find, with hints of mango and exotic curry bitters), but the true WunderBar experience comes in the form of rum flights. Exactly how many rums the bar boasts is information that's hard to come by (you can try counting them in the Rum Book), but sampling (several) rum flights throughout your stay is research well worth undertaking. We found it best to pace ourselves with globally-inspired bites from Jules Kitchen, available at the bar.
After whetting your appetite at WunderBar, check out Miami's Cuban enclave, Little Havana, for the full Cuban culinary experience. From coffee and cocktails (more rum!) to empanadas and ice cream, you'll uncover the flavors of one of Miami's most invigorating neighborhoods through its most quintessential dishes. We took a trot around town with Miami Culinary Tours and were surprised by how fully it filled both our stomachs and our brains with everything we tasted and learned.
Beach
One block from the beach, the walk from the lobby to the ocean takes about two minutes, and only if you have to wait for cars to pass before crossing the street. The hotel has private beach space with complimentary lounge chairs and beach towels in its signature orange, perfect for an afternoon sun sesh, but take advantage of Miami Beach's beautiful boardwalk and sprawling esplanades as the sun begins to set. Circa 39 is also one block from a Citi Bike docking station, and it's a fun option for exploring the coastline. A word of caution: You can ride in the street here, but Miami is among the least safe cities in the country for street cycling, so stick to the sidewalks, where you're also allowed to ride. We found it dreamiest to ride along the expansive coastal esplanades where there was more than enough space for bikes, strollers, skaters, and joggers, with occasional views of the ocean.
Oases
Of course, if you don't want to venture far at all, you don't even have to leave the property to feel those vacay vibes. Circa 39's chic pool (located just next to the bar—hooray!) is a walled haven of blue water bliss. If you're going to make a day (or even just a meal) of it, snag a sumptuous cabana for the full experience. Hidden even deeper within the property is the WunderGarden, a tranquil courtyard of tables, nooks, and Instagrammable gliders in a lush setting of palms and vines. It's the perfect spot for an impromptu picnic lunch, flipping through a magazine, or even just a quiet moment in a peaceful outdoor space, a step back from the energy of the city just a few feet away.
​