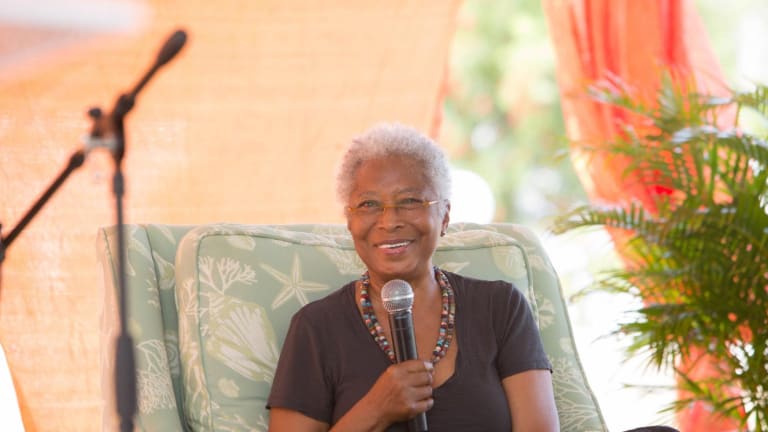 Books and Beaches: Getting Literary with Alice Walker in Anguilla
Writers from around the world converged on the Caribbean island for the Eighth Annual Anguilla Lit Fest.
Written bySheryl Nance-Nash
Good stuff happens when people of like mind gather to learn, share, and support one another. That was certainly true of the recent Eighth Annual Anguilla Lit Fest: A Literary Jollification, hosted by the Anguilla Literary Foundation at the Paradise Cove Resort. You can't go wrong with books and beaches. Better still, if the beaches are in beautiful Anguilla.
Writers from around the globe and every genre -- poets, spoken word artists, journalists, bloggers, novelists, wanna-be writers, as well as, literature lovers and students, listened and talked about the power of storytelling and the importance of telling your story. Everyone has one that the world needs to hear.
Alice Walker, the Pulitzer Prize-winning author of The Color Purple, was the literary icon present, but the level of talent among all presenters and panelists was remarkable.
Take for example, Jason Reynolds. He was so inspired by Rap that he wrote poetry at nine years old. However, he never read a book until he was 18. Today, the poet and award-winning youth author of several books, including The New York Times bestseller All American Boys that he co-wrote with Brendan Kiely, is encouraging young people to write and is on the faculty at Leslie University for the Writing for Young People MFA Program. He shared four secrets to his writing success, "repetition, repeating a sentence can be energizing or disturbing; using metaphors; rhyming in your prose, and making up words."
International spoken word poet and Hip-Hop artist Kane Smego's biting social commentary was powerful, as was that of passionate teenager T'arah "T-the-Poet" Niles with her cries for people to "wake up," and Fiona Wilkinson's truth telling on topics like addiction, sex, and drugs.
There was plenty of inspiration, whether from the authors reading their works or sharing their personal stories. Award-winning journalist and bestselling author Denene Millner has written 30 books. She founded the My Brown Baby blog and is moving Denene Millner Books, her children's imprint, to Simon & Schuster Children's Publishing. Launching in spring 2020 under Simon & Schuster Books for Young Readers, Millner Books will publish titles by Black authors and illustrators, for readers of all ages. Author and motivational speaker Sadeqa Johnson reminded everyone, "writing is a gift, a call to service. Pens up and fears down. Tell your story."
I felt like she was talking to me. I was on assignment covering LitFest for UPTOWN, but being there was personal too. Not only had I been wanting to visit Anguilla for quite some time, but also I'd been dreaming of writing a novel yet was dragging my feet on getting started. Mingling with people who had achieved several times over what I dreamed of doing was inspiring. Better still, was all the one-on-one, encouraging conversations I had. Anguilla-born Kenza Gumbs, author of her first book, Date with Destiny: The Kenza Gumbs Story, that details her triumphant comeback after a freight train hit her car and relearning to walk, talk, and everything in between, had much advice for me, "Don't try to have the story all figured out from start to finish before you start. Let it come." She had rebuttals for my every excuse, "Try finding three hours a week to write. If you know you have the burning desire to write but you don't know what to write, take it before God." But what was hardest of all, "Be ready to tell the truth, the whole truth." Her final thoughts, "People will come into your life to help you with your work. You'll be surprised what you can do when you get on fire."
After that pep talk, all that was left was to hear the wise words of Walker. She read from her recently released collection of poems, Taking the Arrow Out of the Heart. She explained that she writes poems, "When I'm in love, out of love. Suffering opens the heart in a way that is searing. It's painful to lose someone in your life. You never run out of material; life gives you incredible challenges."
Walker, clearly comfortable in her skin, at one point kicked off her sandals and sat with one leg tucked beneath her in a cushy chair. She said she has not lost her legendary activist fire. "Maya [Angelou] and I were always doing something political. We also did a lot of partying," she said with a laugh. Partying was a respite for dark days. Those days haven't disappeared, she said, recalling numerous incidents like the Oscar Grant shooting, Sandra Bland, the Flint water crisis, among so many others. "Any one of these things can take you out, so what do you? You have a big party, dance 'til you drop. We used to just dance. It wasn't about high heels and networking, just dancing."
Walker shared with the audience that she has been called everything but a child of God, attacked for her politics and her work. "People feel free to call you out of your name, and some of them never even read the book or saw the movie. Yet they said things like I didn't like Black men."
She started her own publishing company because she feared she might never be published again. After publishing six books, she had enough. "It made my head hurt. I had to read all the manuscripts and I was trying to do my own work. Unpopularity can be a sign something is aligned. I always felt supported by my ancestors."
Walker says she was writing when she was crawling, writing in the yard with a stick in the dirt. She finds refuge in her home in Mexico, where she feels freedom and no pressure to be "Alice Walker." She explained, "I don't even have to talk. I communicate without saying a word." Her garden and meditation are like medicine. She's not one to get caught up in the brouhaha, especially not in her writing. "I don't chase anything. Creation comes into bloom when it's time. I will never hurry anything."