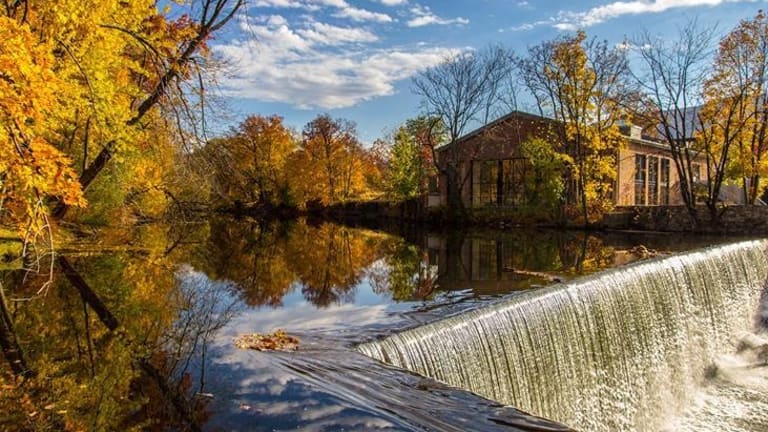 A Weekend Getaway in Beacon, New York
A Weekend Getaway in Beacon, New York
By Tracy Hopkins
If you want to escape New York City, but don't want to venture too far, Beacon, New York is an ideal weekend getaway. About an hour and a half drive or Metro North ride from New York City, this picturesque Dutchess County town has plenty to offer -- namely art and culture, small town charm and the great outdoors. Here's a short list of what to see and do.
Conquer Mt. Beacon
Nature deprived urbanites will feel like Outward Bound camp kids on a challenging hike up Mt. Beacon, one of the highest points in the Hudson Highlands. The hike begins on a staircase following the course of the former Mount Beacon Incline Railway. With a steady elevation of 1,000 vertical feet in the first mile that you will immediately feel in your lungs and your calves, this trek is not for the faint at heart. Built in 1902, the world's steepest cable railroad attracted over 3.5 million visitors during its 75 years in operation. In 1983, the dormant railway was destroyed in a fire and the Beacon Incline Railway Restoration Society is working to restore the thrilling ride. Depending on your fitness level, it will take about forty-five minutes to reach the railway's upper powerhouse ruins along the rocky, red-marked Casino Trail – a great vantage point with a panoramic view of the Hudson Valley region. Show-offs can continue climbing to the Mount Beacon Fire Tower at the very top of the railway. To prepare, pack plenty of water, energy boosting snacks and wear protective clothing, hiking boots or all terrain sneakers.
Spend an Artsy Day at Dia:Beacon
A highlight of any trip to Beacon is Dia:Beacon(3 Beekman Street), a renowned modern art museum housed in a former Nabisco factory on the banks of the Hudson River. Opened in 2003 by the non-profit Dia Art Foundation, Dia:Beacon is walking distance from the Metro-North Beacon Station and has helped transform the town into a vibrant cultural destination. The museum presents art from the 1960's to the present, large-scale exhibitions and public programs. After exploring the cavernous gallery, visitors are welcome to lounge and enjoy a fall picnic in the museum's lush, green gardens.
Shop, Dine and Dance on Main Street
Every small town in America has a Main Street. And Beacon's main drag offers a diverse assortment of shops and eateries. During our weekend trip, we followed the sounds of live drumming into the Center4 Creative Education (464 Main Street) and took a sample hip-hop class. This 501©3 non-profit organization empowers the Beacon community by providing affordable programs for all ages in dance, music and fitness. And just off Main Street, we perused the handmade jewelry, vintage clothing, knick-knacks and vinyl records at Beacon Flea Market(6 Henry Street), which weather permitting occurs every Sunday from April until November. Another unexpected discovery was BJ's Soul Food Restaurant (213 Main Street), a greasy spoon popular for pennywise and plentiful Southern grub like chicken and waffles, fried whiting, mac and cheese and greens.
Where to Stay
Guests really have the run of the house at the centrally located, 12-room Beacon Hotel(434 Main Street). The recently renovated boutique hotel resides in a historic brick building and features a rustic bar and restaurant that attracts locals and guests alike with creative brunch and dinner menus.
​