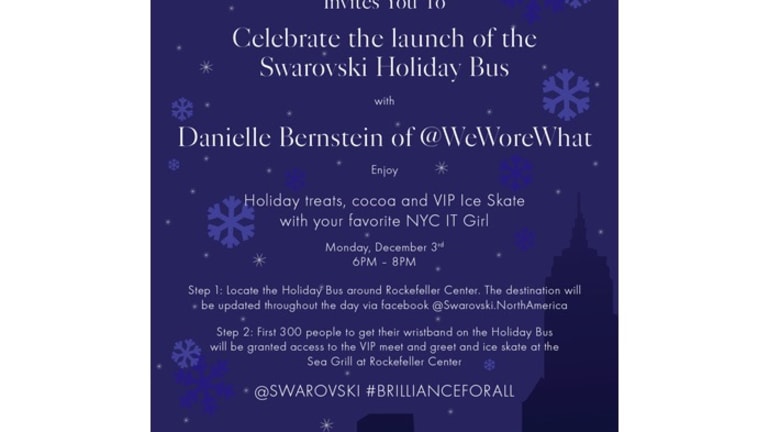 You Gotta Catch the Swarovski Holiday Bus, But Where's It Going?
Here's how to get access to Swarovski's Holiday Bus VIP meet and greet and ice skate.
To kick off the holiday season in New York City, Swarovski is launching the @SwarovskiBus on Dec. 3rd. But what "stops" does the crystallized Swarovski Holiday Bus make?
Well, the first "destination" will be a VIP meet and greet with @WeWoreWhat's Danielle Bernstein at The Sea Grill at Rockefeller Center. There will be sparkling treats and hot cocoa. In addition, revelers will be treated to a complimentary and private ice skate at The Rink at Rockefeller Center, the world's most iconic Christmas tree location thanks to the gorgeous Swarovski star adorning it. Plus, DJ AMRAT will set the festive mood with our favorite carols.
Only 300 people will have access to the VIP meet and greet and holiday skate, so pay close attention to how you get your "bus ticket," aka access wristband.
STEP 1: Locate the Holiday Bus around Rockefeller Center. The destination will be updated throughout the day via Twitter @SwarovskiBus.
STEP 2: The first 300 people to get their wristband on the Holiday Bus will be granted access to the VIP meet and greet and ice skate at The Sea Grill at Rockefeller Center.
If you miss the Swarovski Holiday Bus on Dec. 3rd, don't fret because the bus will be traveling around NYC to celebrate the holidays through January, offering some of the brand's best gifts, which will be available for purchase on-board and hosting influencer shopping events throughout the season. Swarovski is truly #BrillianceforAll!