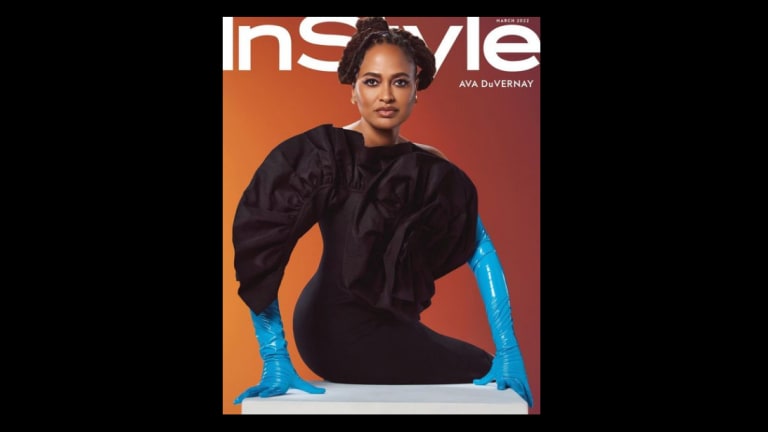 Heard on the Street: Wearing Locs Helped Ava DuVernay Become More Herself
Director Ava DuVernay says wearing locs demonstrates her "journey of becoming more myself" and discusses the recent cultural shift of accepting Black hair.
"It was my journey with my hair, as I started to become more conscious about my history and my culture. I was putting chemicals in my hair so it would look like your hair. I had to decolonize myself and say, 'Is the hair growing out of my head in that texture?' And, 'What does it look like if it just grows out?' People who wear locs have different ideas about it, but for me, it was a journey of becoming more myself. When I opened my PR firm [The DuVernay Agency] at 27, I was trying to be more mature for my business and wanted to portray being older and more accomplished. ... But the beauty of age is that you get to a point where it's like, 'The things I needed to feel tethered or anchored, those do not have meaning, and I can be free.'"
"In one generation I've seen the change. The natural and synthetic styles are embraced. Everything is on the table. The generation before me was like, 'It is preferred that you wear your hair in this way.' Historically, there were moments when Black women who worked as domestics in white homes were not allowed to work if their hair was not pressed or permed. Their natural hair was seen as offensive. That starts to embed itself in the DNA of people — that straight, Caucasian-looking hair is better and preferred. Now it's every braid or Afro puff or texture, controlled or out of control. And I think it's exceptional. I don't think we talk enough about the shift that's happened just in one lifetime."
— Ava DuVernay opens up to InStyle, for the March cover story "Ava DuVernay, in Front of the Camera," about how her perception of beauty changed as she got older and the cultural change that celebrates Black hair, whether natural or synthetic. The esteemed director, who was raised in Lynwood, California and attended Catholic school from first grade to 12th, revealed in the Q&A that she counts her mother and the cholas in her neighborhood as big beauty influences. DuVernay explains who cholas are, "They're mostly second-generation Mexican women who have very specific hair and eyeliner wings. They were so glamorous — I thought they were the most beautiful, hottest things I had ever seen."