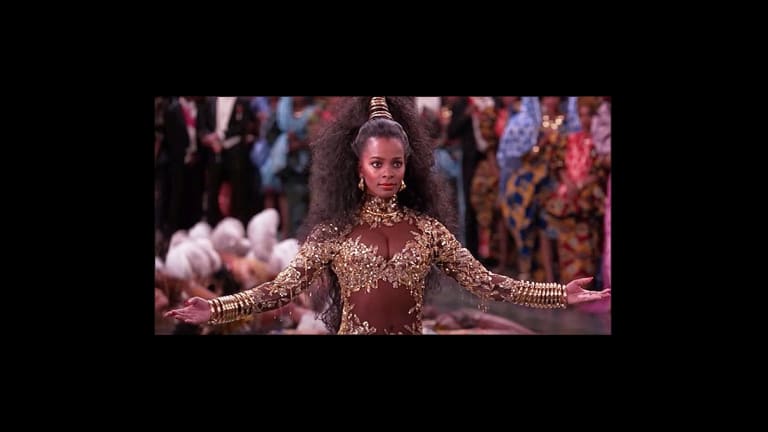 Heard on the Street: Vanessa Bell Calloway Says $30 Wig Landed 'Coming to America' Role
Vanessa Bell Calloway recently revealed the strategy she employed when auditioning for Coming to America, and why she believes she didn't land the lead.
"My hair was short at the time, and I know men in Hollywood: They like long hair, so my short hair was not going to be pretty to them. So I ran to the beauty supply store and I got this little cheap wig."
"Everybody loved the hair, but nobody said anything about my acting; they just said, 'I like your hair.'"
"When I went to the callback with Eddie Murphy, everyone went on and on about my hair. Now I'm cracking up inside, because I went out and bought a $30 wig."
— Vanessa Bell Calloway revealed exclusively to Page Six that she landed the role of Imani Izzi in Coming to America with the help of a $30 wig. Coincidentally, the actor-director said the audition wig was named "Imani" and she took that as a "sign from God." The wig wasn't part of Bell Calloway's now-iconic wardrobe for the 1988 flick, though. She told the media outlet that her character's high ponytail was created with two weaves and the 'do affected her physically. "There was so much hair, I had to learn how to balance my neck and stuff," she recalled to Page Six. "You could not even see my real hair at all." 
Last week, it came out that Bell Calloway, who will reprise her role for a cameo in the upcoming sequel Coming 2 America, initially auditioned for the lead role of Lisa McDowell and believes she didn't get it because of colorism.
"When you have white people hiring black people in movies, sometimes a certain look is wanted … [Production] wanted a light-skinned girl. I just wasn't light enough, even though Eddie had the final say on who played Lisa."
"That's something that we've always dealt with within our race: A lot of men were indoctrinated by having a white woman or light-skinned woman on their arm."
"I didn't want the part of Imani, I wanted to be Lisa — I had read the script and I wanted the bigger role."
"At that point, I knew I was not going to get Lisa. So I went outside in the hallway, looked over the part (of Imani Izzi) with five minutes of preparation, went back in, and did the best I could."
"The real deal is, when you're in a situation like that, you wanna be a part of an Eddie Murphy movie. I wasn't gonna say no! I would've loved to have had the lead part, but I was very happy to be in the movie. I can't lie about that. I said, 'I'll make the best out of this and I'll be the best.' It was a smaller role but it was a glamorous part to play. And Shari did a great job."