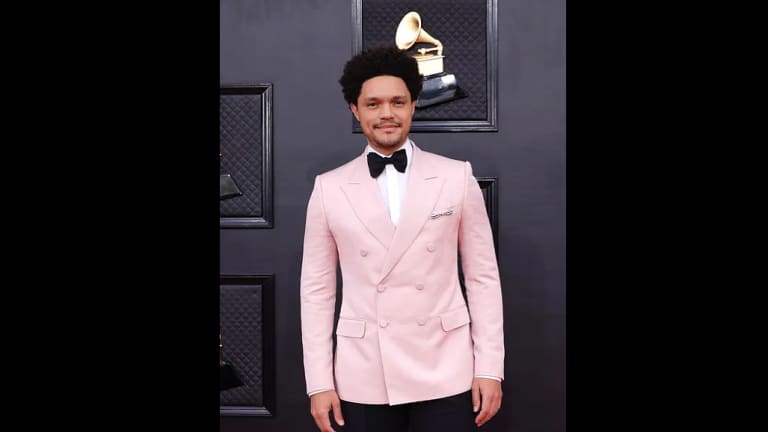 Heard on the Street: Trevor Noah 'Forgot How Fun it Is to Have Hair' [VIDEO]
In a hilarious Between the Scenes clip, The Daily Show funnyman Trevor Noah joked about the advantages of having an Afro.
"What made me decide to grow it? So there was a pandemic. And then I decided, I was like, 'Man, I can't see my barber, so I'm gonna grow this hair.' ... And then now, you have a choice, you have a choice as a person. You go, 'I cut my own hair,' or, 'I want to keep my self-esteem.' ... And then it just grew and it grew and it grew and it grew and it grew and it grew, and then what happened was, it was really interesting, at some point, I was just like, 'Oh, I forgot how fun it is to have hair.' 'Cause like, especially an Afro, right? Small things you don't think about that you appreciate with an Afro. ... Whereas normally I'd be like, 'Ah, I need a hat,' and then I'd be like, 'Oh man, I'm so hot, I'm sweating.' Afro, nothing. Whatever's happening here is not happening in my head. I appreciate that a lot. 

And then the other day, I was moving a TV, right? So my younger brother was helping me move a TV, and then the TV, like, he was behind it, and I was in front of it, and we were trying to move it off a shelf, we were trying to plug something behind, so we're trying to plug in the Xbox, and we're like, 'Let's move, let's find the HDMI,' and I was like, 'Just push it.' And then he pushed it, and then the TV fell, and then I panicked, and I did this, and then it just sat on my head, and I was like, 'Oh, s--t.' ... I mean, it didn't crack, it didn't break, it didn't dent ...
– Trevor Noah jokes about how the pandemic forced him to grow his hair from a fade to an Afro, during Between the Scenes, The Daily Show's popular digital series. During this moment, the funnyman talked about being loyal to his barber, the protection having kinky hair offers, and now understanding how his mother could carry heavy loads on her head in South Africa. The Emmy-nominated digital series Between the Scenes features Noah interacting with the audience during commercial breaks of the nightly talk show. Watch "Why Did Trevor Grow Out His Hair?" below. And catch Noah's recent interview with Janelle Monae, in which she discusses healing during the pandemic; learning to live in the present moment; coming up with her book of short stories, The Memory Librarian, while on mushrooms; her love of science fiction; and more, here.