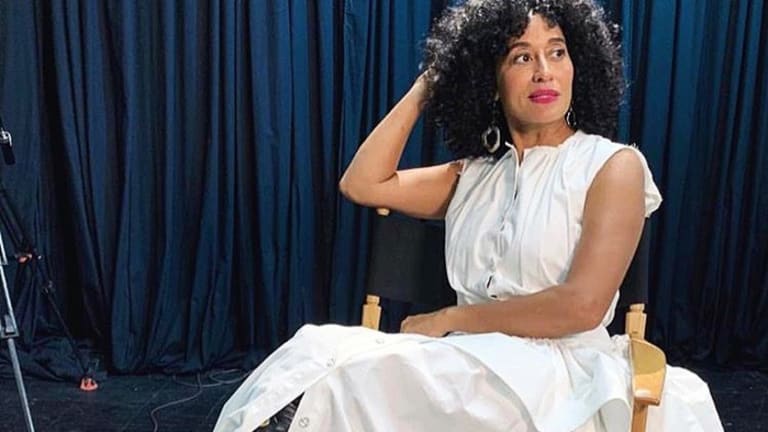 Tracee Ellis Ross Is Taking Stella Hues to the AMAs
After taking the Stella Hues "Shandleboot" viral, Tracee Ellis Ross will show us more from the luxury shoe brand.
It should come as no surprise that we're big fans of Tracee Ellis Ross on- and off-screen. Most of that has to do with her acting and comedic talents and activism, but much of it also has to do with her sartorial choices. So you can imagine our excitement when we peeped TER donning what she dubbed the "Shandleboot" (shoe + sandal + boot) that was designed by our friend Stella Maze for her Stella Hues international luxury shoe brand. We were even more excited to learn that viral moment won't be the last time we see Ross and Stella Hues make a style connection.
The official name of the Shandleboot is the Le Femme Nicola ($2,250-$2,450). It is a gladiator-inspired boot. It is made of nappa leather, features on-trend lacing from toe to knee, and closes with a back zipper. The soles have the robin's egg blue bottom for which Stella Hues shoes are known. They available now for pre-order and 30 percent off (info@stellahues.com).
As you may have heard (or should've heard), Ross is hosting tonight's American Music Awards for the second year in a row. She will delight us with 12, yes, 12 wardrobe changes. She's expected to complete several of those looks with bold and trendsetting shoe designs from Stella Hues. And you know every #lewk will be EPIC.
Below are some of our favorite Stella Hues shoes, including an ankle boot similar to the Le Femme Nicola.
Nicolette, $1,450
Kerrie Sandals, $998
Levy Sandals, $1,100