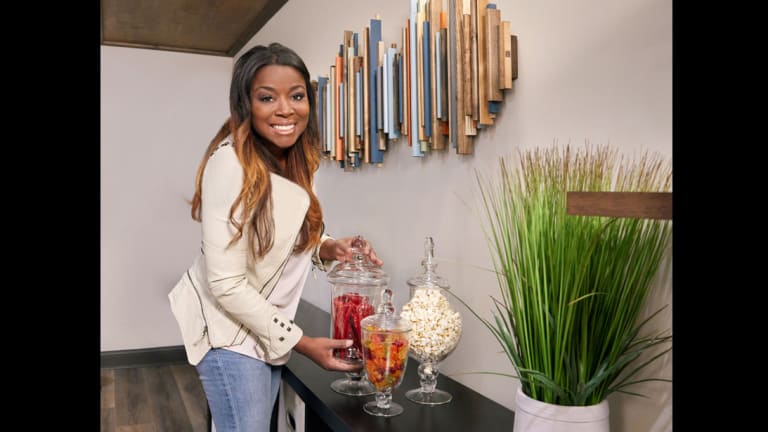 11 Design Questions for Tiffany Brooks of HGTV's '$50K Three Ways'
On the new HGTV series $50K Three Ways, interior designer Tiffany Brooks helps homeowners decide on a renovation while staying within their budget.
HGTV star and interior designer Tiffany Brooks is turning the daunting task of home renovation into a journey that is worth every penny on her new series $50K Three Ways. 
One could argue that HGTV has been one of the most important TV networks over the past year because we all went to some level of nesting as we stayed in place. Think over the past 13 months, bet you've improved your space in some way, whether that's setting up a work-from-home area, organizing your pantry, painting an accent wall, or completely renovating your space. But making decisions isn't easy, especially when it comes to spending money you can't afford to waste. That's where Brooks comes in. On $50K Three Ways, she takes the guesswork out of home renovation by creating three designs based on the homeowners' desires and budget of $50,000. Once the owners choose the design, Brooks handles the important decisions so the homeowners end up with a completed renovation that is worth every cent of their hard-earned money.
During the premiere episode, "Forever Farmhouse," which aired on HGTV last night at 8 p.m., Brooks helped a couple choose between updating the family areas of their home, creating an impressive primary suite upstairs, or doing a combination of both. Revealing their decision will spoil the episode if you haven't seen it yet, but just know the homeowners seemed relieved to have the help of an interiors professional and trusted Brooks to give them the forever home they wanted.
UPTOWN caught up with Brooks, who is also an HGTV Star winner and designer for HGTV Smart Home, to learn more about $50K Three Ways, her experience competing on Rock the Block with fellow designer David Bromstad, interior trends on her radar, and the number one mistake homeowners make when renovating. Her husband Dante Brooks makes an appearance in the first episode of $50K Three Ways, so she also gives advice for working with a loved one. In addition, Brooks makes a case for painting ceilings a color instead of drab white, and since some of us HGTV fans are renters, she also provides suggestions for updating a space you don't own.
Let me just say I was rooting for you and David Bromstad on Rock the Block because I love the bold design decisions you both made, especially the pink basement. How was it working as a team for the competition show?
Tiffany Brooks: You know, it was easier than I thought [it would be]. I felt I had to be a little bit top-down, and David was a perfect teammate to do that. Because I went into the competition like, "OK, David, come on, we have to do this, this is what we're going to do, we're going to be tough." And he said, "Honey, we've already won. You and I are going to have fun and design our pants off!" It became so less serious. I became less stressed and actually was able to have fun, and get to experiment with color. You go in and create a house that both David and I really, really, really enjoyed. And we were able to laugh every day. So we definitely had a good time.
How did you go from Tiffany Brooks Interiors to Rock the Block and now $50K Three Ways?
Tiffany Brooks: So I actually started way before then. I actually won HGTV Star back in 2013. So I've been with the network now, since 2013 … So I was growing up on that spectrum, and I'm the designer for the HGTV Smart Home series. My HGTV career actually blew up backwards. I was a "Design Star," then I became the designer and host on the special, and then now we have a series.
Is it difficult navigating the interior design sphere while also being engaging on camera? What's your frame of mind while filming?
Tiffany Brooks: You know, it kind of just helps me be as natural as possible. I feel like I'm having conversations about something that I am a master at. I'm really, really good at designing client spaces. And I'm really good at getting to know what they want from their home, and tapping into that and making it feel livable and approachable. I just thrive, and I pride myself on giving people — normal people — approachable homes with the touch of luxury. Once I get to know the people, and I can talk to them and tell them how best to design and what they should do and how best to live, it just comes to me, you know, and then they turn on the camera. So it really is, you know, somehow, some way, I've tried to make it seamless.
Well, speaking of that on $50K Three Ways, you kind of have to be a mediator, especially if there is a couple involved. On the premiere episode, they both wanted different things. So how do you navigate making sure both people are happy in the end?
Tiffany Brooks: It's so hard, it's so hard because these people do want very different things for their home. But what I am hoping to do, and I try to tell all my clients this is, I'm trying to get them not to feel like whatever they take is so final. We get to inspire them to keep going to make their house a home. You know, I came up with three different designs and just because we're doing this today doesn't mean that these designs have an expiration date on them. I'm hoping to come back and let's do this again. You know, save up that next $50K and let's do this again.
What is the number one mistake you see homeowners making when renovating their house?
Tiffany Brooks: The number one mistake is not consulting with a professional and actually considering the flow of their house. More planning is key. When people are planning out the space, they have to figure how it feels to navigate from space to space and consider their options. So you have to make sure that you definitely have the flow in what you're considering doing.
Are you ever leaning more towards one option instead of the other two? And how do you stop yourself from saying "I told you so" to the client later down the line?
Tiffany Brooks: OK, so yeah, I always have a favorite because you get into the design so much. You get into it, like, "Oh my god, this is the most functional design. Oh my god, this is the best library I've ever designed." I feel like I always get into one more than the others. It is so transparent to me to see how these people should be living and how they spend their time. You try to sell that with visuals, with these renderings that I draw, but sometimes they don't fit in their heart of hearts. You can tell, sometimes. They come in and one is more set on a design plan than the other person. And you can't talk them into it. … They know how they live and they know what's best for their situation.
Are there any design trends you can forecast for us? I know all-white kitchen are going off-trend, and now people are incorporating a mix of things.
Tiffany Brooks: I would say yes, definitely, the all-white kitchens are definitely gone. I am exploring a lot with color and I mean color! People want to live in their houses again. I'm painting yellow. I painted an entire room, including the ceiling, eggplant purple. I'm exploring with color. Get color on your ceilings, please! So many people are leaving those ceilings white. Everybody, when you're painting, paint your ceilings too!
As you probably realize, most of the design shows are focused on homeowners, which I understand the logistics are easier. But what are some ways a renter can update their apartment if they want their security returned and if they're not worried about getting back to security?
Tiffany Brooks: So the person who wants their security deposit returned, you have more freedom than you think. There are appealing wallpapers you can use, like permanent wallpaper. There are also stylish apartment wallpapers that are out there. There's even a [type of] peeling paint if you want to sell again. I'm telling people to paint ceilings, you know, so you can use a peel-and-stick roll of vinyl paint. Another thing that you can do is switch out those lights. You just put the older light fixtures that were provided to you in storage, and then have them swapped back in when you move out. A lot of people forget to hang draperies. [A lot of landlords] don't want the drilling. They don't want the holes, but sometimes you can have the superintendent do it themselves.
OK, so going back to the people who don't care about getting their security back: Paint, oh my god, please, your apartment. You can always paint it back to try to get your deposit back. This is going to be the same thing, but the lighting makes a big difference, a big difference in your apartment home. And then also bring in some greenery, green trees. That's one thing that people in apartment homes don't do enough is have, I feel, enough greenery, because they're basically in a concrete jungle in a high-rise, so they're often devoid of outdoor space unless they have a balcony. So you've got to bring in the trees, and you've got to bring the nature and the flowers.
Your husband was on the episode, briefly. What is it like working with him, because you kind of joked that he doesn't realize he's there to hang things and not make decisions himself? Also do you have any tips for loved ones who work together?
Tiffany Brooks: You have to respect each other and you have to respect what the other one says. And that's one of my downfalls because I do know, "OK, this is your thing. You're the boss, what you say goes." And when you are with somebody for as long as we have been together, you start to look at him like, "Really? Who does he think he is telling me?" Sometimes he is right about these things, even as far as design-related and spacing and things like that. So my biggest tip is just to listen to each other, and that's just in any situation because if you're in a marriage, you're already in a business together. You are working together day in and day out, you just don't realize it because you're not being paid for it. So just make sure that you're kind to each other and that you listen.
Get more interior design and home renovation tips from Brooks on her new series $50K Three Ways, which airs on HGTV and is available for streaming on discovery+. Visit HGTV.com for updates on the show and follow @HGTV and #50KThreeWays on Facebook, Twitter, and Instagram.