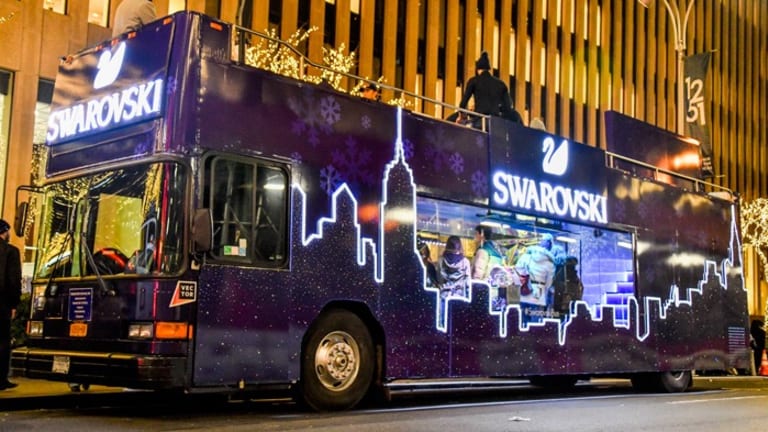 The Swarovski Holiday Bus Launched at NYC's Rockefeller Center
The Swarovski Holiday Bus will be traveling around NYC through the month.
On Dec. 3rd, the Swarovski Holiday Bus launched in New York City at the most iconic holiday location, Rockefeller Center, where a Swarovski Crystal star tops one of the most famous Christmas trees in the world.
Lucky New Yorkers were treated to a complimentary ice skate at The Rink at Rockefeller Center, and were invited to a cocktail party in a dazzling winter wonderland, complete with glittery marshmallows, hot cocoa and cider, and a full bar at The Sea Grill restaurant. DJ AMRIT set the mood by spinning holiday songs along with bangers from Michael Jackson and the like. Danielle Bernstein of @WeWoreWhat was on-site to meet with fans.
If you missed the Swarovski Holiday Bus, don't fret. The bus will be traveling all around NYC to celebrate the holidays through Dec. 28th. Just make sure to follow the brand's Facebook page, @Swarovski.NorthAmerica to learn the bus's location when you plan to visit.
Guests who hop on the bus at any of its various locations will receive a 15 percent discount voucher to shop Swarovski's brilliant gift options, like the Louison Stud Pierced Earrings ($89), Louison Necklace ($249), or the Louison Pierced Earrings, Long ($149). (If you purchased a Swarovski REMIX charm bracelet after we introduced you to the collection, keep in mind that the charms are only $39 each. Fifteen percent is a very decent discount for you to complete your charm bracelet.)