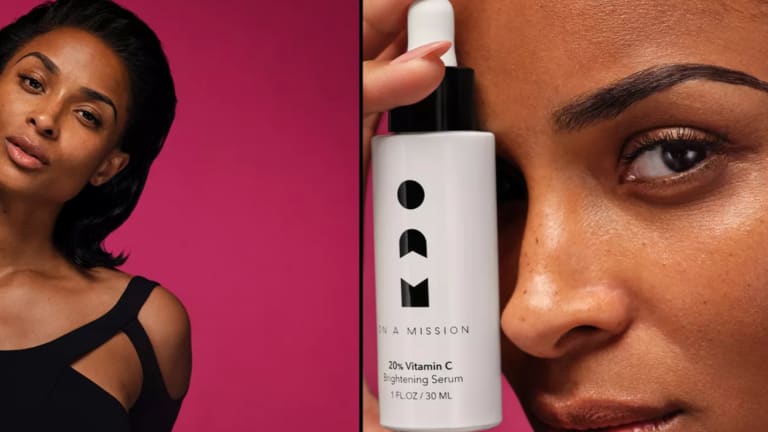 The Power of Celebrity Wealth: Ciara Releases OAM Skin Care
Ciara says what sets OAM apart from other celebrity skincare lines is its commitment to address the needs of melanated skin.
Written by Derrial Christon
For years, some of the biggest celebrities have transitioned away from obtaining wealth solely from their careers as blockbuster movie stars, chart-topping artists, fashion icons, and influencers. Many have added entrepreneur and CEO to their titles by launching their very own fashion, beauty, lifestyle, and spirits companies. These ventures have not only increased impressions for celebrities by the millions, it has also become a very lucrative extension for their brands. We can't watch or listen to the news without hearing about a brand launch or partnership from stars. Most recently, Kanye West's turbulent business relationship with GAP has been all over the media and playing out like a drama-filled reality TV episode. I must admit, I can't get enough of reading about Yeezy! The fact of the matter is if you want to increase your wealth you must continue to expand your brand into a variety of areas. It has been reported that Kanye West's partnership with GAP is estimated to be worth about $970 million of his $2 billion fortune. 
There are no limits to the amount of opportunity that celebrities have access to in regard to growing their wealth. There is a long list of talent who have realized the financial power of extending their brand into areas such as beauty and personal care. Currently, the beauty market is estimated to be at $534 billion by the end of 2022 and projected to be valued at about $758.4 billion by 2025.
Joining the list of celebs extending their brand is Grammy Award-winning artist and fashionista Ciara, who recently announced her new skincare line OAM (On a Mission) and aims to take a piece of the beauty industry. The skincare line has been two years in the making. OAM's aim is to simplify your skincare routine with clinical-level formulas that make maintaining healthy skin less intimidating. When talking to Elle.com about her launch Ciara stated, "When I speak about being on a mission to make clinical skin care simple, the idea is a simple, one-two step process, which is all that you need. We're not going to overcomplicate things. Because honestly, when you go into the skincare stores, it is overwhelming. Where do I start?" With the OAM Vitamin C Hydrating Cleanser ($28), of course. Each bottle is designed with a numbering system (in the shape of a C) to help guide the consumer through the routine.
"I wanted a line that tells me the key things that I need for my skin to be radiant, to have that glow up, to be as smooth and even as possible, and to eliminate the dark circles and the lines," she says. 
The OAM Vitamin C Brightening Pads ($28) are designed to be the second step in the routine, these pads are lightly doused with OAM's signature Tri-C Pro-Peptide Complex, which contains a mixture of peptides and three different forms of vitamin C (like ascorbic acid in the 20% Vitamin C Brightening Serum ($62) — step three), along with other active ingredients.
Ciara did her research and is working with a board of trusted skin experts she personally selected to help her along this journey. Ciara and board-certified Dr. Tiffany Libby, former Sally Beauty VP of Digital Strategy and Innovation JC Johnson; celebrity makeup artist Yolonda Frederick; and cosmetic chemist Maha united their expertise to produce OAM, which is not only backed by experts, but also addresses the concerns of women of color.
Ciara admits she's well aware of celebrity brand fatigue, but what sets OAM apart, she says, is that commitment to women of color. "When I was preparing to launch, I had no idea there were that many celebrity skincare lines. But, what I also realized is that there are only a few women of color skincare brands in this space. And for me, being a woman of color, I thought hopefully I can be a part of that great space where you'll see more women of color-led brands. I don't think that one person has to be doing it and only one person can win," she adds.
OAM's is priced between $28 to $62 for single products, with the option to buy the complete bundle for $160, available now on OAMSkin.com.
Ciara and her NFL'er husband Russell Wilson are no strangers to building generational wealth. In December of 2020, House of LR&C (Love, Respect, and Care), a fashion house created by Ciara and Wilson and co-led by former Lululemon and Starbucks exec Christine Day launched. House of LR&C was founded to progressively impact people and the planet. The husband-wife duo created the company as a way to house their fashion brands — Good Man Brand, Human Nation, and LITA by Ciara — under one roof. The brands sell across multiple channels, including direct-to-consumer, wholesale, and in retail stores. Sustainability and giving back are core tenets of the fashion house, which gives 3 percent of profits back to charity. The house plans to raise up to $15 million this year as part of a series A investment round. In addition to their fashion company, Wilson's new deal with the Denver Broncos is worth $245 million over five years and will pay the veteran player a total of $296 million over the next seven seasons. The power couple has a combined fortune of $185 million. Let's just say that their kids' kids will have generations of financial stability if managed right.
As Diddy infamously rapped, "It's all about the Benjamins, baby," which is a great way to describe how stars are building generational wealth by launching products. Personally, I use this song as my own motto when I need inspiration and motivation as I continue to expand my personal brand. It's no secret that celebrities are expanding theirs to the next level to obtain more wealth, reach, and impressions. At the end of day, what it really means is more money in the bank.
Which celebrity do you think will be next to join the generational wealth team? Hit me up @DerrialChriston with your answer?