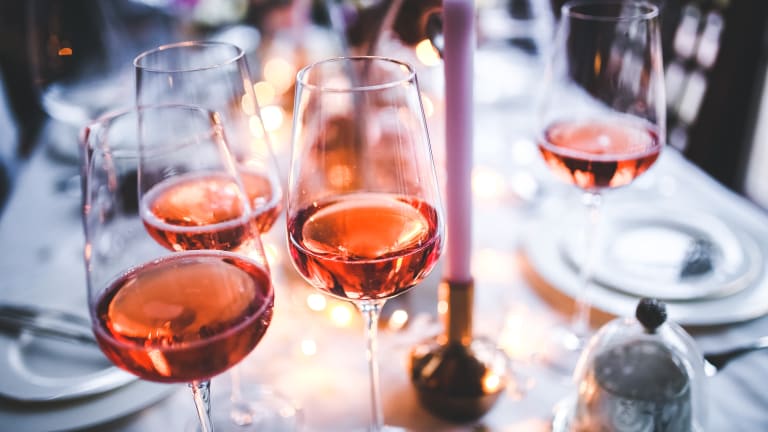 The Only Wines You Need for National Rosé Day
These mouthwatering, refreshing, and affordable wines will make an impression on National Rosé Day and throughout the summer.
We never need an excuse to pour a glass or two of rosé, but National Rosé Day presents the perfect excuse to discover selections of the pink-hued wine we were previously unfamiliar with, so we can put them on your radar for the unofficial start of summer on June 11th. We were impressed with JNSQ Rosé Cru and the 2021 JUSTIN Rosé. Here's why.
The JNSQ Rosé Cru bottle, which is crafted by a French glass designer, is so beautiful that we'd buy one just for decor, but, fortunately, it also tastes delightful and is affordable at $29 for 750 ml. Named for the phrase "je ne sais quoi," JNSQ has that sumthin' sumthin' to make it summer in a glass. This grenache-forward wine is made from select California grapes in the style of French rosés and has flavors of strawberry and Bing cherry accented with herbal and white floral notes. It is an elegant and crisp rosé that pairs well with a range of foods, like a fresh bruschetta or an arugula and goat cheese salad, yet is also great on its own. The JNSQ Rosé Cru is perfect for sipping by the pool, serving at a barbecue, or toasting by candlelight for Jazz in the park.
If a dry rosé is more your vibe, then allow us to introduce you to the 2021 JUSTIN Rosé, which retails for $20 per bottle. It's made from mostly shiraz that is pressed as a whole cluster and fermented like a white wine. It has crisp notes of red berries, apples, chamomile flower, and lemon, along with subtle herbal notes. You'll also notice its mouthwatering aroma. This salmon-colored wine is a perfect refresher on a hot summer day when you still want to look haute, but is also lovely in the colder months with artisanal charcuterie.