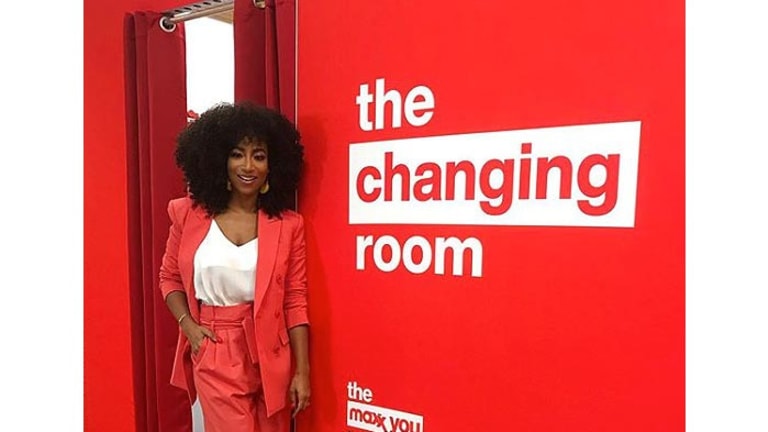 The Maxx You Project Wants You for 'The Changing Room'
Enter to win a styling and life coach session through T.J. Maxx's The Maxx You Project In-Store Changing Room Experience
T.J. Maxx wants to help you embrace your individuality through a personal styling session with a style maven and a life-coach session with a body-positive model. All are invited to enter this national contest that is the second phase of the retailer's The Maxx You Project.
According to press materials, 75 percent of women are inspired to be their true selves when they witness other women doing the same. In addition, "six out of ten women say that their individuality is always changing," according to a 2017 online study of 2,000 American women conducted by T.J. Maxx, in partnership with Dr. Serena Chen. So the main goal of the Maxx You Project is to build a "shecosystem" in which women encourage each other to be authentically themselves, embrace life changes, and learn about themselves through the journey.
The Personalized In-store Changing Room Experience will consist of a one-on-one styling session with actor, beauty maven, and author Africa Miranda. Prior to the session, entrants will be asked to fill-out a style survey, so Miranda can tailor the garment options to the winner's individuality and lifestyle. The experience will culminate with a life coaching session with wellness entrepreneur Danika Brysha.
What an individual is wearing can have a huge impact on how they feel inside, and fashion is so much more than a frivolous pursuit or exercise.
"It's never just clothes. It's the story you want to tell; it's how you're feeling," explained Miranda during the launch of the second phase of The Maxx You Project in New York on Aug. 27th. "And the beauty of The Maxx You Project is helping women tell that story. So many women, I think, stand in front that mirror, and that's the block, they have an idea, maybe in their heads, of how they want to present themselves, but it's like the disconnect of actually making it happen by putting the clothes on. And what's so great about what we're doing on this tour is really helping women bridge that gap."
On my style survey, I explained that I'm a classics girl, but am not afraid to wear a daring piece to amp up a look. I also think metallic gold is a color. So keeping that in mind, Miranda chose a grey and beige snake-print trench coat by Few Moda New York that has the softest drape I've ever seen in a trench, yet it isn't flimsy. Miranda completed my look with distressed skinny jeans and black ankle boots. The look will be perfect for the October weather, and I can wear the pieces individually and with some layering during the winter.
For my life-coaching session, Brysha asked me what was one thing I want to focus on, and I said my career and finding a new job. I won't say exactly what we discussed, but she helped me learn a few tools to get out of my own way while job searching.
So how do you enter T.J. Maxx's The Maxx You Project In-Store Changing Room Experience?
All you have to do is visit MaxxYouProject.com and select the city near you, from Chicago to San Francisco. Then, you briefly detail how change has affected you inside and out. You also have the options of uploading a photo of yourself and providing your social media handles. The experiences take place from Sept. 19th to Oct. 22nd, and all the cities have two dates available. Ninety-eight women will be selected, and the contest closes this Friday, Sept. 13th.
In addition, check out the "shecosystem" T.J. Maxx has built on Facebook called The Maxx You Project Group, which offers a platform and opportunity for women to connect, collaborate and discuss the impact change has on your individuality with a community of supportive women.