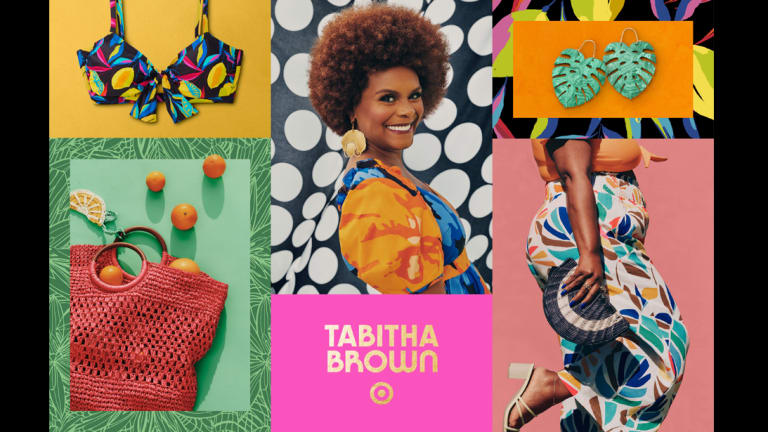 Tabitha Brown Hopes Her New Target Collections Brings 'Joy, Love, and Optimism'
Here's all the details and photos of the Tabitha Brown for Target collections ahead of the Saturday, June 11th, launch online and in stores.
Actress, New York Times-bestselling author, vegan chef, and social media personality Tabitha Brown is bringing her vibrant and inspirational style to Target, the mass retailer announced yesterday. Here's everything you need to know before the collection drops this summer.
Tabitha Brown for Target is a progression of the relationship Brown and Target already have. For two years, she has been providing team members and customers with inspirational encouragement, as an influencer partner. Now, she's spreading more positivity and joy onto the  lifestyles of customers, which Target calls guests, through a four-collection collaboration that will roll out over the next year after launching in summer 2022. There will be apparel, swim and accessories items, home and office, food and kitchenware, entertaining and more in vibrant prints and colors, so there's something for everyone. This partnership is another step for Target's continued support of Black creators, designers, and entrepreneurs, as part of its Racial Equity Action and Change (REACH) commitment, in which the retailer promised to spend $2 billion with Black-owned businesses.
"Target made me feel seen and created a safe space where I could be my authentic self," says Brown, whose YouTube series Tab Time was recently renewed for a second season, in a release. "To me, joy comes from freedom, and I was free to be myself during this entire design process, which is reflected in the assortment. I hope my collections bring Target guests joy, love, and optimism to their everyday lives."
First up, Tabitha Brown for Target collection will release apparel, swim, and accessories items that can be mixed and matched. Bathing suits ($20-$44) and other apparel ($17-$40) will be available in inclusive sizing, XXS-4X. Bags will range from $25-$40, and other accessories will cost between $10 and $25. So Target customers can get the style, quality, and affordability they're used to.
There's a lot from the first release of Tabitha Brown for Target that you're going to want to add to cart on Target.com and in most Target stores, so consider the below gallery your study guide ahead of the June 11th launch.
Tabitha Brown for Target Preview