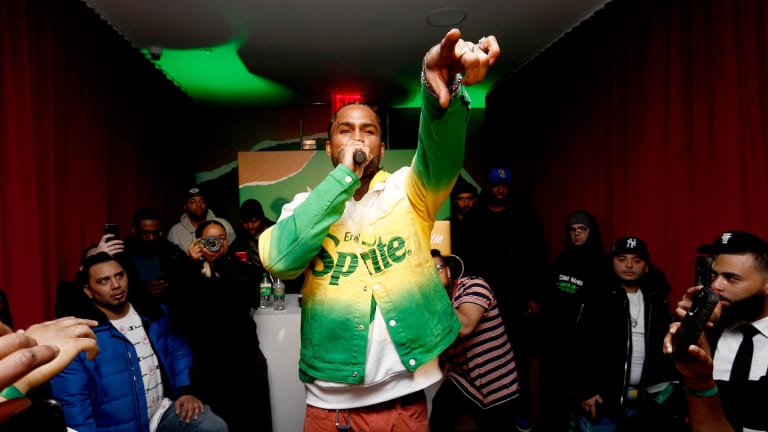 SocietEye: Sprite Launches Ginger Flavor, Streetwear Collection with Jeff Staple
Sprite — known for its dedication to producing top-of-the-market products with a splash of "cool" — is back again.
Written byMalcolm Banks
Sprite has held a powerful reputation for decades as a leader in embracing and collaborating with urban and Hip-Hop culture. When you delve deeper into the legacy the brand has built, you find urban culture at the center of it all. Whether it's ads with rap legends such as Nas or more recently J. Cole, Sprite continues to demonstrate an extensive portfolio of embracing urban artistry in the mainstream spotlight.
The next chapter of that history kicked off on February 12th at Extra Butter NYC, a world-renowned fashion and footwear shop launched by streetwear icon and Sprite's latest collaborator Jeff Staple. The event helped promote the launch of Sprite Ginger, a reinvention of Sprite's classic lemon-lime taste with a hit of ginger flavor. Looking to launch Sprite Ginger with an emphatic bang, the beverage giant worked with Staple and a team of young tastemakers and artists to develop the "Sprite Ginger Collection."
The intimate launch event included some of the most respected names in fashion and urban culture, including Dapper Dan, Broderick Hunter, Sway Calloway, Va$htie, Mack Wilds, and more.
"My intention is to support all young people," Dapper Dan told UPTOWN at the Sprite event. "When my son told me about this event and explained how it would be a launching pad for young people, I had to come out and be part of this."
The panelists, which consisted of Staple and several members of the "Ginger Collection," discussed a variety of topics centered around creative reinvention. Staple, with all his success, detailed how he still is adjusting to people wearing his brand across the world.
"To this day I'm going to see someone wearing Staple [Pigeon] brand and it still confuses me," Staple said. "Like, woah, I don't know this person, and they are wearing my brand. It's still a shock to me. I still get goosebumps."
He continued, "I think that seed of a feeling is something that you should always try to take that excitement of creating something and putting it out in the world and having the world support it."
Popular Hip-Hop artist Dave East closed the night out with a performance of his popular records, including his 2017 standout "Phone Jumpin" featuring Wiz Khalifa.
More information and facts about the "Ginger Collection" team can be found on Sprite's social media channels over the next several weeks. See more photos of the Sprite Ginger launch below.
​
​
​
​
​
​
​
​
​
​
​
​
​
​