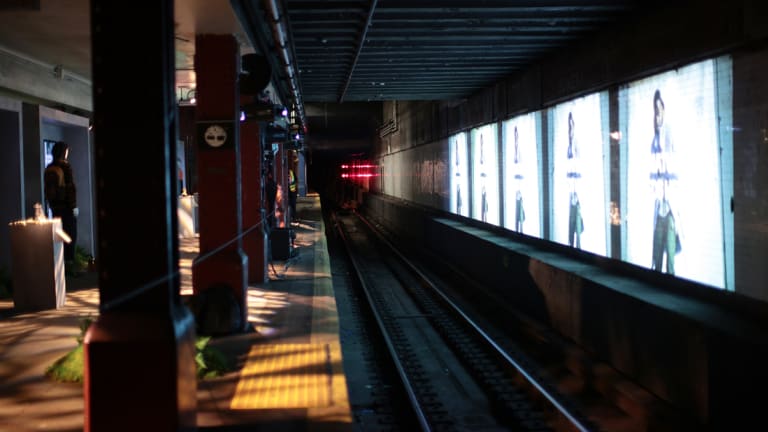 SocietEye: Timberland Launches GreenStride Collection in Decommissioned Subway
The Timberland GreenStride collection features comfortable and lightweight shoes that are waterproof and made using eco-innovation.
Timberland treated guests to a truly unique experience in a decommissioned part of the Bowery subway station in New York for the launch of the FW21 GreenStride collection on September 22nd.
Attendees were warned to get "Ready for Anything" just before they descended into the belly of the city's Lower East Side. To most people's surprise, Timberland managed to turn a grimy and deserted subway station into an urban oasis, complete with flora. Guests were greeted by artist Olivia Rose's botanical sculpture of the all-new Ray City boot. One level of the station was transformed into a gallery of exclusive deconstructed boot sculptures to represent the shoes within the collection. All the spaces that typically feature a variety of advertisements to grab commuters' attention displayed the new shoe designs or explained the sustainability of the collection. On the platform, the lowest level of the station, guests checked out the new shoes and apparel, learned more about GreenStride technology, and viewed the digital campaign that celebrates Timberland's history of innovation and making boots. Ghetto Gastro provided food and drink for the event.
Timberland's mission is "to inspire and equip a new generation to step outside and move the world forward" to a greener, more eco-conscious, future. The GreenStride collection is the first to feature the proprietary GreenStride technology, and all the boots are made with a sole that is comprised of 75 percent renewable natural materials of sugar cane and natural rubbers; waterproof linings that are made with 50 percent recycled plastic; and Better Leather from a tannery that has been rated silver for its environmental best practices. But this entire effort towards eco-innovation would be pointless if the shoes are uncomfortable. Fortunately, the boots also feature a bouncy foam midsole that rebounds with every step.
"We're excited to debut our GreenStride eco-innovation in boots, which have been the heart and soul of the Timberland brand for decades," said Chris McGrath, vice president of global footwear design for Timberland, in a release. "Our designers worked tirelessly on these progressive new styles that are built to perform in the outdoors, from the city to the trail and back again. They're lightweight, waterproof and ready for anything."
The collection includes the GreenStride Solar Ridge Waterproof Hikers, GreenStride TBL Originals Ultra Waterproof Boots, and GreenStride Edge 6-Inch Waterproof Boots for men; and GreenStride Ray City 6-Inch Waterproof Boots and GreenStride Edge 6-Inch Waterproof Boots for women. 
Timberland also took the opportunity with the campaign to highlight change makers across the globe who promote inclusivity and are working to sustain our natural world:
Sophia Li: Chinese-American multimedia journalist, film director and co-host of the new show, All of the Above. She is a storyteller and climate optimist who is rewiring how we think about climate.

Jon Gray: Cofounder of the creative and culinary collective Ghetto Gastro working at the intersection of food, culture, and the Bronx experience to help show others nature's greatness.

Flock Together: London-based birdwatching collective working to address the underrepresentation of People of Color in the outdoors and educating young people about the benefits nature can offer.

Rickey Y Kim (aka RYK): Los Angeles-based methodical creative who aims to evoke the heart of things to discover the "why." His work spans music to fashion to publishing.

Olivia Rose: Artist and designer who describes herself as a Botanical Sculptor, inspired by what grows naturally in un-natural environments.
"When people think of boot culture, they think of Timberland," said Drieke Leenknegt, global vice president of marketing for Timberland, a release. "With this campaign, we celebrate our latest boot innovation through highly visual, even artistic creative that inspires 'Adventurous Doers' to pull on their GreenStride boots and get outside. To bring it all to life, we've given a platform to the game changers of today, who take steps every day to move their communities, and the world, forward."
Keep scrolling for more photos of the Timberland FW21 GreenStride collection launch.