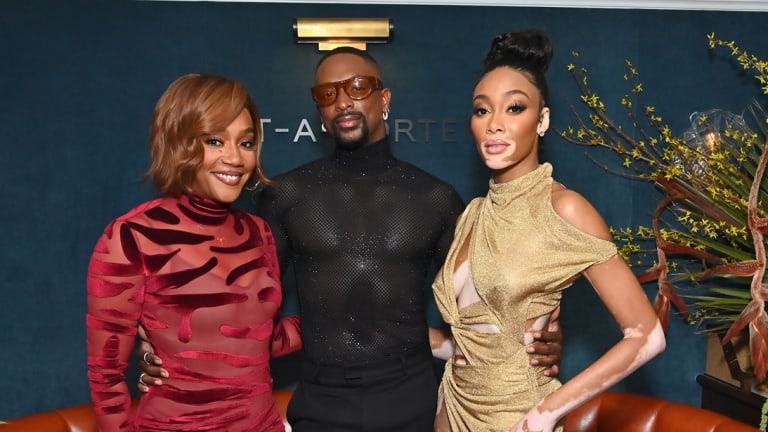 SocietEye: LaQuan Smith Fêted by Net-a-Porter [PHOTOS]
To celebrate his fashion collection landing on the shopping platform, Net-a-Porter fêted designer LaQuan Smith with a star-studded Hollywood affair.
Net-a-Porter hosted a fête, at West Hollywood's Olivetta restaurant on March 24th, to celebrate LaQuan Smith's designs landing on the shopping platform. Remy Martin sponsored the party that was held during Oscars week.
The 33-year-old designer was joined by fans of his work who have become friends, including Tiffany Haddish; Winnie Harlow; Ava DuVernay; Alison Loehnis, head of luxury and fashion at Net-a-Porter, Mr Porter, and The Outnet; former Netflix marketing chief Bozoma Saint John; Savannah James; model Jasmine Sanders; Law Roach; Ty Hunter; Sophie Lopez; Wayman + Micah; and Tinashe. Haddish was the life of the party while wearing a sheer mini dress with velvet tiger stripes designed by Smith. Saint John a bias-cut slip dress in sparkling metallic green that was also a LaQuan Smith design. Smith designed the sheer black crystal-beaded turtleneck he wore and carried a Lanvin bag.
"Women come to me for catsuits, bodysuits, mini-dresses. I think that any woman who wants to get her life back — she's wearing LaQuan Smith. My clothing allows women to feel empowered, sexy, feminine. Really, it's just about celebrating the female form," said Smith to The Hollywood Reporter during the cocktail hour. "Women know they can feel unapologetically sexy in LaQuan Smith," he added.
Loehnis hosted the fête and has been a mentor to Smith over the past year through the Council of Fashion Designers of America (CFDA). She explained to THR why LaQuan Smith designs are a perfect fit for Net-a-Porter, "Deciding to spotlight LaQuan was not a difficult decision to make. He's so amazing. I feel like he carries around his own natural spotlight because he just glows." She also told the outlet that Smith told her that his customer is "the woman who wants to be the center of attention."
Keep scrolling for more images from the party to celebrate the launch of LaQuan Smith's collection on Net-a-Porter.