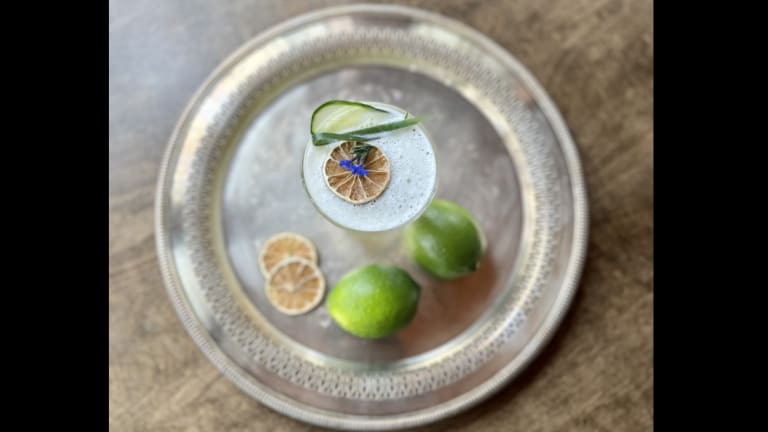 Raise a (Sustainable) Glass to Mother Earth With the '1 World' Cocktail
Antoine Maurice Hodge, bar manager of North Carolina's Ilda, was inspired by Bombay Sapphire's sustainable sourcing when crafting the "1 World" cocktail.
This Earth Day, raise a glass to our planet with Bombay Sapphire's signature "1 World" cocktail.
Antoine Maurice Hodge took inspiration from the way Bombay Sapphire sustainably sources 100 percent of its botanicals from across the globe and crafted the "1 World." Hodge pulled cocktail ingredients from different countries: "The herbaceous tipple is infused with limoncello from Italy to spotlight the lemon peel in the gin, Indian kaffir lime which leaves a bite of acidity, green chartreuse from France to incorporate sweet herbal tones, and lastly ouzo from Greece to send the sipper off with a hint of star anise and licorice nuances," according to press materials.
The "1 World" is available at Ilda in North Carolina, where Hodge is the bar manager; Soho Beach House in Miami; and 1 Hotels. But you can also shake up your own with the cocktail recipe below.
1 World
Ingredients:
1 oz Bombay Sapphire
1 oz Bombay Sapphire
1 oz Kaffir Lime Infused-Limoncello*
.75 oz Green Chartreuse
.25 oz Ouzo 
1 oz Lime juice
.25 oz Egg white
Garnish: lime, cucumber ribbon, and blue rosemary flowers
Glass: Coupe or rocks
Method: Add all ingredients into a cocktail shaker and dry shake first without ice. Add ice and shake for a second time, strain through a mesh strainer into a coupe glass or rocks glass over ice. Garnish with lime, cucumber ribbon, and blue rosemary flowers.
*This infusion is optional for this recipe, you can use regular Limoncello. But, if you would like, add a half quart of fresh kaffir lime leaves (1/4 quart dried) into a container with 1 bottle of Limoncello and allow to sit for at least 2 hours or overnight before use.