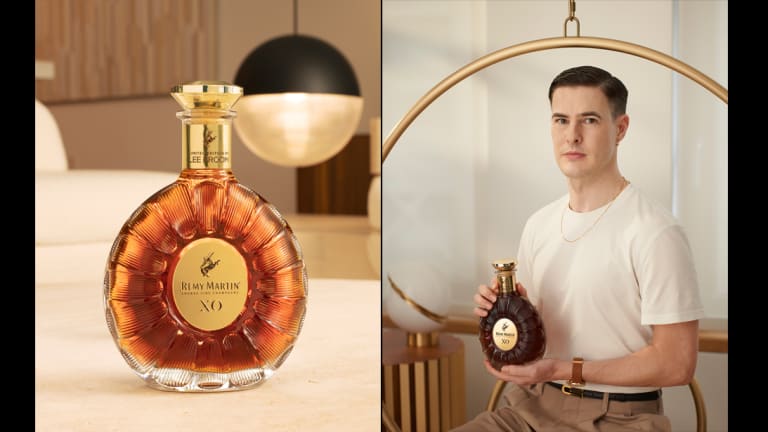 Rémy Martin & Award-Winning Designer Lee Broom Unveil Reimagined XO Decanter
For his reimagined decanter, Lee Broom honored Rémy Martin's heritage style by blending elegance and modernity with fine craftsmanship and innovation.
Last night, award-winning furniture and lighting designer Lee Broom welcomed cognac lovers, tastemakers, and friends into his New York City penthouse to unveil his reimagining of the Rémy Martin XO decanter. 
The Rémy Martin XO Limited Edition by Lee Broom decanter ($260) marks the first time the Cognac Fine Champagne House has initiated a reinterpretation of the iconic decanter since its creation in 1981. Broom brought his precision and distinctive attention to detail to design a vessel that puts a twist on the original. Broom, who is known for his use of light and reflections in his work, took inspiration from icicles for the "hundreds of fine 'starburst' cuts into the indents of (the decanter's) solar shape" to highlight the hundreds of eaux-de-vie within the Rémy Martin XO blend. While enjoying a glass of XO over a single ice cube, which is how the new generation of cognac connoisseurs enjoys the spirit, Broom estimated that there are 400 "starburst" cuts on the bottle. The result is a contemporary piece of art that captures the heritage of Rémy Martin and spreads joie de vivre.
"I wanted to convey the opulence of Rémy Martin XO, but also the experience of serving it on ice, which is a beautiful way to taste cognac," Broom explains in a release. "The cuts convey a sense of icicles as well as radiance around the circumference of the bottle. They bring a sense of coldness."
Cognac lovers can help Rémy Martin celebrate the launch of the Rémy Martin XO Limited Edition by Lee Broom decanter by immersing themselves into the sensorial Remy Martin XO on ice universe via a 3-D rendered mobile experience. Visitors will discover more about Broom's inspirations and processes, and can embark on a personalized Rémy Martin XO tasting at home, alone or with friends.
"I am about seamless perfection, uniqueness, heritage, and craft, and those themes are very prevalent at Rémy Martin, a House that's so steeped in history and heritage yet always moving forward, still modern and contemporary," said Broom in  a release. "It's an honor to work on such a unique and iconic decanter and put my own twist on it."