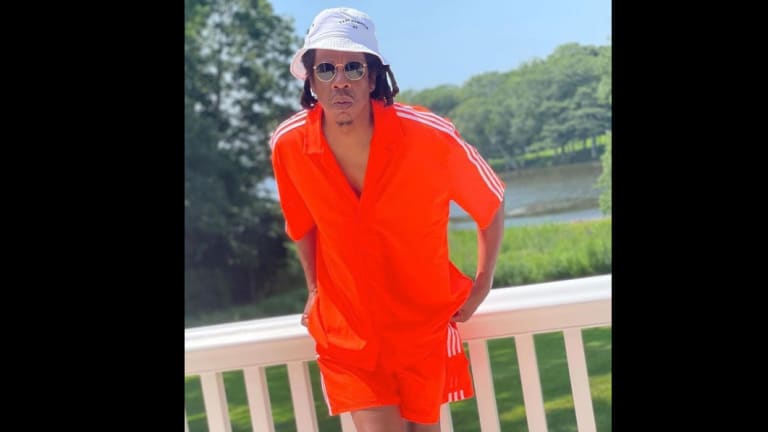 Quick Pic: Jay-Z Wears Adidas X Ivy Park Line, 'Flex Park,' Ahead of Debut
Jay-Z looks like the cool dad in his "Flex Park" matching shirt and shorts set to tease the latest Adidas X Ivy Park collection.
Beyoncé's new Adidas X Ivy Park line, "Flex Park," doesn't drop online until 2 p.m. EDT on July 22nd, but of course her husband Jay-Z has already gotten his hands on a couple of pieces from the highlighter orange-colored collection.
In a photo that was posted to the Ivy Park Instagram account on July 21st, the 51-year-old father of three and music mogul wears a matching shorts and shirt set in one of the brightest oranges known to man. Jay accessorized with a pair of gold-rimmed sunglasses and topped off the look with a white bucket hat that complements the signature Adidas stripes down the sides of the garments.
Flex Park is the fourth collection from Beyoncé's collaboration with Adidas. Her Ivy Park label debuted in January 2020. She released "Drip 2" in fall of the same year and the winter-appropriate "Icy Park" in February 2021. "Flex Park" features swimwear, gym wear, and everything in between. The collection will be released on Adidas.com first, and then in select stores globally, including a pop-up in New York's SoHo neighborhood, on July 23rd.
With a nod to flexing in the gym and anywhere that gets hot and steamy, "Flex Park" is extremely sexy so we understand why Blue Ivy Carter didn't star in this Adidas X Ivy Park campaign.