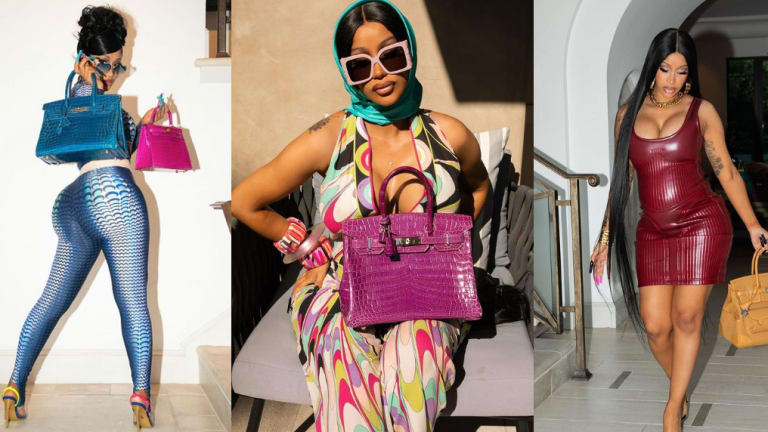 Quick Pics: Does the B in Cardi B Stand for Birkin?
Cardi B's Hermès bag collection, which includes Birkins and Kellys, has grown since she last took inventory on Instagram.
Just call her Cardi Birkin because the hit-making rapper has an extensive collection (we're talking dozens) of Hermès Birkin and Kelly bags.
Cardi B took to Instagram to display the impressive array of purses in a rainbow of hues and patterns, including camo, stripes, and pink bandana. She captioned the series of photos, "Every other day new wig new hair, come take me out this Mugler ……a couple weeks ago," which quotes her rap on Normani's "Wild Side." In the photos, the mother of one who is expecting her second child was wearing a body-conscious Mugler embossed sleeveless faux-leather mini dress. She was seemingly taking inventory of her Birkin collection in order to pick out the perfect handbag to complement her dress. She ended up choosing her Birkin Cargo, a rare multi-pocketed bag that cost her $240,000 when she found it in February.
Cardi's Hèrmes bag collection has certainly grown since she displayed it in 2020. The purses are very popular in her household with her husband Offset gifting their 3-year-old daughter Kulture a Birkin for her second birthday