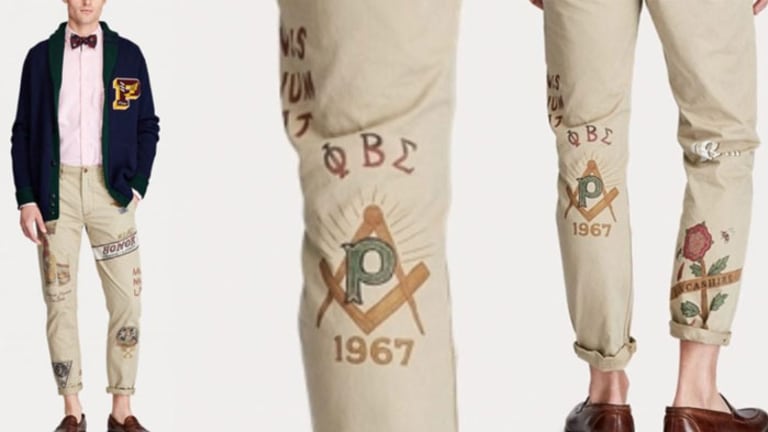 Polo Ralph Lauren Appropriates Phi Beta Sigma Symbols for $335 Chinos
Polo Ralph Lauren has joined the ranks of fashion brands appropriating Black culture for design and sales.
American fashion empire Ralph Lauren has issued an apology for appropriating the Greek letters and symbols of Black fraternity Phi Beta Sigma Fraternity, Inc. for a pair of $335 chinos that were on sale on its French e-commerce site, reports Watch the Yard.
The Polo Ralph Lauren Chino Graphique Droit pants feature the Phi Beta Sigma symbols and letters on the back of the left knee, along with other non-Greek iconography and the year 1967, which is a reference to the year Ralph Lauren was founded.
Members of the Black fraternity and sorority community were understandably livid with Ralph Lauren's cultural appropriation and possible copyright infringement, and took to social media to express their ire.
"But why?!!! This shows that there is no representation in their company, even if a person of color was not Greek, they would not have let this slide," one person commented on Watch the Yard's Instagram post, reports Blavity.
Members of Phi Beta Sigma created a Change.org petition calling for Ralph Lauren to "recall, destroy, [and] publicly apologize for trying to capitalize off of Black Culture!"
"We are a week away from 106th anniversary of the founding of Phi Beta Sigma Fraternity, Inc. and what is plastered all over Social Media?" questions the petition. "An ad for Polo Ralph Lauren Chino Graphique Droit with the letters that represents Phi Beta Sigma Fraternity, Inc. Greek Letters on the back crease of said pants!"
Within hours of Watch the Yard publishing its article, Ralph Lauren issued a statement exclusively to the site that is dubbed "Black Greekdom's Digital Yardshow":
"The use of these symbols on our products was an oversight for which we deeply apologize. We are immediately taking action to remove the product from our sales channels. While we have a rigorous review process in place for all of our designs, this has  prompted us to take another review of our protocols to help ensure that this does not happen again.
As an American brand with more than 50 years of heritage, Ralph Lauren is inspired by many facets of American culture. As part of this, we are firmly committed to respectful and appropriate use of all cultural icons and insignias."
Polo Ralph Lauren has since removed the Chino Graphique Droit from its French e-commerce site. But the damage is already done.