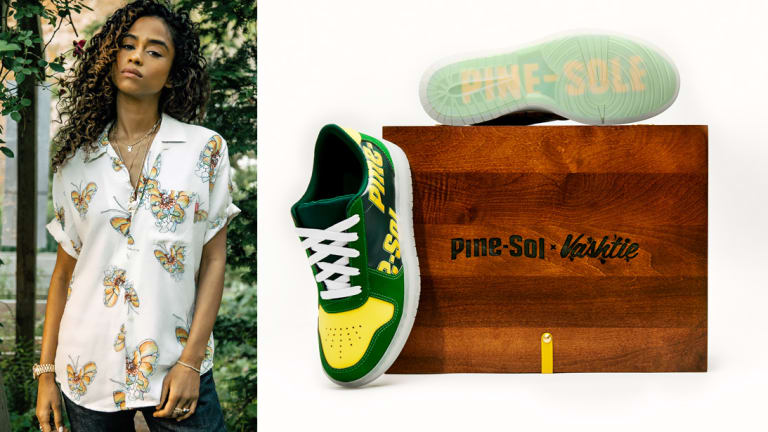 Everything You Need to Know About Vashtie's Pine-Sol Sneaker
Vashtie Kola designed Pine-Sol's first-ever footwear release, which is aptly named the Pine-Sole and supports Black women entrepreneurs.
Pine-Sol tapped fashion designer, creative director, and artist Vashtie Kola to design its first-ever footwear collaboration, which is aptly named the Pine-Sole. While the limited-edition collectible sneaker is aimed at the household cleaning brand's superfans, it will also drive support for Black women and Latinx entrepreneurs. 
Vashtie's Pine-Sol sneaker will be sold exclusively through the recently launched Pine Store from May 13th at 3 p.m. EDT/12 p.m. PDT, alongside other brand memorabilia and must-have gifts. All proceeds from the Pine Store, not just sales of the Pine-Sole, will go to digitalundivided, a non-profit that supports Black women and Latinx entrepreneurs and their communities through advocacy, innovative programs, and leveraging data. In an effort to "create a world in which all women of color own their work," digitalundivided offers mentorship, training, resources, and investment. The organization bridges the gap between data and heart in order to change the trajectories of women from underserved communities.
"We're thrilled to continue supporting digitalundivided given all the great work they do to support Black and Hispanic female entrepreneurs," said Stacy Stokes, senior director of marketing at Pine-Sol, in a press release. "Vashtie's creative influence, passion for Pine-Sol, and advocacy for fellow Black female entrepreneurs made her the perfect partner for this initiative."
Being able to support a community of women that is "near and dear" to her has been "very exciting and enriching," Vashtie said. She explained that she had a couple of mentors during her career, but she never felt like she had a community of entrepreneurs who were experiencing the same hurdles she was facing at the same time. But looking back, she knows she wasn't actually alone and her experiences weren't isolated. "I think that knowing now that I wasn't alone on that journey, is important, because now I'm able to think outside of my own experience, and maybe voice my concern to people in my circle, but also in my community," she explained.
This is Pine-Sol's first-ever merchandise collaboration, but it is also the first time Vashtie's mom understands what she's doing for a living, she said. "Me being able to tell her, 'Hey, Mom, I'm doing a sneaker with Pine-Sol,' is something that I knew would excite her because it's been such a part of our family," said Vashtie, who remembers using Pine-Sol to clean with her family on Saturday mornings as an act of love.
When designing the Pine-Sole, Vashtie let the merging of skater, grunge, and Hip-Hop streetwear in the 1990s be her inspiration, since that era was her introduction to fashion.
"When I think about the '90s, and my sort of introduction into fashion, it's Hip-Hop streetwear, sneakers, but also skate culture," explained Vashtie. "You know, growing up in the '90s, in that era, especially with the skate world, they often had very bold logos and designs and graphics. And that was something that always stood out to me about that era."
The low-top sneaker has a vivid green and yellow color scheme that is similar to the Pine-Sol logo. It also sports white laces that complement the white exposed stitching, and has a thick translucent sole that exposes a yellow-on-green "Pine-Sole" graphic on the bottom of the sneaker. The upper is made from a sueded fabric.
While other designers may have shied away from prominently featuring the Pine-Sol logo or choosing a bright colorway, Vashtie fully embraced the heritage of Pine-Sol.
"The Pine-Sol logo is so iconic, and I felt there was no way I wanted to hide it," Vashtie said. "I didn't want to just go with a golden/green colorway. … So for me, representing the heritage and iconic logo was important, but also that spoke to '90s skate vibes. So it sort of worked hand-in-hand."
Along with looking to the '90s for inspiration, Vashtie also channeled an uber-famous pop artist, one who turned branded imagery into art.
"Also one of the artists who I'm hugely inspired by is Andy Warhol, you know, with the use of the Campbell's Soup can and other brands, like Brillo, that he used," said Vashtie. "He was paying homage to these brands that he grew up with in a way that was very straightforward. It wasn't slightly inspired. It was like, this is very much the inspiration, this is it. And so, that was definitely part of my design inspiration."
Sneakerheads, who Vashtie describes as being passionate about sneaker culture and connoisseurs and collectors of sneakers, may choose to simply display these collectible and unique kicks, but she envisions everyone wanting to wear it because it's a "shoe that works for every style and every look." She says it works well with baggy blue jeans and a T-shirt. It could also work with wide-leg khakis that have a similar silhouette as the cargo pants that were popular with '90s skaters. (Just don't forget the chain to attach to your wallet.) Regardless of how you style the Pine-Sole, or any other sneaker, Vashtie says that sneakers will likely "stay in the realm of comfort."
If you're unfortunately unable to get your hands on the Pine-Soles, the Pine Store also has other gifts. The Saturday Morning T-Shirt ($20) explains how to set a mood for weekend chores with its "Mop & Bucket & R&B & Saturdays & Pine-Sol" messaging. The Raised Right T-Shirt ($20) throws not-subtle-at-all shade with its "You didn't grow up with Pine-Sol and it shows" message. The No Outside Clothes Blanket ($45) also makes for a cheeky gift.
Pine-Sol will release the Pine-Soles on the Pine Store website tomorrow, May 13th. Fingers crossed that all those who want them either to wear or to add to their collection are able to secure a pair because we know how resellers can kill a new-drop vibe. Speaking of which, Vashtie makes a case for resellers being a positive and negative, as well as an indication that brands need to adjust how new sneakers are released:
"I mean, it's definitely something that I don't feel excited about. There's no real nice way to put it. I think resellers are part of the culture, and that always has been. Even 20 years ago, when I worked at certain retail stores, and people were coming in to buy as many pairs as they could to resell. You knew who the resellers were, it was a part of the culture. And in one way, it is sort of beneficial, because there are people around the world who maybe can't go to a specific store in a specific city and get that shoe. But they are a sneaker collector, they're a sneakerhead, and they are willing to pay what it takes. And while that is a positive, there is also the negative that it affects the sales of the shoe, in general, and then it makes it harder for everyone to get it. Um, I don't know. I mean, there's a negative to it and a positive to it. And I think that the bigger picture is that maybe brands need to be wiser about how they're selling these shoes and how they're limiting it, and how people are gaining access to it. You know, I saw something on TikTok -- and I don't know how correct it is -- but there was possibly a shoe that ... would have helped people who maybe have troubles putting on shoes with both of their hands, and the shoe sold out. And the people who could have really benefited from using that shoe weren't able to get it. So that's definitely something that's not cool. Like that's definitely not a positive. And I think that brands are just going to have to work harder to figure out how to maintain their quantities and who gets it."