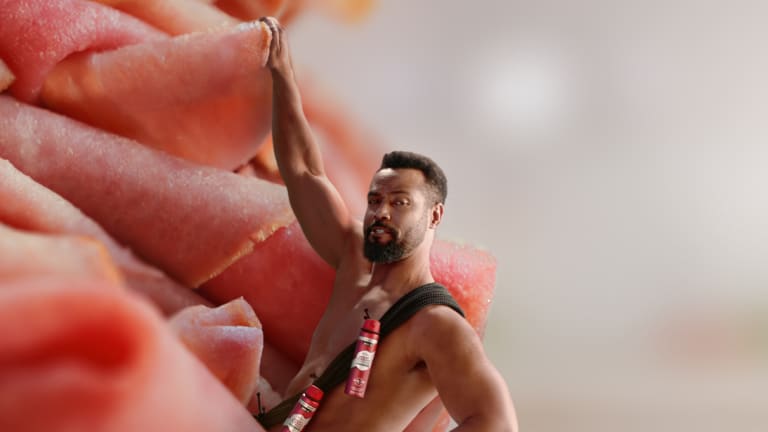 Old Spice and Arby's Have a Remedy for the Meat Sweats
Now, you don't have to choose between enjoying a Half Pound Roast Beef Sandwich and being uncomfortable through the meat sweats.
You only have to experience the meat sweats once to understand it's a truly unpleasant feeling, even if the meaty sandwich or meal you're consuming tastes divine. Fortunately, Old Spice, a trusted grooming brand, and Arby's, a favorite sandwich maker, have a remedy that will keep your body dry through the meat sweats.
But first, are meat sweats a real thing? Yes, when you consume large quantities of meat, your body has to expend extra energy to digest it, and this energy causes the body to heat up, according to Healthine. Heat diet-induced thermogenesis or the thermic effect of food are the technical terms for this phenomena, but meat sweats explains it simply.
Arby's and Old Spice have put together the limited-edition Meat Sweat Defense Kit ($60), which contains two Old Spice Sweat Defense Dry Sprays, a one-of-a-kind bound-to-go-viral roast beef-patterned Meat Sweat sweatshirt and sweatpants, and a co-branded towel and headband. With it's ability to provide protection from sweat and odor, the Old Spice Sweat Defense Dry Sprays, in popular scents, are the key defense against the meat sweats and will ensure your roast beefy sweatsuit remains pristine as you eat an Arby's Half Pound Roast Beef Sandwich.
"Whether you are scaling a Meat Mountain or a Half Pound Roast Beef, Arby's is thrilled that our guests have access to this innovative solution that helps them fully enjoy the Meats, while avoiding the Sweats. We are big fans of Old Spice's products and creativity, and it was a no-brainer to have a little fun with them on this program" said Jim Taylor, Arby's President, in a press release. 
Those who can't get their hands on a Meat Sweat Defense Kit will be reminded of Old Spice Sweat Defense Dry Spray's abilities through the "Ultimeat Dreams" commercial featuring the Old Spice Guy, Isaiah Mustafa, and the iconic Arby's Voice, Ving Rhames. Wieden+Kennedy and Fallon produced the spot that was directed by Ruganzu "Riggs" Howard. Watch it below before it starts popping up on your YouTube, Facebook, Instagram, and TikTok feeds.
"A collaboration between Old Spice and Arby's to solve the age-old problem of the notorious meat sweats that we've all faced at some point was a perfect match," said Matt Krehbiel, Old Spice vice president at Procter & Gamble, in a release. "Old Spice continues to look for ways to leverage signature humor and unexpected partnerships that remind them of the importance of long-lasting protection, even if it's after eating a Half Pound Roast Beef Sandwich."