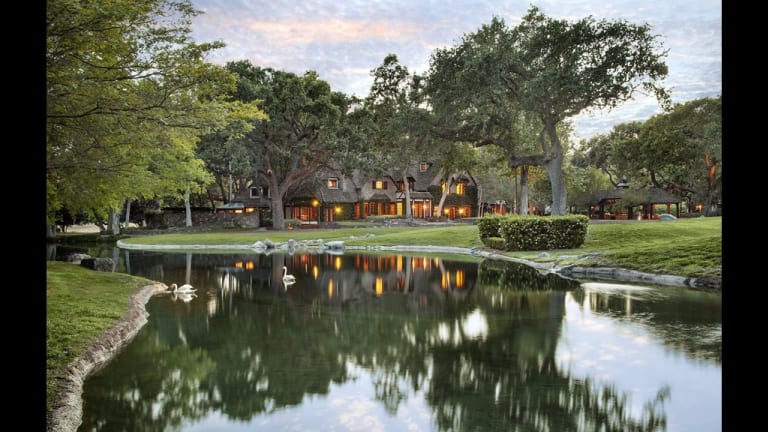 Michael Jackson's Neverland Ranch Sells for $78 Million Below Asking Price
The Neverland Ranch is no longer the "wicked real estate stepmother" that was just sitting on the market.
Michael Jackson's storied 2,700-acre Neverland Ranch has finally sold for $22 million after being listed at $100 million in 2015, reports TopTenRealEstateDeals.com.
Jackson, a Gary, Indiana native, designed the property to be a child's dream amusement park and the place he wished he had been raised. It once boasted carnival rides, an electric train, and a menagerie. However, after Jackson's 2009 death, Neverland was stripped of its fascinations and all reminders of Jackson. It also regained its former name, Sycamore Valley Ranch. Land developer William Bone bought the property in 1981 and designed all the buildings using ideas he was unable to implement in his real estate business, according to TopTenRealEstateDeals.com. Jackson first saw the property in 1983 after visiting Paul McCartney, who was staying there while filming a music video. Jackson bought the property from Bone in 1988. Jackson's former associate Ron Burkle, a billionaire businessman and part owner of the Pittsburgh Penguins, bought the property after Jackson's death.
The property is located on the edge of a national forest. Today it boasts a 12,000-square-foot, French Normandy-style main house; a four-bedroom guest house; a two-bedroom guest house; several barns; animal shelters; and a maintenance shop. The main house has large rooms including formal living and dining rooms and several fireplaces, including one in the sitting room of the two-story master suite. The master suite also has two large bathrooms and cedar closets, including one with a safe room. There are six bedrooms total, and the chef's kitchen is perfect for large events. The grounds increase the entertaining factor with a free-form swimming pool, four-acre lake containing a fountain, large covered barbecue area, basketball court, tennis court, and 50-seat movie theater complete with balcony and stage.
The former Neverland Ranch is no longer the "wicked real estate stepmother," as TopTenRealEstateDeals.com dubbed it, that was just sitting on the market. Take a tour of the property below.