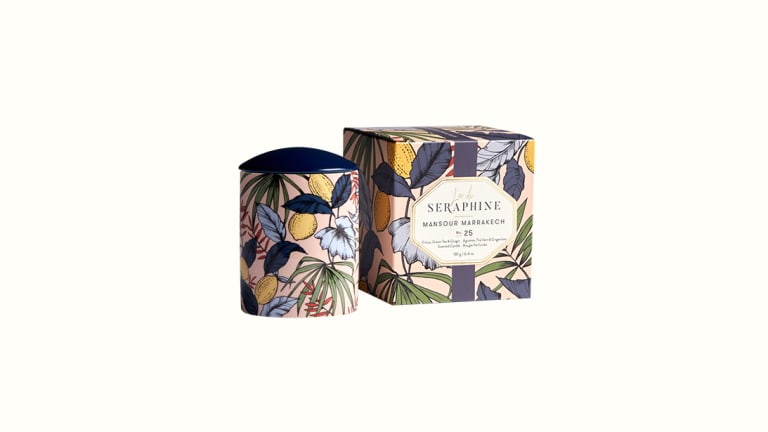 L'or de Seraphine Creates an Aromatic Sanctuary This Mother's Day
With its delightful fragrances and unique ceramic vessels, L'or de Seraphine candles will bring beauty and comfort to your mother's sanctuary.
My mother has a saying that has always given me comfort: "You step out to set the world on fire, but sometimes you have to come home for matches." This expression has always reminded me that I can find sanctuary in her. Helping our mothers or other maternal caregivers build up their sanctuary or create a vibe wherever they are with a sensorial candle is the perfect way to thank them this Mother's Day for oftentimes being our peace. Like maternal caregivers, candles often bring us comfort by engaging our senses of smell from the aroma, touch from the warm glow, and sight from a mesmerizing flicker. 
L'or de Seraphine, which is offering a 20 percent discount on all products through May 1st, crafts luxury, sustainably-sourced palm wax candles that imprint beauty on any space while filling an area with a delightful scent. As daughters of an interior designer, Dara Jordan and Laina Michelle Weiss, the sisters who founded L'or de Seraphine, understand that the playful prints and colors of the ceramic vessels that contain their candles are just as important as the olfactory experience. They work with celebrated designers, including Cynthia Rowley, to decorate the handmade candleholders that are available in a myriad of eclectic designs from cheetah, to floral, to paisley, to geometric, and beyond. There's bound to be a candle that highlights your mom's decor, and she won't have to worry about hiding an unsightly label because L'or de Seraphine candles provide 360 degrees of aesthetic expression.
The fragrances of L'or de Seraphine candles are created from unique combinations of ingredients. Standouts for me are the Ares Candle ($32 to $44), which has notes of sage, cedarwood, eucalyptus, and patchouli; and the Aurora Candle ($32 to $44), which features notes of almond, vanilla, orchid, and cashmere woods; and Mansour Marrakech ($32 to $44), which combines the notes of bergamot, ginger-dusted citrus, green tea, touches of apple, juniper, and clove above peppered jasmine and tobacco. I suggest choosing a fragrance for your mom by perusing the floral, fresh, fruity, warm, or woody sections and then selecting a note you already know she likes.
L'or de Seraphine is not only intent on helping its customers create their own sanctuary but is also committed to protecting our planet. Therefore, the artisanal home fragrance brand carefully selects and sustainably sources all its ingredients. The palm wax blend has a clean and stable burn, and the wicks are made from organic cotton. In addition, all the candles are phthalates- and parabens-free. L'or de Seraphine also recognizes that everyone doesn't have a sanctuary, so it actively supports organizations that create safe spaces and offer refuge to those experiencing hardships.
When gifting your mother or other loved one a L'or de Seraphine candle, be sure to familiarize her with "The Sanctuary" blog section, which provides a collection of readings and articles focused on decor, hosting, wellness, and more that were curated to complement each fragrance. That way, Mom will have a complete, peaceful, and rejuvenating sanctuary. And don't worry about providing her with matches because she already has those at home.