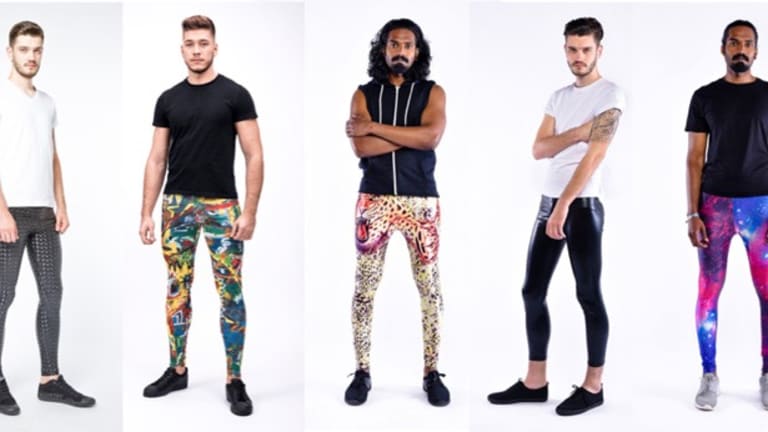 Kapow Meggings Are Meant for Performance, Not Laughter
Kapow Meggings are made especially for the male physique, and are perfect for the gym, yoga, raves, and festivals.
If you thought only women are plagued by ill-fitting leggings, you're wrong. Fortunately, two Australian bros recognized the need for proper-fitting meggings, or man leggings, and answered the call with Kapow Meggings.
The idea was born when brothers Jordan and Ben Barnett attended Burning Man Festival and saw many men wearing poorly-fitting women's leggings. We imagine the guys were walking around with saggy butts and crotches that left too little to the imagination. So the Barnetts launched Kapow Meggings in 2016, offering stretchy pants made especially for the male physique.
The high-stretch, sweat-wicking technology makes these performance pants perfect for the gym, yoga, raves, and festivals, not laughing. And the boys are buying, apparently. Kapow has opened stores in the U.K., the U.S., Australia, and Germany, and claims sales have roughly doubled every three months, according to press materials.
Although there are 49 different styles available in the Originals Collection and Performance Range, we're still not sold on Kapow Meggings having a place in streetwear because of the visually awkward silhouette leggings and a T-shirt make on the male physique. There's also the issue of unwittingly advertising "what their fathers gave them," if you know what I mean
The one streetwear exception we'll give Kapow is Halloween. The brand has some seriously festive designs that would be perfect for the spooky holiday, like the Merman ($49.99), Beetlejuice ($49.99), and Mr Bonejangle (on sale for $44.99).