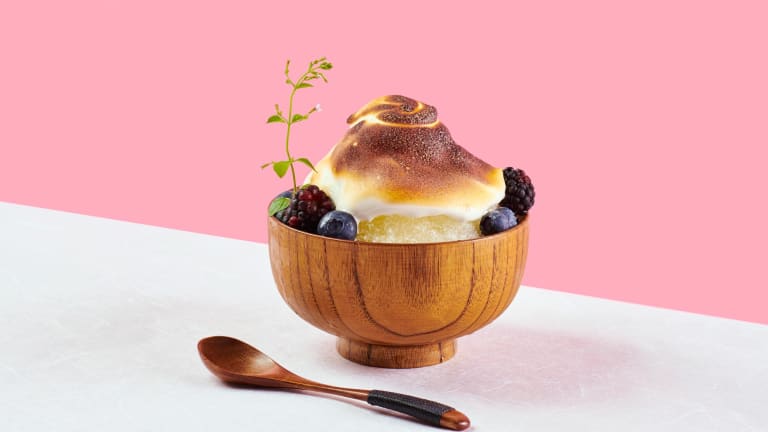 Kakigori is the Japanese Dessert You Need to Hurry Up and Try
Kakigori is a luxury treat that is both refreshing and rich, as well as satisfying.
With centuries of history behind it, Kakigori is not another fad dessert, but that doesn't mean it will stick around forever. This is the last week to experience this luxury confection at INTERSECT BY LEXUS — NYC, a culture and "lifestyle hub" located in Manhattan's Meatpacking District. Since INTERSECT features a rotation of innovative programming, creative cuisine, and masterful design, the Kakigori pop-up will leave the three-floor venue on Aug. 11th. Here's why you need to hurry up and try it!
Kakigori was created in the 11th Century for Japanese nobility. It is created by shaving ice into fine, smooth flakes like snow, that are delicately stacked into a pile and topped with fine ingredients, like champagne syrup, tequila, or meringue. The result is a treat that is both refreshing and rich, as well as satisfying.
INTERSECT's menu features two kakigori options: Champagne Brulée and Melon Margarita. Champagne Brulée is made of champagne syrup, Yuzu Shiso Syrup, champagne meringue, and berry compote. The Melon Margarita Kakigori's ingredients are melon syrup, lemon verbena tequila syrup, melon balls, Passion Fruit Fizzy Rock, pink peppercorn, and sliced lime. Both are served in a beautifully crafted wooden bowl with the cutest wooden spoon. And it's fun watching the Kakigori master shave the ice and prepare the desserts. The Champagne Brulée was my favorite because I'm a bubbly girl, and I found the Melon Margarita to be sweeter than I expected and my palate appreciates.
Each Kakigori is decades in the making, as the masters spend years perfecting their craft. First, they learn how to make ice blocks from the purest water. Then, they learn the art of shaving so the ice has "a smooth, fluffy consistency that mimics freshly fallen snow."
It should be obvious by now that Kakigori is a luxury dessert you must try before it leaves INTERSECT BY LEXUS — NYC. Here's a tip, if you prefer an alcoholic Kakigori, make your reservation at the bar and lounge after 5 p.m.