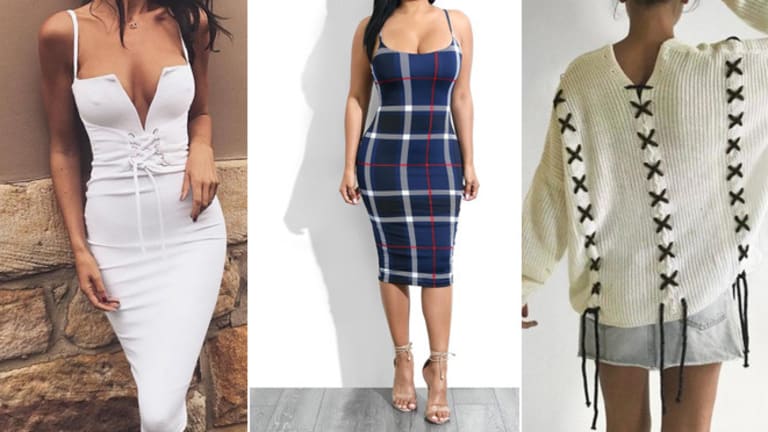 Introducing Sealed Babez Body-Conscious Dresses & Sweaters
The weather changes with the seasons, but that doesn't mean your fall style has to suffer — just saying.
I don't know about you, but the way my bank account is set up, I don't have the opportunity to consistently stay in-tune with the new trends and seasonal fashion. But I still want to look good and current. This year, I'm slaying fall by adding fun sweaters and body-conscious dresses from my affordable line Sealed Babez to my wardrobe. Here's how you can also make dressing for autumn a no-brainer with knit dresses and tops.
Repeat after me: Sweaters and body-con dresses will save your life! You can pair the dress and sweater together, add a killer pair of boots and some cute earrings, and you're ready to face the world. A blazer in classic black or a fall fabric like tweed will elevate the dress to professional. And on weekends, a denim jacket or thick cardigan and sneakers takes the look casual for running errands or behind the kiddos.
A sweater can also be the foundation to an autumn outfit. Along with being temperature-appropriate, sweaters are key pieces to layering in the fall and winter. You can style one sweater into several different outfits, maximizing your wardrobe. Weather it's cropped or over-sized or somewhere in-between, a sweater pairs well with jeans for day or a fancy skirt for night.
This season seems to be all about the bold hues, prints, and lacing. Going outside of your comfort zone but still representing your style aesthetic is key. Tread lightly if you're not used to being in the spotlight or having your ensemble speak volumes because few will be able to ignore your body-conscious dress. Also, don't sweat it because sleeveless sweater dresses are also having a moment this season — don't forget to layer.
Here are some of my favorite Sealed Babez sweaters and knit body-conscious dresses. How will you style them?
Sealed Babez Royal Bodycon Dress, $20
Sealed Babez Cable Oversized Sweater, $24.50
Sealed Babez Plaid Everything Bodycon Dress, $17
Sealed Babez Winter Crop Jersey, $20.50
Sealed Babez Night Outta Town Dress, $20.50