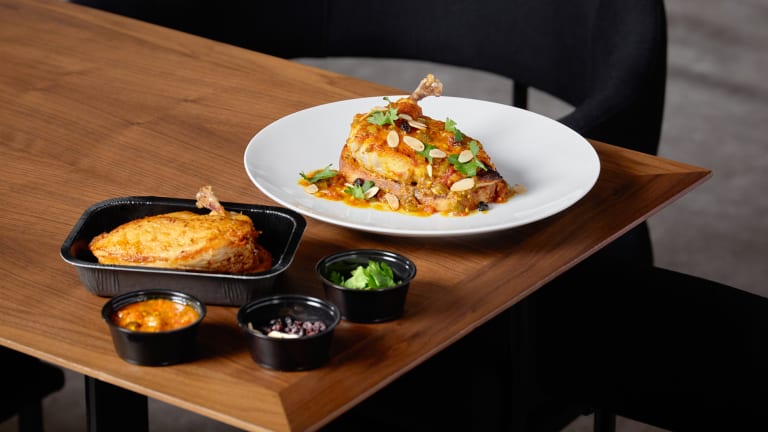 A Luxury At-Home Dining Experience Is Just What You Need
INTERSECT BY LEXUS-NYC's dine-away program brings The Grey's Southern cuisine into your home for a safe luxury experience.
INTERSECT BY LEXUS - NYC recently introduced its first-ever dine-away and delivery program, with a three-course menu created by The Grey's Executive Chef and partner Mashama Bailey, to offer New Yorkers a luxury culinary experience in the safety of their home.
Back in 2019, we introduced you to INTERSECT BY LEXUS, in New York's Meatpacking District, through its pop-up for Kakigori, a Japanese dessert with a centuries-old history. Back then, we could venture out to INTERSECT to partake in its innovative programming, creative cuisine, and masterful design in person, but times have surely changed. With the health of its customers, staff, and chefs in mind, INTERSECT has launched its dine-away and delivery program that features incredible cuisine from its fifth restaurant-in-residence, The Grey.
Chef Bailey is known for putting a personal spin on Port City Southern cuisine and she has curated three-course menus that will rotate weekly. The $65 meal (excluding delivery, tax, and gratuity), includes an appetizer, an entree, and a dessert. Diners will be able to enjoy dishes like Smoked Catfish with Rye Crackers, Yardbird with Captain Sauce, and The Grey's signature collard greens and pickles and homemade bread. This week's feast is Crab Louie salad, Smoked Lamb, and Brown Butter Fritter. And yes, vegetarian menu options are also available. There's also a selection of wine, beer, and handcrafted cocktails, such as Chatham Artillery Punch (cognac, bourbon, rum, Cremant de Bourgogne) and the Father John Manhattan (Russell's Reserve Rye, Cocchi Torino, bitters), available to order à la carte to complement Chef Bailey's dishes. (INTERSECT's Executive Chef Nickolas Martinez will manage the kitchen on a daily basis, while Chef Bailey continues to provide culinary insight throughout the residency.)
The meal is custom packed in a luxurious INTERSECT BY LEXUS keepsake box and comes in a reusable insulated tote bag. In addition, a limited number of unique gifts inspired by The Grey and INTERSECT BY LEXUS will be included with the meals each week. Gift examples are a copy of Black, White & The Grey, which was written by Chef Bailey and her business partner Johno Morisano, and an at-home pickling kit and a free month of Netflix to stream Chef Bailey's episode of Chef's Table. Also, INTERSECT will release a new short video featuring Chef Bailey and a custom playlist courtesy of The Grey each week.
Diners can place their pickup and delivery orders at Intersect-NYC.com. The menus will be released each Monday and availability opens one week in advance. INTERSECT partnered with Taste to facilitate delivery of the orders, but if you live outside of the delivery area (like I do), you'll have to place an order for pickup.
INTERSECT BY LEXUS's first-ever dine-away and delivery program is not only a safe way to experience The Grey's exceptional Southern cuisine, but it's also the perfect way to elevate your Valentine's Day while staying home in New York City.