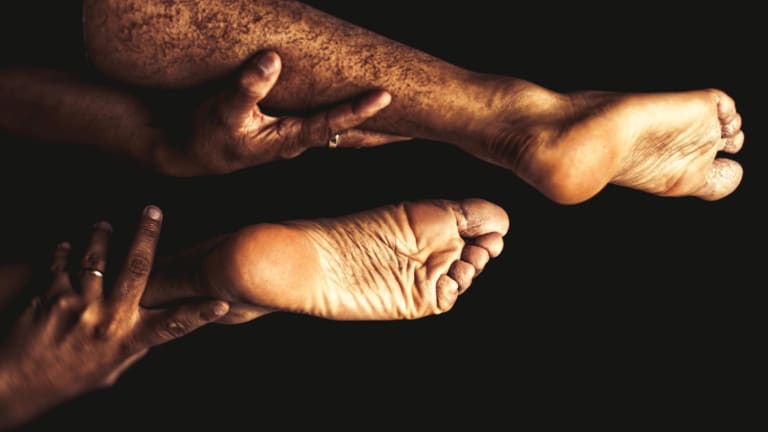 How to Care for Your Feet & Get Them Sandal-Ready This Summer
Dr. Mona Gohara is sharing the four steps to give your feet some TLC this summer and beyond.
Even though it's pedicure season, you're likely still neglecting your feet between trips to the nail salon. Our feet, one of the most neglected parts of our body, deserve their own special cleansing routine, just like our face.
Fortunately, Dr. Mona Gohara, a board-certified dermatologist, is revealing an easy at-home routine to get our feet healthy and sandal-ready. Even if you don't have the budget for a professional pedicure, your heels, toes, and soles deserve some TLC.
Dr. Gohara Shares Tips for Sandal-Ready Feet this Season:
Exfoliation is a Must. In order to remove dead skin cells from your hands and feet, you need exfoliation. This process will help in getting rid of all the dirt that gets accumulated due to sweat throughout all of your activities.  I always recommend exfoliating once or twice per week. The important thing to remember is not to over scrub and to always hydrate after. Exfoliating removes dead skin cells, but also the body's natural moisturizers so make sure to replenish it through moisturizing.
Cleanse & Care. Did you know that the skin on our feet is up to 10 times thicker than the rest of our body skin? It therefore requires added moisture care. After exfoliating, it's important to use a gentle and hydrating cleanser like the Dove Beauty Bar. Its one-quarter moisturizing cream hydrates the skin while you shower, helping alleviate that dry, tight skin feeling you get after a long day in the sun, while helping increase skin elasticity, which is key for an anti-aging regimen. This is the perfect combo to restore hydration and maintain healthy skin. Bonus tip: Invest in a personal foot bath, so you can take your self-care beyond the shower, and have a moment to relax and pamper your feet!
Don't Skip the Sunscreen. If you've never experienced a painful sunburn; sunscreen is probably not on your radar! It's important to remember to apply sunscreen all over your feet, especially the tops and fronts of ankles, your toes, and don't forget to reapply after you've been in water. It's important to reapply every two hours, especially when exposed to intense sun exposure, such as when you're at the beach or music festival. Make sure to choose a broad-spectrum SPF 30 or higher for everyday use.
Avoid walking barefoot. It's easy to forget to put on flip flops while you're walking around the beach or pool area but, remember, walking barefoot increases the odds that you will develop warts on the soles of your feet, ringworm, athlete's foot, dryness, and other infections. Make sure you wear the right type of shoe for each outdoor activity to avoid bacteria. If the outdoor activity involves swimming in the lake or paddling, make sure to rinse your feet with clean water after.