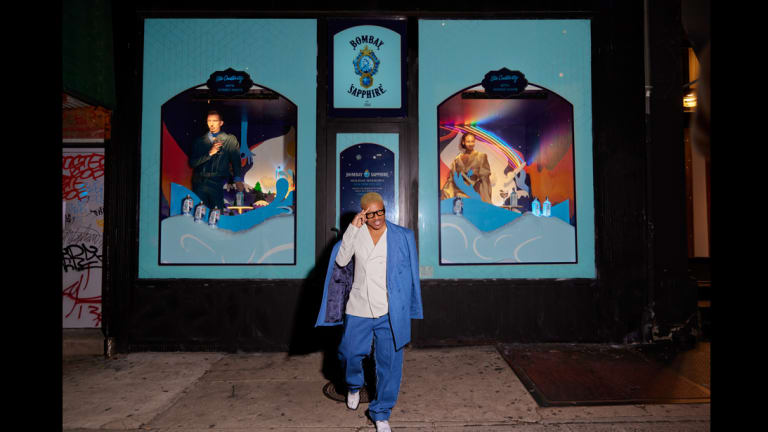 These Holiday Window Displays Bring the Festive Cheer Downtown to NYC's SoHo
Bombay Sapphire tapped Romeo Hunte and Shavanté Royster with creating holiday window displays with the aim of revitalizing downtown Manhattan.
Bombay Sapphire merged the world's of fashion, art, and festive cheer with its inaugural Holiday Storefront Series that supports emerging creatives, as well as promotes New York City's comeback.
If you are an NYC resident, have visited the city during the holidays, or have watched a film set during a New York December, then you know how magical the city is from Thanksgiving to New Year's Day. You also know that the epicenter of that magic is usually Manhattan's 5th Avenue with Bergdorf Goodman, Saks Fifth Avenue, and a myriad of other luxury boutiques along the boulevard celebrating the season with their traditional window displays. But this year, Bombay Sapphire is spreading the holiday cheer all the way downtown to SoHo with a collaboration between visual artist Shavanté Royster, disruptive fashion designer Romeo Hunte (above), and dancer Nicole Von Arx that transformed three empty storefronts into avant-garde holiday window displays. In addition to bringing together visionaries from diverse fields and providing a platform for upcoming creatives, Bombay Sapphire has another goal with the Holiday Storefront Series: Revitalizing downtown Manhattan after many of the neighborhood's anchor businesses shuttered during the year and a half of the pandemic.
"We are thrilled this partnership can ignite inspiration and hero the arts community for the holiday season," said Jaime Keller, Bombay Sapphire brand director for North America, in a release. "Bombay Sapphire has served as the perfect canvas for creativity, both in cocktails and more broadly. This has been part of our brand DNA for the past three decades, so we are excited to launch this initiative to provide a literal stage for underrepresented and emerging talents and celebrate a creative resurgence overall."
The windows are intended to mimic the joy of the 5th Avenue displays seen through the eyes of Shavanté and Romeo. The backdrop Shavanté created for her dedicated window, located at 65 Spring Street, has a contemporary winter dreamscape design complete with hot air balloons and figures gliding through snowy peaks on snowboards. Romeo created two bespoke designs that mash up New York edge, tailored prep, and street style and playfully hearken back to Shavanté's backdrop for his dedicated window display. His window, located at 423 Broadway, depicts two people (live models) getting ready for a holiday show over cocktails, Bombay Sapphire ones, of course. The final window, located at 25 Howard Street, celebrates Nicole through live dance performances.
"It's been a joy to work on Bombay Sapphire's Holiday Storefront Series which pays homage to exciting young creative talents everywhere and the tenacity of New York City coming back after the pandemic," said Romeo in a release. "It was refreshing to collaborate with artist Shavanté Royster and the dancers as mixed media has always been an important part of my work, so it was cool to build and see the narrative of the holiday windows come to life with them through different facets, such as the dancers wearing some of my designs. I hope everyone can leave the windows feeling a burst of creativity and inspiration for the holidays, and hope for the year ahead!"
In addition to greeting revelers along Spring St., the wintry dreamscape Shavanté created for her dedicated window also graces the label of the new Bombay Sapphire Limited-Edition Gift Pack that includes a bottle turned spray paint can of gin. It's the perfect addition to any holiday bar cart for only $22.99 at ReserveBar.com.
"My design for the Bombay Sapphire limited-edition collectible holiday spray can represents my journey in the world, re-imagining it as this place where I'm creating the atmosphere, weather, rainbows, clouds, and stars," explained Shavanté in a release. "I'm so excited to see it brought to life in the Holiday Storefront Series and partnering with other creatives who inspire me. Bombay Sapphire believes and supports up-and-coming artists early in their careers, which is so important for those of us looking to get our work out there. I'm so happy with how this collaboration has progressed. It's a thrill to know that people from all over will be seeing my art come to life this December."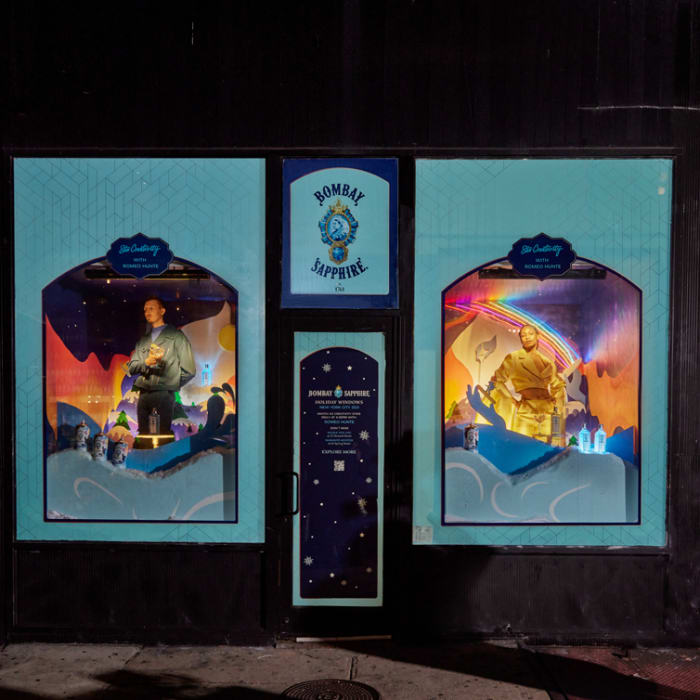 Bombay Sapphire has a longstanding history of promoting diversity within the arts and inspiring creativity. Not only does the Holiday Storefront Series spotlight emerging artists from a diverse roster of artforms, but it also is intended to bring more foot traffic downtown to SoHo, where businesses certainly need a boost this holiday season. When you're in the area, don't forget to stop by a neighboring bar for a festive cocktail designed by Shavanté, Romeo, or Nicole to continue the merriment. If you don't make to SoHo before the inaugural Holiday Storefront Series closes on December 19th, here's how to mix up Romeo Hunte's What's Good and Shavanté Royster's Winter Daydream at home:
Romeo Hunte's What's Good
Ingredients:
1.5 oz Bombay Sapphire
3 oz Ginger Beer
2 oz Cranberry Juice
Garnish: lime wedge
Method: Build ingredients in your favorite balloon glass or collins glass and garnish with a lime wedge.
Shavanté Royster's Winter Daydream
Ingredients:
1.5 oz Bombay Sapphire
.5 oz St. Germain
.5 oz lime juice
5 oz Fever Tree Elderflower Tonic
Garnish: cucumber ribbon
Method: Build in a balloon glass and garnish with a ribbon of cucumber.