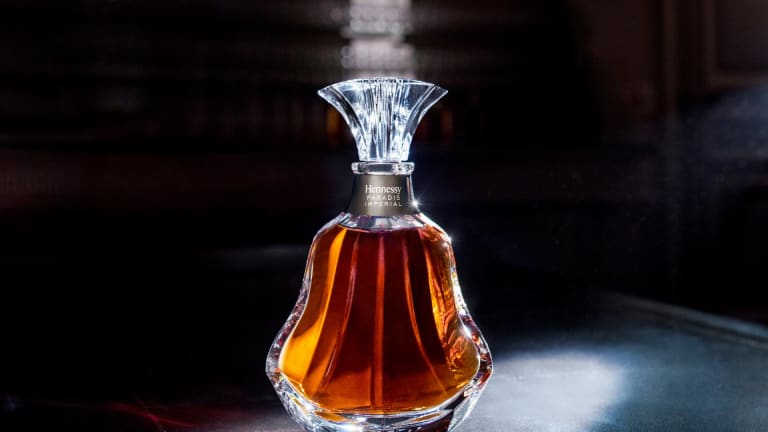 Hennessy Unveils the New Paradis Impérial Decanter & Specially-Designed LV Trunk
Hennessy Paradis Impérial cognac and Louis Vuitton trunks and Henry Golding, oh my!
On June 13th, Hennessy Cognac feted the new Paradis Impérial decanter and named actor Henry Golding as the official ambassador for the brand's Prestige range of cognacs, at a dinner at New York's STUDIO 525.
When it comes to Hennessy's Rare Cognac Collection, Paradis Impérial is the crown jewel because it is an unprecedented combination of age and finesse in pale color and non-traditional taste. The Fillioux family of Master Blenders for eight consecutive generations selects only 10 out of every 10,000 eaux-de-vie on average from any given harvest. So it should come as no surprise that Hennessy threw a dinner to celebrate this special cognac's new decanter.
Artist Arik Levy, who is best known for his signature Rock sculptures, designed the crystal Hennessy Paradis Impérial decanter ($3,000). He worked directly with master crystal cutters to create the striking vessel that perfectly balances "curve and tension." In addition, the facets of the crystal capture the variations in light to ever so subtly enhance the cognac's amber color. Levy also created a ritual for serving Hennessy Paradis Impérial with precision in pouring, measuring, and tasting that was inspired by the tools Hennessy's Tasting Committee uses during its daily ritual.
The night also celebrated the Paradis Impérial Trunk ($273,000) and Nomad Case ($84,000) created by Louis Vuitton's master craftsmen. The trunk is designed to hold four magnums, and features a trunk-within-a-trunk construction. There's a single-magnum travel case housed within the trunk. This design affords up to 18 people the opportunity to appreciate Paradis Impérial at once.
The Prestige range of cognacs includes HennessyX.O, Hennessy Paradis, Paradis Impérial, and Richard Hennessy. As brand ambassador, Golding will spotlight the Prestige portfolio through his lens of discerning taste and travel.
"I am honored to join Hennessy as their first official Prestige ambassador," said Golding in press materials. "Similar to Hennessy, I have a passion for global exploration and an inherent curiosity to discover the rich diversity of the world. I look forward to the many exciting projects to come and taking my fans on this journey with me."